Peer Gynt, Théâtre National de Nice, Barbican Theatre |

reviews, news & interviews
Peer Gynt, Théâtre National de Nice, Barbican Theatre
Peer Gynt, Théâtre National de Nice, Barbican Theatre
Irina Brook's song-and-dance Ibsen entertains, but misses the darker shades
Saturday, 11 October 2014
Shantala Shivalingappa and Ingvar Eggert Sigurdsson in the hall of the mountain king
Like Ibsen's titanic character in search of a self, the Barbican's theatre programme globetrots to find the richest and rarest. Yet it certainly doesn't reach Peer Gynt's conclusion that home's best. In this case London's finest and, for most of the year, only showcase for the most innovative of world theatre looked as if it might be hoist with its own international petard: I doubt I'll ever see a production of Ibsen's epic masterpiece as shatteringly great as Baltasur Kormakur's pared-down vision for the National Theatre of Iceland in the Pit back in 2007. In the event, while Irina Brook's singing, dancing and playing troupe may not always touch similar depths, her similarly pared-down version never runs out of steam and knows its own mind, as any approach to this master myth must.
An Icelander, as it happens, is at the centre of this diverse company: Ingvar Eggert Sigurdsson, despite a few stumbles over the text last night, is as energetic an adolescent Peer as you could hope to see. We catch his pathos as outsider in a narrow-minded community, his creativity in story-telling, the truth of love at first sight as he meets Solveig (Shantala Shivalingappa, pictured below with Sigurdsson) – another stranger in the village, of other-worldly grace and innocence – at his former girlfriend Ingrid's wedding, and above all his disastrous excess vitality.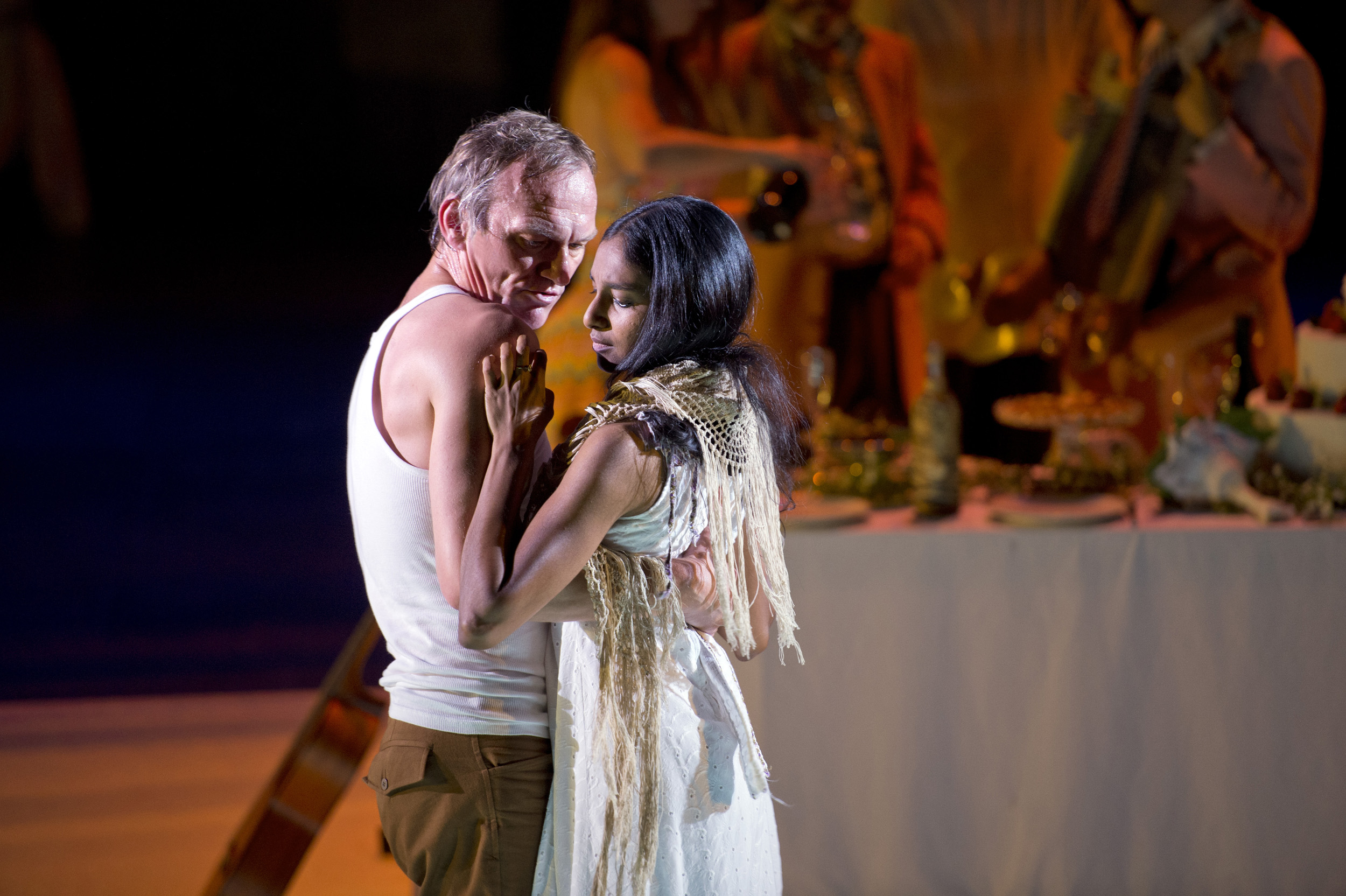 The only problem in Brook's take is not that she redefines Peer as a rock-star wannabe, a cue for songs by Iggy Pop and others which are wholly integrated into the action, but that he actually becomes an Iggy alter-ego. As exemplified by the fabulous foursome of Forbidden Broadway, it takes a star to play a star, and a rock legend Sigurdsson isn't; at the height of Peer's world fame in the second-half opener, we get the camp without the superstar backbone. Roll on Peer the disillusioned old man, which gives Sigurdsson the chance to make the most of Sam Shepard's twelfth and finest Ibsen-faithful poem, "Is there no one out there".
Still, "P G and the Trolls" with their "Motherfucking Dude" provide a fairly good metaphor for the motto Peer learns in the underground dance-hall, "Be yourself – and to hell with the rest of the world". To label this Peer Gynt – A Rock Musical would be diminishing, though. The score, provided by most members of the talented ensemble, ranges from snatches of Grieg's incidental music – as did the Icelandic production – to tender Celtic folk and striking original elegies. The most moving moment, for me at least, came right at the beginning: a solo violin, soon joined by accordion, playing Grieg's heartbreaking "Solveig's Song", as the final tableau of old Peer collapsing into the arms of the one whose heart contains his otherwise wasted life's meaning is played out as a foregone conclusion.
Solveig is played by Chennai-born exponent of kuchipudi dance Shantala Shivalingappa, a still and beautiful presence whose speech verges on the over-sentimental. Her virtuoso moment comes as the Woman in Green, aka the Troll King's Daughter, in a brilliant Hall of the Mountain King dance sequence, superbly choreographed by Pascale Chevroton to set up not just an infernal cabaret (pictured above) but also Cabaret as realized by Bob Fosse (Grieg's famous number then gets a parody treatment from a discordant instrumental group). Another impressive doubling comes from Norwegian Frøydis Arntzen Dale, a shrill Ingrid fully complicit in her abduction who, in a scene parallel to the one in the troll kingdom, becomes Nowhereville would-be chanteuse Anitra (she actually sings superbly).
Elsewhere the acting is variable, the speech not always clear, though the troupe's instrumental and even vocal skills are not in doubt; it remains to veteran Brook actor Mireille Maalouf as Peer's double-consciousness ma Aase to provide similar charisma. Noelle Ginefri's stage design admits little atmosphere; the resort to fake snow and dry ice seems oddly conventional. And though it was a clever idea to render as fairground turns the scariest supernatural figures, the nothingness that is the Great Bøyg with its advice to "go around" and the Button-Moulder who tells an all too mortal Peer that his soul isn't bad enough for hell, only for melting down, their otherness is diminished. The heart of darkness was better caught in the all-Icelandic team's morgue setting. Even so, this is great entertainment, a worthy choice as one of the three productions in the International Ibsen Season – and praise be that Norway is prosperous enough for its Embassy to let such innovation be seen here.
MORE IBSEN ON THEARTSDESK
Ghosts, Duchess Theatre (2010). Iain Glen makes directorial debut with a straightforward take starring Lesley Sharp
The Master Builder, Almeida Theatre (2010). Passions blow hot and cold in this uneven production starring Gemma Arterton and Stephen Dillane
Emperor and Galilean, National Theatre (2011). Power and pace help to exhume Ibsen's Romano-Christian epic starring Andrew Scott
Judgement Day, The Print Room (2011). Ibsen's last play has its issues but emerges strongly in new adaptation with Michael Pennington
The Lady From the Sea, Rose Theatre, Kingston (2012). Joely Richardson takes on the Ibsen heroine her mother and sister made their own
A Doll's House, Young Vic (2012). Period setting yields a contemporary tragedy adapted by Simon Stephens and starring Hattie Morahan
Hedda Gabler, Old Vic (2012). Ibsen's heroine draws new depths from the West End's sweetheart Sheridan Smith (pictured)
Love's Comedy, Orange Tree Theatre (2012). Early Ibsen finds the playwright in his awkward adolescence
A Doll's House, Royal Exchange (2013). Ibsen in the round loses none of its power to cast a spell
Public Enemy, Young Vic (2013). The horrors of local politics still chime in Richard Jones's queasy production of an Ibsen masterpiece
Ghosts, Almeida Theatre (2013). Richard Eyre and Lesley Manville shine light into Ibsen's dark thriller of family misfortunes
The Wild Duck, Belvoir Sydney (2014). Heartbreaking adaptation mixes naturalism and forensic examination
Little Eyolf, Almeida Theatre (2015). Strong women and one weak man in Ibsen's swift study of isolation and guilt
The Master Builder, Old Vic (2016). Ralph Fiennes stars in Ibsen's unsettling mix of the real and the supernatural
Hedda Gabler, National Theatre (2016). Ivo van Hove makes an uneven Southbank debut
Subscribe to theartsdesk.com
Thank you for continuing to read our work on theartsdesk.com. For unlimited access to every article in its entirety, including our archive of more than 10,000 pieces, we're asking for £3.95 per month or £30 per year. We feel it's a very good deal, and hope you do too.
To take an annual subscription now simply click here.
And if you're looking for that extra gift for a friend or family member, why not treat them to a theartsdesk.com gift subscription?