LFF 2014: Goodbye to Language |

reviews, news & interviews
LFF 2014: Goodbye to Language
LFF 2014: Goodbye to Language
Godard goes 3D, dazzlingly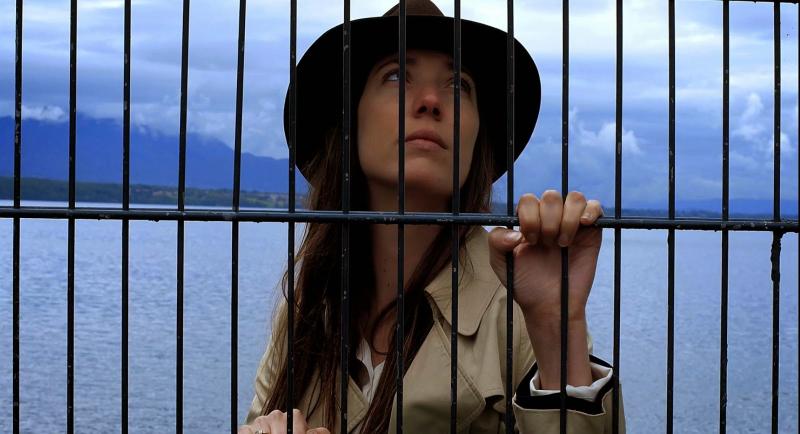 Here's looking at you: Zoe Bruneau in film noir mode
Jean-Luc Godard is still masterfully riding new waves, more than 50 years after Breathless. Following Film Socialisme's epic engagement with digital cinema, here 3D becomes a dazzling illusionist's trick. Goodbye to Language drew laughs when I saw it for sheer chutzpah, but also in the way Georges Melies elicited gasps at cinema's birth.
The sleight of hand of moving one 3D lens and not the other makes a man and woman overlap and morph, and our eyes scrabble for coordinates on a screen that's restored as a blank slate of possibility, scrawled on by Godard the 83-year-old conjuror. Ravishing images in sometimes saturated colour – hands sinking themselves clean in a leaf-strewn pool, the snout of Godard's dog looming out at us, a river, a breast – meanwhile couldn't look more real.
This ancien terrible has retained a cinematic sense of wonder Spielberg would envy and a fascination with the moving image's evolution, tempered by the political, social and romantic ennui of a May '68 veteran staring gloomily at 2014.
Philosophical aphorisms fly like bullets, while bullets fly around Zoe Bruneau's girl in a fedora and trench-coat, who could have stepped out of Casablanca, or Alphaville. Godard rails against the state's totalitarian power (a bit rich from a Maoist), declaring "Hitler's second victory", and wonders what thumbs were for before they hit smartphones. "What they call images are becoming the murder of the present," he declares, justly. But where Film Socialisme boiled with anger at iniquity, Goodbye to Language is more intimate, and sometimes desultory and slight, as it focuses on a man and a woman: her mostly nude, him often nude and noisily, ridiculously shitting as they debate their alienation. Not many revolutionary veterans are so impish, or still so able to sensually provoke.
Not many revolutionary veterans are so impish, or still so able to sensually provoke
rating
Explore topics
Share this article