The Buzzcocks, Concorde 2, Brighton |

reviews, news & interviews
The Buzzcocks, Concorde 2, Brighton
The Buzzcocks, Concorde 2, Brighton
Punk pop powerhouse serve it up fast and hot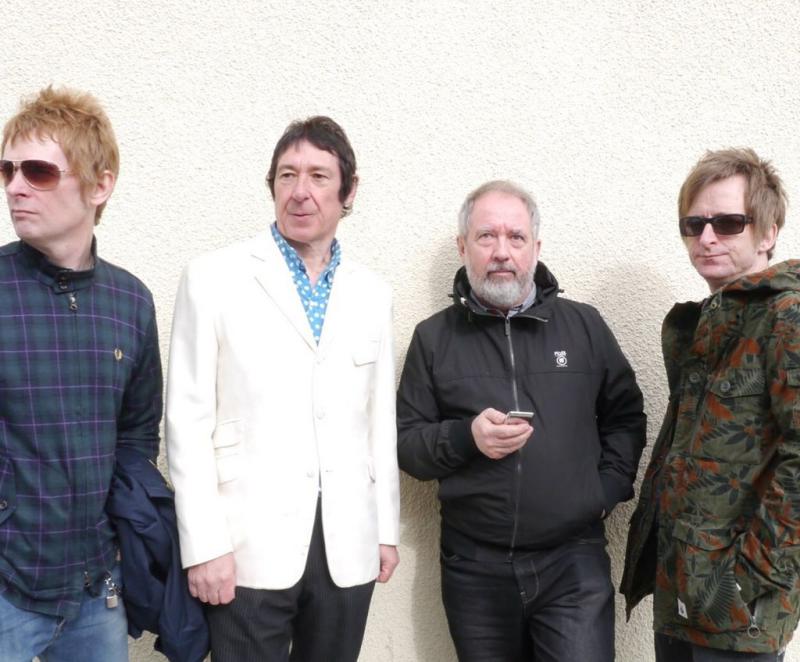 Remington, Diggle, Shelley and Farrant - The Buzzcocks 2014
Apologies, I missed nearly half the concert. I turned up at 9.00 when I'd been told the gig began but they started half an hour early. Apparently it was a last minute decision. There we go. When I crushed into the back of the Concorde 2, a space jammed mostly with men between 35 and 55, Buzzcocks guitarist Steve Diggle, clad in a polka dot shirt, was singing "Sick City Sometimes" from their eponymous 2003 album. It's no classic but Diggle was throwing his every ounce of zest at it.
The band has always been based around the dynamic of Diggle and the other Buzzcocks lifer, Pete Shelley. The latter is the chief songwriter, happy to look his nearly 60 years of age, grey-bearded, dressing for comfort rather than snappiness, while Diggle is the rock'n'roll creature of the band, something of Ron Wood about him, still looking younger than his years, nattily dressed with a dark Weller-ish feathercut. In long gone days there was visceral tension between them. Shelley did the heavy-lifting early in the band's career, writing almost all their golden run of singles between 1977 and 1979, each one gleeful, animated, relentlessly catchy guitar pop revved up with the sneering, amphetamine essence of punk, but now Diggle provides the verve and animation that every live band needs and also sings plenty of numbers. They're a team that works.
On drums and bass are relative newbies Danny Farrant and Chris Remington, dressed in black shirts like Shelley, with a Buzzcocks backdrop picturing all four as Banksy-style brick wall graffiti, taken from the cover of new album The Way.
They drive hard through their set with little pause and it's over by 9.40 but, particularly in the last 25 minutes, the dynamic tension of so many honed ice-picks of power pop impacts relentlessly. Shelley hits early with a 1978 album track stinger "Nothing Left", Diggle returns with two newies, the hammering and slightly psychedelic "Third Dimension", as well as "Chasing Rainbows" which has a riff that's a ringer for The Ramones' "Blitzkrieg Bop". Shelley's way with making punk both sarcastic and emotionally involving is impeccable and the final run revels in it, on into the encore, stopping off only for the early Diggle classic, "Harmony in my Head". So we get it full bore - "Promises", "What Do I Get?", "Love You More", "Orgasm Addict", all now accompanied by full-throated, terrace-style backing vocals from the crowd.
The history of punk has been written and rewritten, codified and argued about. The Buzzcocks, however, one of the first bands off the starting block, never seem to give much of a damn about all that. They reformed in 1989, after eight years apart, and have been around ever since (albeit with only Shelley and Diggle from the classic line-up). As they close their set with the convolutedly chorused but utterly compulsive "Ever Fallen In Love (With Someone You Shouldn't've)" they make me pine for contemporary guitar music as pithy and concise and wish every penny of Green Day's was theirs.
Overleaf: Listen to The Buzzcocks latest single "It's Not You"

The dynamic tension of so many honed ice-picks of power pop impacts relentlessly
rating
Share this article