The House That Will Not Stand, Tricycle Theatre |

reviews, news & interviews
The House That Will Not Stand, Tricycle Theatre
The House That Will Not Stand, Tricycle Theatre
A key moment in American race relations inspires a richly ambitious new drama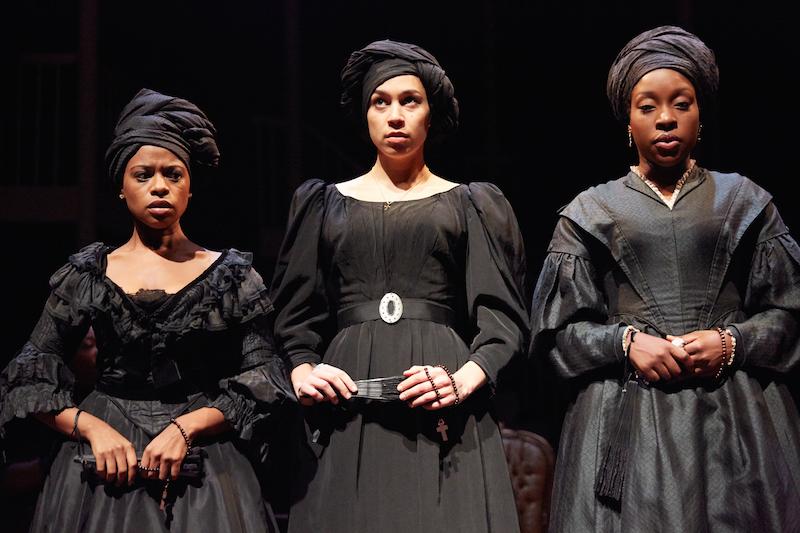 Three sisters: Agnès (Ayesha Antoine), Maude Lynn (Danusia Samal) and Odette (Ronke Adekoluejo)
Bigger is better in the Tricycle's latest piece of reclaimed black history. African-American writer Marcus Gardley's stimulating play, which transports Lorca's The House of Bernarda Alba to 1836 New Orleans and a significant shift in the evolving racial hierarchy, begins slowly and timidly, reliant on exposition and sitcom laughs. Yet once he and Indhu Rubasingham embrace its operatic qualities, this memorably evocative work takes flight.
Beartrice (Martina Laird), a free woman of colour, is set to inherit the fortune of her recently deceased lover Lazare (Paul Shelley) under the former French colony's system of plaçage: a type of common-law marriage, by which the mistress of a white man had contractual property and inheritance rights. However, the coming influx of "Yankees" threatens her status and lends urgency to her desire to protect her daughters: pragmatically sensual Agnès, devout Maude Lynn (Danusia Samal) and naïvely romantic Odette (Adekoluejo).
Gardley has unearthed a fascinating turning point after which divisions based on skin colour became rigidly codified. In an agonising instant, Odette realises her darker hue could seriously diminish her status, an injustice all too familiar to Beartrice, forced to trade her body for security, and house slave Makeda (Tanya Moodie), whose freedom Beartrice holds tantalisingly out of reach. The formidable matriarch has also dashed the hopes of eccentric sister Marie (Clare Perkins) by separating her from her dangerously dark-skinned suitor.
The House That Will Not Stand is weakened by an underdeveloped murder plot and convoluted backstory, and Gardley struggles to find a consistent mode of communication: his lyrical script is peppered with jarring anachronisms and unnecessary French phrases, there to remind the inattentive viewer of his locale. Yet when he trusts in the power of his source material, he's capable of astute and stylishly framed thematic exploration. Most resonantly, Gardley interrogates the very notion of freedom: how it is defined, expressed, endangered and regained.
He gifts striking rhetorical declamations to Beartrice and Makeda (pictured left), the former articulating the torture of tacit enslavement and fear that the next generation takes its comparative liberation for granted, the latter rivetingly evoking primordial African magic while urging Odette to prize her heritage. Rubasingham's fluid production slips naturally into a spiritual realm, as murky and complex as the earthy one, and employs culturally specific music (Paul Englishby) and dance (Lucy Hind) to great effect. Moodie's sonorous climactic cry is spine-tingling.
Laird superbly communicates dictatorial Beartrice's talent for the theatrical and the shaky ground on which her foundations are built, while Perkins, ruled by wild passion, illustrates the risk of surrendering control. Beartrice's offspring nicely mirror their claustrophobic sisterly bond, with Antoine and Adekoluejo's rapport shifting into vicious rivalry, but Samal is ill-served by the unvarying shrill piety of Maud Lynn (or "maudlin"). Moodie proves a formidable raconteur, and Michele Austin brings spirited musicality to rival grand dame La Veuve. The worth of these women may be constantly up for debate, but the worth of this orphic experience is indisputable.
Gardley interrogates the very notion of freedom: how it is defined, expressed, endangered and regained
rating
Explore topics
Share this article