Invasion of the Body Snatchers |

reviews, news & interviews
Invasion of the Body Snatchers
Invasion of the Body Snatchers
Paranoid Fifties science fiction classic still packs a punch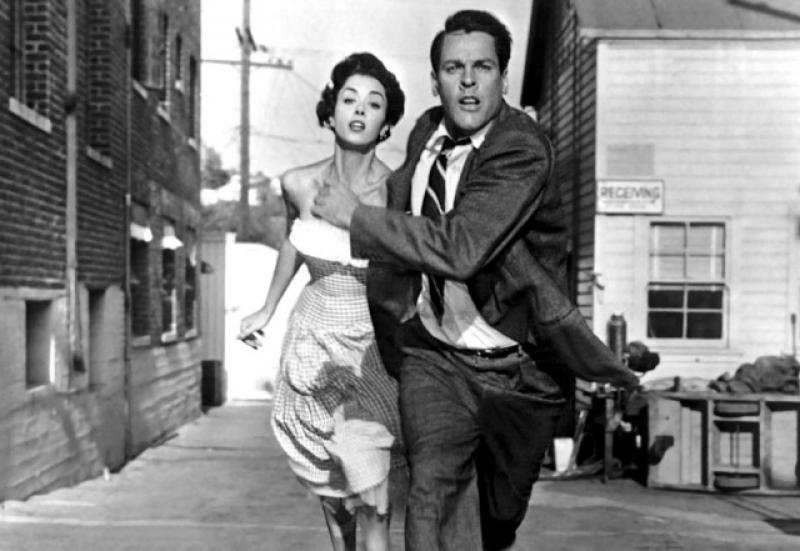 Dr Miles Bennell (Kevin McCarthy) and Becky Driscoll (Dana Wynter) try to escape having their bodies invaded
The key lines are "you're reborn into an untroubled world" – a world "where everyone's the same." The 1956 Don Siegel science fiction film Invasion of the Body Snatchers is often taken as a response to America's fear of Communism and the associated suppression of self, or as a commentary on the encroaching conformity brought by the spread of consumerism and a regimented suburbia. In both cases, homogenisation and standardised behaviour were the potential result.
Seeing the film anew does nothing to alter these interpretations. In cinemas again as part of the BFI's Days of Fear and Wonder science fiction season, the reappearance of Invasion of the Body Snatchers is also a reminder that its three remakes are not a patch on their inspiration. The original has a film noir attitude which places viewers alongside lead character Dr Miles Bennell, anxiously sharing his gradual discovery, fear of and reaction to what is taking over the fictitious California town of Santa Mira.
Producer Walter Wanger was familiar with enforced conformity as he spent time in prisonNone of this should be a surprise, especially that it is more noir than science fiction. The film's producer Walter Wanger was behind such socially aware dramas as 1940's Alfred Hitchcock-directed Foreign Correspondent. Wanger was familiar with enforced conformity as he had spent time in prison after shooting the agent with whom his wife, actress Joan Bennett, was having an affair. The spell in jail resulted in the 1954 film Riot in Cell Block 11, which Wanger produced. It was directed by Don Siegel (later behind Dirty Harry and Escape from Alcatraz), who went on to work for Wanger on Invasion of the Body Snatchers.
Invasion of the Body Snatchers, then, does not exist in a vacuum. Whatever the genre it slotted into, this rendering of Jack Finney's book was a staging point on Wanger's career, linked to his preoccupations and who he was. Of course, he also produced his fair share of schlock but the low budget of Invasion of the Body Snatchers meant thematic risks could be taken. Nonetheless, after the film was completed, the studio tacked on a prologue and epilogue, and both bookend this re-release. If Wanger and Siegel had got their way, the film would have ended ambiguously with no suggestion of a happy ending. As it was, cinema-goers in 1956 were presented with a film culminating in the potential thwarting of the invasion.
The film plays its hand and sells its messages subtly
Dr Bennell is the man trying the thwart the invasion. Played with charismatic intensity by Kevin McCarthy, Bennell returns to Santa Mira after a conference and begins to piece together what the strange behaviour of his patients and townsfolk might mean. People are convinced that others are not who they appear to be. They behave and look like familiar husbands, uncles and wives but something indefinable has happened. Bennell is initially perplexed. A local psychiatrist says it's "a strange neurosis, evidently contagious, an epidemic mass hysteria. In two weeks, it spread all over town." The cause? "Worry about what's going on in the world probably." Bennell is also distracted by the return to town of his true love Becky Driscoll (Dana Wynter).
Bennell finds the cause is actually giant seed-pods which have arrived from outer space. As people sleep, the pods take on their form. The town is taken over by the duplicates – the pod people – while Bennell is intent on warning the outside world. He uses drugs to keep himself and Becky awake. But in the end, he is the only escapee from Santa Mira.
Invasion of the Body Snatchers still packs a punch. It was a B-movie but it has a power. Sleep seems unappealing after seeing it. The fate of Becky and Bennell's reaction to her loss is disturbing. Despite the clunky and needless prologue and epilogue, the film plays its hand and sells its messages subtly. It is the classic it is meant to be.
Overleaf: watch the trailer for Invasion of the Body Snatchers