Daphnis et Églé/La Naissance d'Osiris, Les Arts Florissants, Christie, Barbican |

reviews, news & interviews
Daphnis et Églé/La Naissance d'Osiris, Les Arts Florissants, Christie, Barbican
Daphnis et Églé/La Naissance d'Osiris, Les Arts Florissants, Christie, Barbican
Baroque music and dance illuminate each other in one-off period recreation performance
Wednesday, 19 November 2014
'Alain Blanchot's costumes are both believable and lovely'
Were it not for William Christie and Les Arts Florissants, the vocal and instrumental ensemble he started in Paris in the 1970s, the beauties of the musical French Baroque might have remained a dusty fact of pre-Revolutionary history. As it is, there is barely a singer, player or conductor now performing Lully, Couperin, Rameau, Charpentier et al who has not benefited from the life's work of this diligent conductor-musicologist. Through him, their arts are indeed flourishing.
So a one-off concert at the Barbican, part of a Europe-wide tour to mark the 250th anniversary of the death of Rameau, was a hot ticket – more so since it brought to light two previously neglected one-act opera-ballets, complete with new choreography. To present the music without the dance element would be like serving oysters without champagne. Each enhances the other. They were made to go together.
The practicalities, however, present problems, such as where to place the orchestra to achieve the best possible sound while allowing optimum communication with the other performers. The solution chosen in the Barbican Hall was to jam the instrumentalists against the back wall of the stage, allowing a large expanse in front for dancing and singing (pictured below). But this obscured the view, even from a best stalls seat, of the period instruments: wooden flutes that sound more like recorders, quacky period oboes, the droning musette – a miniature bagpipe. At one point the musette player was sent to wander about downstage, but curiosity demanded more.
Visually, though, the singers and dancers are nicely integrated, the chorus being allowed to join in some of the simpler ensemble dances, and the stage action slips deftly between sung and danced sections
Worse, though, was that Christie sometimes struggled to hold things together. Theatrically, it may have seemed a good idea to erect a temporary screen of swagged drapes on stage to represent a temple. Musically, though, it was disastrous, creating a game of blind-man's buff in which synchronicity could only be the loser, as the duetting singers on stage delayed their cadences (albeit exquisitely) at odds with Christie and his string section. Several times in the course of the evening you sensed the pulse sliding out of reach like a cake of wet soap as each voice – whether human or instrumental – pursued its own ornamental digressions. It's a built-in hazard of this music's complex linearity, which, to be fair, was written to be performed in a much more intimate space (at Fontainbleau, Louis XV's out-of-town haunt). Safe to say, sluggish ensemble is not a fault you'll come across among Christie's 100-plus recordings.
Sophie Daneman, the British soprano who has made a distinguished career on the platform, took on the stage direction and, with the exception of that dratted curtain, did it well. The two one-acters, written within a year of each other but never intended as a double bill, are treated as a single entity, with the same soloists in the equivalent roles. This just about works, if you make allowance for the fact that Daphnis et Églé (1753) has a skeleton of a plot and La Naissance d'Osiris (1754) glaringly hasn't: it's one of those operas in which everyone simply hangs around and sings for the sake of singing, delivering dim-witted sentiments (to a new-born baby!) such as "Let us render him all the entertainments that peace can offer". It sounds only slightly better in French. Visually, though, the singers and dancers are nicely integrated, the chorus being allowed to join in some of the simpler ensemble dances, and the stage action slips deftly between sung and danced sections – some 16 in all.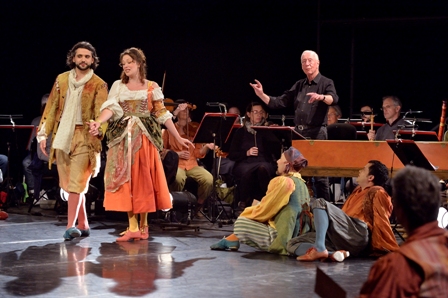 Françoise Denieau's choreography – we can only assume the originals are lost – is appealingly simple and clean. It was, after all, only a few decades earlier, in the court of Louis XIV, that the steps and gestures we now recognise as classical ballet were set in stone. The five positions of the feet and corresponding carriage of the arms were based partly on courtly etiquette – and the fashionable deployment of lace cuffs – and Denieau's dances are devised as if to illustrate the development from such basics to more intricate chains of movements. The pointe-shoe was still 100 years off, and the heeled lace-up pumps worn by both sexes here give a very particular feel to the steps' much gentler rise and fall. Contemporary dress, too, adds its own flavour to the dance vocabulary. Alain Blanchot's costumes are both believable and lovely, avoiding for the most part the full-on Bo-Peep look for the women, and allowing the men the dignity of real masculinity in their knee breeches, jerkins and coloured hose: some of their numbers are highly athletic.
In a flash of insight that could only be prompted by a joint project of this kind, you sense a neat correlation between the tension and release of baroque music's suspensions, and the tension and release of tight-laced bodices and ballooning skirts and sleeves. These costumes also happen to be very flattering to the wearer, aiding the right kind of movement, airy, yet precise. Giving Eros wings constructed of skirt panniers was a witty touch. And the book-ending of the show with the unpacking and re-packing of theatrical props from wooden crates brought a nice sense of completeness and theatricality to two halves that, by 21st-century standards, inherently lacked both. For all its hazards, this is a project that begs to be repeated, if only because it leaves every last spectator wreathed in smiles.
You sense a neat correlation between the tension and release of baroque music's suspensions, and the tension and release of tight-laced bodices and ballooning skirts
rating
Share this article