Far Cry 4 |

reviews, news & interviews
Far Cry 4
Far Cry 4
Roam free in the mountain paradise of this first-person shooter. Perhaps too free…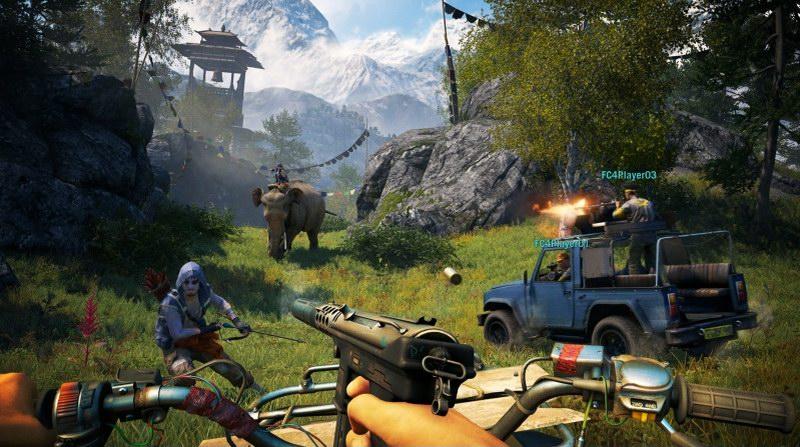 'Far Cry 4': Visit new places, meet amazing people, then kill them…
When is more too much? Far Cry 4 continues to expand the freedom enshrined in the freeroaming, first-person shooter series, but this time takes things perhaps too far, diluting the games' core appeal.
The Far Cry games have always delicately struck a balance between handing the player a huge amount of freedom, and guiding them gently. The series was perhaps the first to really understand how to on one hand structure missions so you could approach them any way you wanted to, or just mess about in the world, and on the other ensure that the things the players encountered largely tied into the story being told underneath.
Despite crafting a ravishingly detailed and beautiful kingdom here – something Ubisoft seem to be doing very well at the moment (see also Far Cry 3 and Assassin's Creed: Unity) – Far Cry 4 offers a tad too much freedom and not quite enough focus.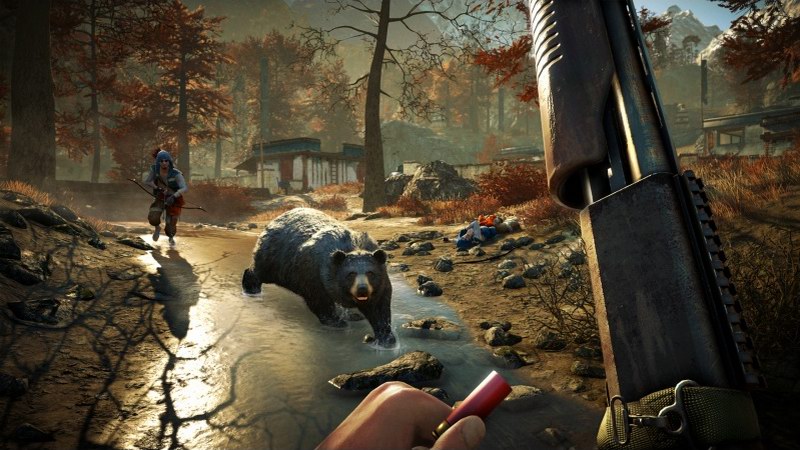 Far Cry 4 shifts the series from its jungle island paradise past, to the snowy and rocky Kyrat, a fictional Himalayan region. Here, your returning American emigrant, out to scatter the ashes of your late mother, ends up mixing with a rebellion to oust the charmingly evil dictator Pagan Min.
As with others in the series, from very early on the world quickly opens out to you, and as with other freeroaming titles, you can choose to play "campaign" missions that advance the plot, or other sub-mission types liberally scattered across the map (climb watchtowers to unfog the map around them; tackle marauding government forces for character upgrades; hijack supply trucks etc.); or just go exploring – shoot wildlife for pelts you can use to upgrade kit, roam around causing freelance chaos with a fun toolkit, or just find stuff by exploring.
Kyrat is wonderful – a high-contrast mix of ice, grass, rock and colourful culture with spectacular graphics. And the sheer wealth of stuff shoved into the huge map means there are constant distractions. Plus the series touchstone of approach-it-your-way combat remains – go in stealthy or full assault, snipe or use bows and arrows, or get crafty and enrage a passing elephant to do your dirty work for you – you can even tape explosive charges to a tuk-tuk and barrel it into an enemy compound.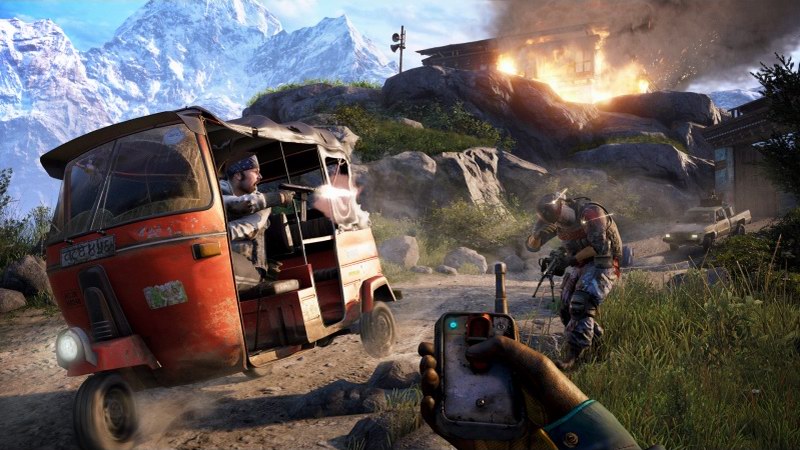 Underneath all the flash and filigree, there's something missing though: the campaign – the plotty bit, the focus. Yup, cooperative missions with friends are good fun. But would it have hurt to try and flesh out a really involving storyline? Instead, two bickering rebel leaders offer you a series of missions largely pluckable from the usual roster, and you're often forced to choose between one or the other mission with little to go on.
Far Cry 4 is a really good game, a beautifully-detailed game, but one lacking a centre. It's a toy kit that doesn't give you enough ideas of what to do next. A barely-there story where far more attention has been lavished on what the gun on the mantelpiece looks like, and what the house it's in is like, than on why it might come in handy. And that's a worryingly common trend in games at present.
Far Cry 4 is out now for PC, PS3, PS4, Xbox One, Xbox 360. Version tested: PS4. Developed and published by Ubisoft.