Far Cry 3: Blood Dragon |

reviews, news & interviews
Far Cry 3: Blood Dragon
Far Cry 3: Blood Dragon
The game of 2012 gets a 1980s action make-over in this both dumb and smart expansion
'Far Cry 3: Blood Dragon': Post-modern retro 80s ironic action
An invincible army of cybercommandos, neon-pink pulsing colour schemes and the throbbing sounds of a Morodor-style baseline – Far Cry 3: Blood Dragon is every bit the dumb Eighties action game on the surface, but underneath it might actually be one of the most interesting approaches to mainstream gaming in a while.
Blood Dragon is "downloadable content" – an extra expansion pack served up after the main event (the game of the year, Far Cry 3). The phrase is normally a dire enough idea it should send gamers scurrying in the opposite direction.
Most downloadable content packs are hastily-assembled extra missions that add nothing to the original game or, worse, are bits of the game that should have been included in the first place, cynically excluded to prolong the shelf-life of the original game. You can't play the expansion without hanging on to the original disc, so the game stays off secondhand racks.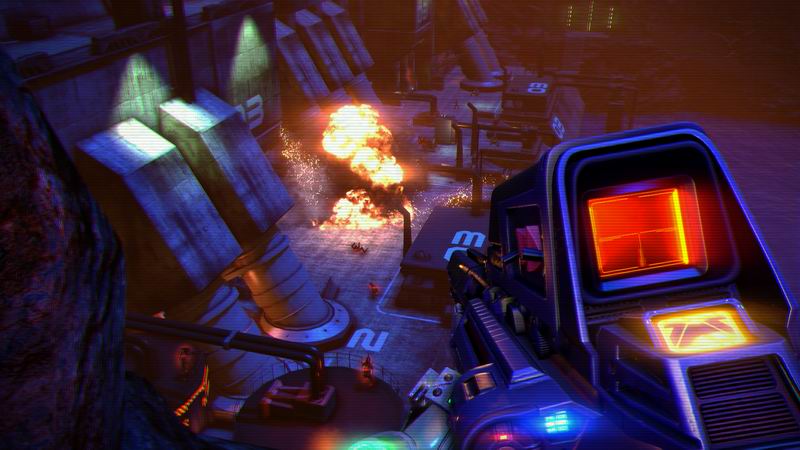 Except here, Ubisoft have triply-delivered – not only is Blood Dragon an utterly deranged 1980s action pastiche first-person shooter, it's also a standalone game – you don't need to have played or owned Far Cry 3 to get it, and it's so different from its older sibling that its existence doesn't detract from the original.
Blood Dragon is a cheap reskinning of Far Cry 3. It uses much of the stuff under the bonnet of the original, saving huge amounts of money for its developers, but on top adds such a uniquely batshit crazy style of its own, the games are barely recognisable when put next to each other.
Blood Dragon swaps the sunny tropical island and a dangerous mix of safari animals and modern-day pirates, for a cyborg army, neon-soaked colour scheme and gigantic dragons with lasers for eyes. Yet underneath the style, the free-roaming mix of plot missions, aggressive animal surprises and outpost conquering action has similarities.
Even then, there's not much more similarity than with any other freeroaming first-person shooter that lets you choose between stealth and run-and-gun, that lets you hop in and out of vehicles and upgrades your abilities as you go (in other words, pretty much all modern freeroaming first-person shooters). And with 1980s icon Michael Biehn voicing hero Rex Power Colt (yes), plus everything down to the shuriken stealth takedowns and gun-twirling weapon-reloading animations dripping with retro action style, you won't notice too much.
The end result is a cheap, short shooter that delivers a quality of gameplay far higher than it should for its cost. And a sporadically hilarious and constantly ludicrous 1980s action homage to boot – just before the jokes pall, the game's over. The action and parody may be "dumb", but there's a clever way of moving expansion packs forward, if the rest of the games industry is smart enough to notice.