Marianne Faithfull, Royal Festival Hall |

reviews, news & interviews
Marianne Faithfull, Royal Festival Hall
Marianne Faithfull, Royal Festival Hall
Rock diva and recovered heroin addict makes a therapist out of her anniversary tour audience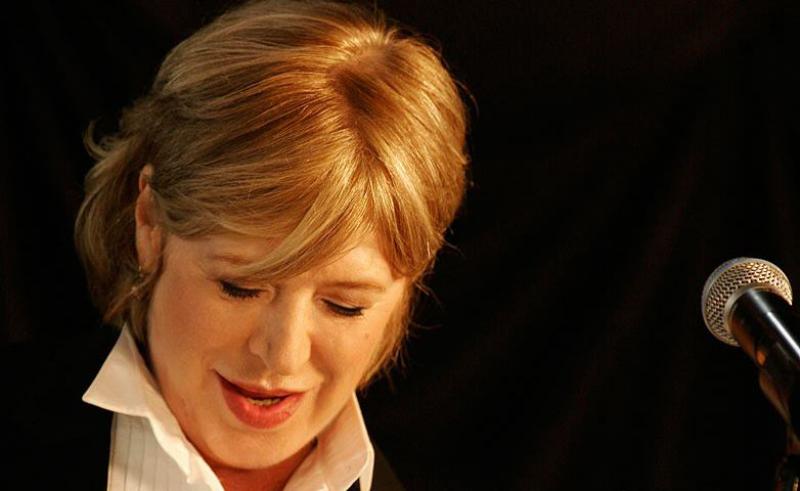 Faithfull's greatest hits are 'as ill-fitting as her old catsuits must now be'
"I have quit smoking!" the rock star exclaims to rapturous applause, taking a luxurious drag on an e-cigarette. And the artificial smoke dissipates across the stage, revealing a 67-year-old Marianne Faithfull perched on an antique leather chair, shoulder raised and pouting as if caricaturing her own youth.
It is a subtle and triumphant reference to her past of destructive drug abuse and yet tonight quite clearly shows that for Faithfull the stage (alongside nicotine replacement and a wooden walking stick) is now her crucial crutch for rehabilitation.
Though she fills many a musical rest with smiles, her vocal cords are soaked with melancholic history, each nodule telling its own tale of pain and hedonism. Her loveable charm and wit are ever-present and always spontaneous, but her delivery and tone in song are often monotonous, tired out by an intense self-consciousness that seems to place silent question marks over every musical phrase.
'Last Song' written with Damon Albarn is the only true ear worm of the evening
The generic rock-style backing band, whom she passionately promotes, do not appear to liberate her creatively. Their playing is at times stiff, at others purely pastiche, and the arrangements blur into one laboured aesthetic that forgets the varied character of her back catalogue. A repertoire which once moaned over anything from lonesome electronic backing tracks to the deep grunge and sensuality of Mick Jagger and Ry Cooder is instead reminiscent of a Nineties wedding disco.
Perhaps the intention was to lay the focus on the diva, but her repeated requests to "turn the bloody stage lights down" expose the fragility of her conflicted stage presence. And it is not until the fifth song, a version of The Everly Brothers' "The Price of Love", that she truly settles into the lyrics: "it costs more when you're to blaaaame", she sings, lingering over an American vowel, transported somewhere between Howlin' Wolf and Elvis Presley. The song ends abruptly to make way for more anecdotal chat about her French doctor, the broken hip bones and how she chose the songs for this 50th anniversary tour via fan-based market research.
She confesses, or revels in, her dependence on love from the audience, and their devotion is reciprocated in heckles and in patience. We are serenaded with "Marathon Kiss" and her voice is hoarse and sweet, singing "Fearless when I'm with you / What's it all for if you can't be right here in the room?" These lyrics could resonate with new meaning now, speaking of that audience-diva love affair, but instead she remains in an unnatural crooner default, with redundant gesticulations that try to lend meaning to her absent-minded delivery.
Though the "greatest hits" are as ill-fitting as her old catsuits must now be, a newly-penned piece written during a period of physical paralysis is a striking social critique based on The Jungle Book and prefaced by soothing maternal storytelling. "My God how you disgust me" she spits over a rock bass riff, "Mother wolf is not impressed".
It is a long and probably exhausting set, designed to leave her acolytes satisfied and heartwarmed, and it ends with an unexpected musical highlight. "Last Song", written with Damon Albarn – a kindred spirit of self-deprecating Britishness – is the only true ear worm of the evening. It is her own melody, with lyrics poetic but simple, speaking of hopeful greenery and friendship.
As the lights dim she hobbles off stage, taking pauses to wave tearfully to a full standing ovation from an audience she had at one point told to "shut the fuck up!" It's a complicated relationship with her congregation-cum-therapist. "I'm on stage, my show! This is not a dialogue!", she shouted with semi-ironic self-importance, and then corrected herself "…well, actually…maybe it is".
Paragraph 4 was edited after publication to correctly attribute the song "The Price of Love" to the Everly Brothers