Treasure Island, National Theatre |

reviews, news & interviews
Treasure Island, National Theatre
Treasure Island, National Theatre
The children's classic sets sail with Arthur Darvill aboard
Thursday, 11 December 2014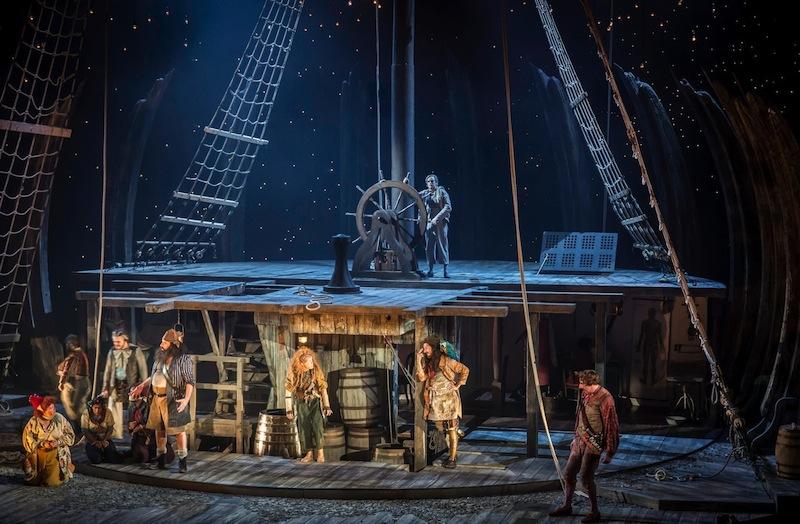 Shiver my timbers, a rigging spectacular
This isn't just a piratical treasure hunt. The NT is also on a rescue mission. The master plan here is, surely, to retrieve Robert Louis Stevenson's vintage adventure story about buccaneers and buried gold from the clutches of shamelessly C-rate panto producers. Opening last night – and recommended for anyone over 10 years old – the National's new upmarket staging visually enchants, while exuding playfulness.
A velvety night sky curves around director Polly Findlay's production. The Olivier auditorium is spangled with softly incandescent bulbs. These burn brighter, picking out constellations such as the Plough and Cassiopeia, when the adolescent protagonist – Patsy Ferran's sweet, scruffy, androgynously tomboyish 'Jim' Hawkins – is taught to navigate using the stars by Arthur Darvill's Long John Silver.
Of course, it takes Ferran's innocent character longer to learn that Silver's friendship is treacherous and that he is, in fact, a sneak who is only avariciously after her "X-marks-the-spot" map (pictured, Ferran and Darvill). Meanwhile, Lizzie Clachan's charming, ethnically jumbled costumes and her set design combine weathered beauty with hints of menace. Gigantic tusks of wood, on a scale akin to Stonehenge, encircle the stage like a ship's skeletal hull, or like the fangs of some nightmarish leviathan. A trove of other wonderful surprises is stashed in the rising drum of the Olivier's revolving stage.
Through never acutely scary, this adaptation isn't afraid of exploring the tale's dark side. A soundscape of eerie chill winds and pounding waves is interwoven with mellifluous folk songs (hauntingly arranged by the great John Tams with close harmonies and a fiddler).
Notably, as well, more than one character manifests trauma-related mental instability. Darvill's Silver keeps trying to suppress accusatory voices in his head. Having been abandoned and companionless on the titular island for years, Joshua James' Ben Gunn has developed schizophrenic quirks as well, gabbling to himself – with a touch of Poor Tom in King Lear.
Fear not. Fun is being had at the same time. The props department merrily lobs in comical rubber limbs, and Silver has a motorised puppet-parrot that twitches on his shoulder and pops up, as if by magic, in the audience.
This production has a few glitches. A couple of bouts of sword fighting are peculiarly dull. Darvill isn't quite as scintillating as he might be, getting off to a slow start, and some of the bit-part privateers are underdeveloped. But James' performance is outstandingly touching and gently humorous, and Ferran – who also serves as our narrator – is an extraordinary, quietly assured rising star, looking like a spindly elf but with inspiring inner strength.
At the off, one might suspect that the scriptwriter Bryony Lavery is going to get bogged down in Stevenson's salty seadog idioms which, from today's perspective, can seem like like crusty clichés. Actually, though, she takes enjoyable liberties. Playing around with the gender of 'Jim' with pointed humour, she creates a Treasure Island that has more female role models, so this is a Christmas show that is just as likely to appeal to girls as to boys. The obsessive quest for gold also reflects on our own society's wealth gap and develops into a critique of materialistic greed, delivered with a sly wink.
Treasure Island at the NT Olivier until 8 April. This production is also being broadcast in cinemas, under the National Theatre Live banner, on 22 January
Through never acutely scary, this adaptation isn't afraid of exploring the tale's dark side
rating
Explore topics
Share this article