Best of 2014: Art |

reviews, news & interviews
Best of 2014: Art
Best of 2014: Art
It was a year of remembrance - so who were the artists we couldn't forget?
Tuesday, 30 December 2014
Richard Hamilton, Towards a definitive statement on the coming trends in menswear and accessories (a) Together let us explore the stars, 1962
We commemorated the centenary of the start of the First World War and we celebrated the 25th anniversary of the fall of the Berlin Wall. The year also marked a 70th anniversary for the D-Day landings. So it was oddly fitting that the London art calendar was most notable for the invasion of heavyweight Germans; namely, four postwar artists whose sense of the weight of German history is writ large in their work.
There was Georg Baselitz with new self-portrait paintings at the Gagosian, early prints and drawings at the British Museum and a loan of his extensive German Renaissance print collection at the Royal Academy. Then there was Gerhard Richter opening the new Marian Goodman Gallery with a selection of recent abstract works, plus an appearance of his early prints and works on paper at the British Museum (alongside those of Baselitz, Markus Lüpertz, Blinky Palermo, AR Penck and Sigmar Polke, all part of a significant gift to the BM by German collector Count Duerckheim). And, of course, there was Anselm Kiefer, who made an unavoidable splash at the Royal Academy with a big (just ponder the weight of those load-bearing canvases and hulking lead sculptures) retrospective.
But it was the late Sigmar Polke, the least known and most enigmatic of the gang of four postwar big-hitters, who I think deserved the most attention. Never in danger of being overblown nor bombastic (à la Kiefer), nor even a particularly virtuosic painter (Richter), and certainly not prone to sticking to a signature style or motif over a lifetime (upside-down Baselitz), his Tate Modern survey – keenly witty, searingly political, ellipitical, anarchic, a bit druggy – was nothing short of a revelation (see below).
Longing for the physical touch of this empress of nothing, followers were invited to count rice and face the walls
Last, but as we say by no means least, on the German theme was Germany: Memories of a Nation, the British Museum's hugely ambitious exhibition that's also a companion to director Neil MacGregor's superb podcast taking us through 600 years of German history through objects.
The First World War was well served by both art and artefact, particularly at the Imperial War Museum, with the opening of the First World War Galleries in July. And the National Portrait Gallery should be commended for their own cleverly told and moving history The Great War in Portraits back in February. Their outgoing director Sandy Nairne has been instrumental in making the NPG a focus for often outstanding temporary exhibitions that draw both from their own collection and on significant loans and focus on particular events, histories, movements and biographies.
Commemorations and historical overviews aside, two blue-chip commercial galleries had a particularly enterprising year. While veteran New York gallerist Marian Goodman opened her first London premises in Mayfair, Swiss gallerists Hauser & Wirth, who already have two London galleries, both in Savile Row, opened a third – attached to a cordon bleu restaurant, magnificent gardens and "multipurpose arts centre" – in Somerset.
And while the global art brands continue to spread their tentacles of power, we also got a taste of Marina Abramović's growing messianic tendencies – 512 hours of it at the Serpentine. Longing for the physical touch of this empress of nothing, to cure them perhaps of some scrofulous ailment, as of old, followers were invited to mindfully count rice and face the walls.
The year hasn't been short of blockbuster surveys and brilliantly curated displays, as well as smaller, more focused surveys that have been unjustly overlooked but which have proved quietly groundbreaking in their own way. The best exhibitions, which are not, of course, always the ones with the biggest fanfare, nor even the best loans, usually forge a new appreciation and understanding of the artist(s) under the spotlight. They make you radically rethink, knock back lingering prejudices and break down resistance. In other words, they disarm you. The three or four that have lingered longest in my mind, and have kept troubling it, did just that. Others simply showed great and familar artists to best advantage, creating the best possible space for the subject to shine.
Here's my choice of the top eight exhibitions of the year.
Separated by a continent and a century, the pairing of American artist Helen Frankenthaler with England's greatest painter made connections both thematic and painterly – they were both fascinated by the sea and of course there's the elusive play of abstraction and figuration. There's also the deeply physical and gestural ways the two artists explored the business of painting. But it wasn't so much an interest in the juxtaposition, but the rare opportunity to encounter Frankenthaler's bold colour-stained canvases in the flesh that made this exhibition such a deeply thrilling and vital one. If I were to pick just one exhibition to remember the year by, this may just be it. She's definitely one for the wish list for a full retrospective. Come on, Tate. (Pictured: For EM, 1981; Helen Frankenthaler Foundation)
There was a point – a saturation point – when it seemed you couldn't move for Gerhard Richter exhibitions coming at you thick and fast. Surveys at the Whitechapel Gallery, the Serpentine and the NPG – I'm sure I've overlooked two or three others – were quickly followed by one big retrospective at Tate Modern. Not so for his friend of comparable but more difficult talent Sigmar Polke. Though there have been appearances here and there in commercial spaces, and also, in fact, at Tate Modern just over ten years ago, in an exhibition that focused only on the last six years of his output, the comparison is telling. You can understand why. Polke is a messy beast – conceptually brilliant but refusing to be so easily packaged. This mesmerising retrospective, on until 8 February, shows us exactly what we've been missing. Here, if we look hard, we find an acutely political artist, one with a delicate touch and razor-sharp mind, and who is exercised both by Germany's recent past and its present. There's absolutely nothing bloated about him – and he quite simply blows Anselm Kiefer out of the water. (Pictured: The Sausage Eater, 1963; Friedrich Christian Flick Collection)
This was probably the most anticipated exhibition of the year, so much so that it might be difficult for even Rembrandt to live up to Rembrandt. But however high one's expectations one surely couldn't leave feeling disappointed. The last decade of the Dutch artist's life was one of almost unrelenting hardship, but the sense of humanity emanating from the canvas only increased. And what a beautifully designed exhibition this was, as simple wooden portals led you through each room – neither ostentatious nor obtrusive, but creating a sense of entering a discrete and intimate space in which to encounter the work. Here the late self-portraits faced each other in the dim and small rotunda of the first room, and each gallery presented a different facet of this most psychologically acute of artists: the mesmerising sensuality of Bathsheba at Her Bath; the coarse wildness and almost repellent strangeness of The Conspiracy of the Batavians Under Claudius Civilis; the cadaver under the anatomist's knife, brains exposed and with the flesh framing his face like lustrous hair, not mocking but tender and terrible, in The Anatomy Lesson of Dr Joan Deyman (Pictured: 1656; Amsterdam Museum). This was raw humanity in the round.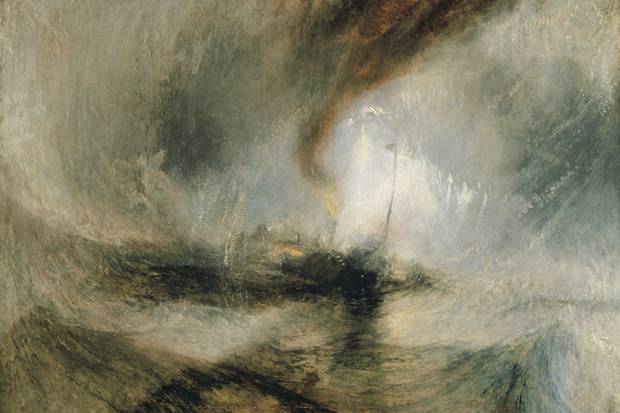 Turner and the Sea, National Maritime Museum
OK, this may be cheating: this is an exhibition that opened in November 2013, but it ended in April, which is when I eventually saw it – catching the penultimate day of its ending. And I was grateful. It was breathtaking – so much more than this year's far more expansive Late Turner: Painting Set Free at Tate Britain, despite all the wondrous watercolours featured in the latter. And there was a very simple reason for this – it explained Turner's genius like no other exhibition I have ever seen. Just that. Can anyone profess to ever be surprised by Turner? Delighted and awed, yes, but surprised? Well, this one managed to hold surprises that came like body shocks. By showing his antecedents, his contemporaries and his earlier paintings, and comparing them to what he alone became, and, what's more, by ending with all those unfinished canvases – mere "daubs", but what daubs, what singular facility and vision – it showed an artist who simply, and the cliché is deserved here, stands outside time. We knew this, but we were shown it here. You felt, perhaps for the first time, that you got just that bit closer to the heart of Turner's creative process. Moving. Explosive. Wow. (Pictured: Snow Storm - Steam-boat off a Harbour's Mouth, 1846; Tate)
Transmitting Warhol, Tate Liverpool
Is there anything left to say about Andy? Probably not, but thankfully that didn't stop Tate Liverpool putting together an exhibition – apparently the first solo show of Warhol north of Watford – that's lively, engaging and a whole lot of immersive fun. It focuses on Multimedia Warhol, showing how the artist gave us The Velvet Underground, Interview magazine, a Warhol TV channel, Do-It-Yourself artworks, and made and appeared in TV ads (having been a commercial artist, the most highly successful anywhere, this wasn't an alien concept to him). The exhibition, on until 8 February, recreates an Exploding Plastic Inevitable event with music by the Velvets and wall-to-wall Warhol footage of Factory "superstars", including Lou (pictured: Lou Reed), John and Nico. Meanwhile, the first gallery is almost a mini-retrospective: his earliest commercial works through to his big flower screenprints. You'd be hard-pressed not to love it.
Beryl Bainbridge, Somerset House
I didn't expect this to be on anyone else's "best of", and so it wasn't. But I adored this exhibition and I include it without hesitation. And of course it was a revelation because I had no idea Bainbridge was such a dedicated painter – and every bit as good a visual artist as she was a novelist. Her paintings were filtered through a literary imagination, her novels through a painterly one. And I don't know which came first – paintings featuring Samuel Johnson or According to Queeney, her novel about Johnson's relationship with Mrs Thrale; her epic and poignantly comic painting of survivors of the Titanic or Every Man for Himself (this brooding, subtly absurd painting featuring a range of historical characters, a bit like the Sgt. Pepper album); her scratchy painting of Captain Oates (pictured) sinking into the treacherous ice or The Birthday Boys. Her sensibility was a thoroughly British mix of Kitchen Sink and Pop surrealism. Joyous.
For me, the exquisite heart of this exhibition was the falling and tumbling figures, silhouetted against green and with punctured chests erupting in flames, that Matisse made for the magazine Verve in 1945 (pictured: cover image). Rarely has the war cast its shadow so poignantly in his work. Seeing the original cut-outs was an unbelievable treat. And what a contrast to those coolly formidable, untouchably elegant Blue Nudes of the early Fifties. Infirmity and ill-health meant that Matisse could no longer paint, but his dexterity with a pair of scissors was astonishing. This was an exhibition as much full of pathos as joy. The heart leapt and the heart was pierced.
If Hamilton had been American, instead of merely British and hence the British father of Pop art, then one feels that the world would have given him a greater fanfare. Though he doesn't rival Warhol in celebrity, he does rival him in significance. And because his intellectual curiosity took him to many different places artistically over the course of his life, he was probably more consistently interesting for a greater part of his career. Alas, Tate Modern's retrospective came three years after his death, so Hamilton didn't get to enjoy the fanfare. This extensive survey showed that there was much more to this coolly cerebral artist than that famous collage of 1956, Just what is it that makes today's homes so different, so appealing? With his very late political works – cowboy Blair literally setting the world ablaze – he tended, in his final years, towards the obvious and didactic (there was always that danger with him, and he usually steered it well) but this was a fascinating exhibition that celebrated a great and complex artist. (Pictured: Self-Portrait, 1990; see main picture)