Best of 2014: Dance & Ballet |

reviews, news & interviews
Best of 2014: Dance & Ballet
Best of 2014: Dance & Ballet
A dozen unforgettable events from a rich year
Wednesday, 31 December 2014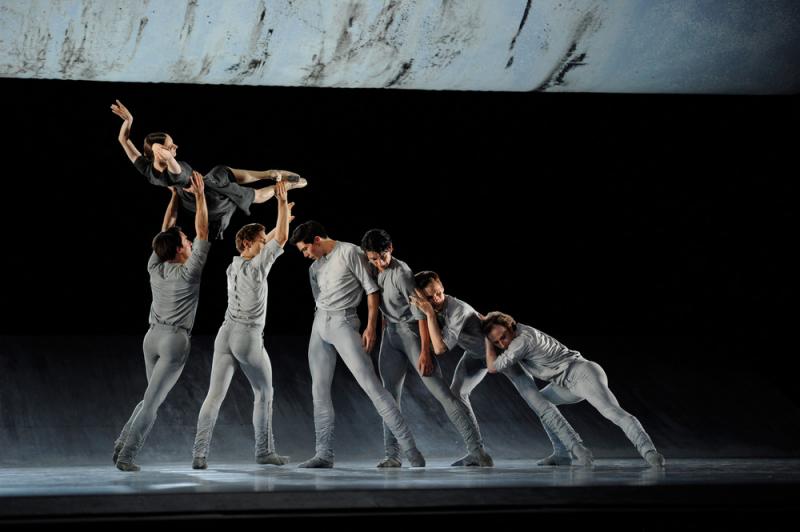 Liam Scarlett's 'Hummingbird': the best piece by far from a choreographer who had a very good 2014
You usually know a good piece or performance when you see one, but sometimes you only identify a great one as such significantly after the fact. What better way to test a work's durability, then, than by seeing what remains of it in the memory after six or 12 months? I admit this "best of" exercise is pretty subjective, but 2014 was such a rich year for dance that I've had to be ruthless: an item only makes my list if I still feel excited when I recall it.
This list doesn't sum up the whole year by any means. Some of the biggest events don't get a look in – the Royal Ballet's new Winter's Tale by Christopher Wheeldon being one – while major companies like Rambert, Birmingham Royal Ballet and Matthew Bourne's New Adventures are absent despite doing consistently strong work. The Sadler's Wells Flamenco Festival and the Edinburgh International Festival see no reward for their great programmes, though I thoroughly enjoyed both, while some fabulous performances (notably Sylvie Guillem and Akram Khan in Sacred Monsters) are disqualified for being straight revivals.
The list doesn't catch the structural developments in the dance world either. The Arts Council England budget that was announced in July had very good news for dance: a 9.4% increase in overall dance funding, large injections of cash into Birmingham Royal Ballet, the Akram Khan Company and Jasmin Vardimon Company, and the addition of the Shobana Jeyasingh Company, Mark Bruce Company and Matthew Bourne's New Adventures to the National Portfolio. English National Ballet in October announced a partnership with Sadler's Wells which will see the company perform there and reinforced the impression that Tamara Rojo's company is now the London ballet company with vision; in contrast, the Royal Ballet continues to alternate between box-office safe classics like Don Quixote and Manon, and new works which have this year mostly been greeted with ambivalence.
What I hope the list does catch is the exhilarating variety of high-quality dance we are lucky enough to have access to in this country. Thank you 2014: for this dance critic at least, you've been a blast.
And here, in roughly chronological order, are 12 things from the past year that I won't be forgetting in a hurry.
Natalia Osipova in Giselle – Royal Ballet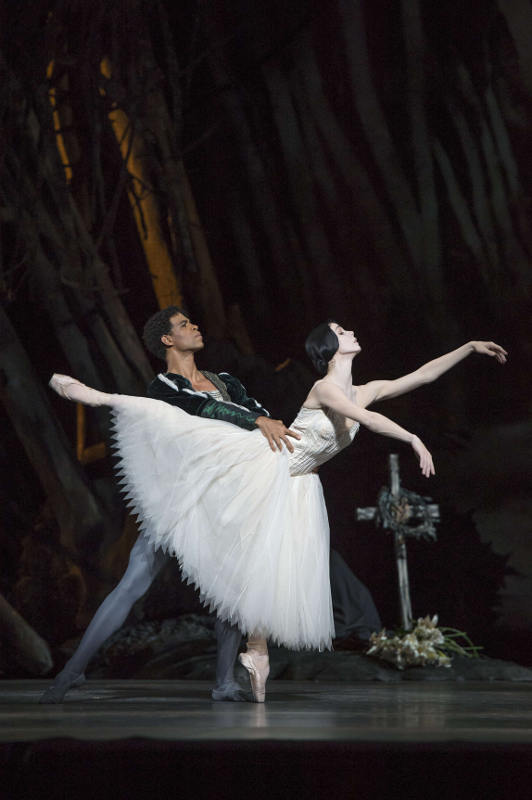 Historically speaking, Ms Osipova's 2014 will probably be remembered for her encounters with contemporary dance: she was the star centrepiece of Tetractys, Wayne McGregor's new piece for the Royal Ballet in the spring and of the similarly contemporary Connectome by Alistair Marriott, also for the Royal Ballet. In the summer she indicated she might be interested in following Sylvie Guillem's ballet-to-contemporary trajectory by commissioning three new works from contemporary choreographers for an August run at the Coliseum with her former fiancé Ivan Vasiliev. The mixed success of this venture suggests that it will be some years yet before Osipova becomes a contemporary dancer to remember. But she is already a dramatic ballerina to remember, one of the great ones of the age, and nothing demonstrated this more clearly than her Giselle at the Royal Opera House in January. It's one of her signature roles, and her command of its technical and dramatic challenges is complete: she seems to hang in the air as the sunny-natured peasant girl, and attacks that first, whirling Act II entrance with blistering speed. Gallantly partnered by Carlos Acosta and surrounded by the Royal Ballet's corps on top form in Peter Wright's smokily Romantic production, Osipova (pictured, above right) seemed to be exactly where she belonged.

1980 – Tanztheater Wuppertal Pina Bausch, Sadler's Wells

A piece that caused a sensation in London in 1982 and hadn't been seen since had a lot of expectation riding on it – and nobody was disappointed when the late Pina Bausch's company brought 1980 back to Sadler's Wells in February. It's Bausch's War and Peace: epic, and glorious. For over three and a half hours the dancers had the audience transfixed as they walked, ran, laughed, sang, cried, ate, smoked, dressed and undressed, cracked jokes and confessed their deepest insecurities. It's an immersion in Bausch's strange, tender imagination that sent me out euphoric.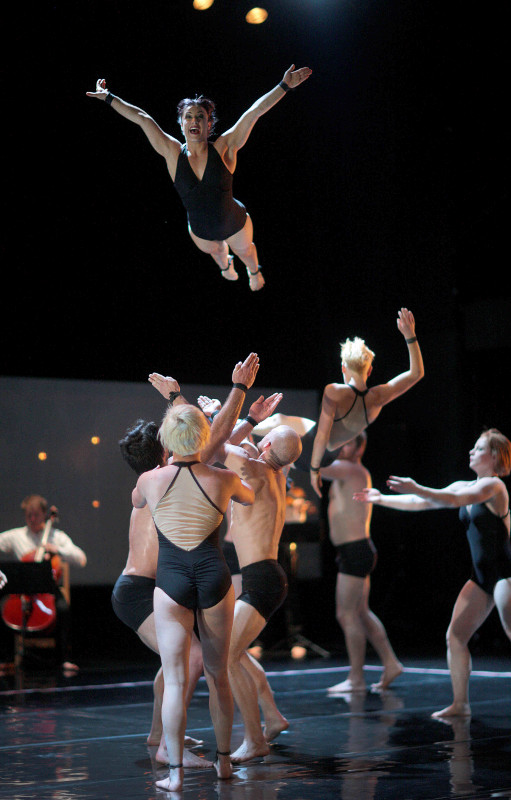 Opus – Circa and Debussy String Quartet, Barbican

Tucked away in the Barbican's spring programme, many people might have missed this collaboration between Australian contemporary circus outfit Circa and the Debussy String Quartet; the theatre was half empty when I saw it. But what a shame that was, as this unlikely blend of spiky Shostakovich string quartets (Nos. 5, 8 and 11) with trapezes, aerial silk work and gravity-defying tumbles and leaps (pictured left) was a quiet gem: the fey power of Shostakovich underlined the sheer weirdness of circus, but the playfulness of acrobatics also brought out the music's softer side.
Lest We Forget – English National Ballet, Barbican

English National Ballet outclassed everyone else in the WWI commemorative stakes this year: their Lest We Forget at the Barbican in February showed the company confident, dealing with history but looking to the future by commissioning new music, design and choreography (the less said about the inclusion of 2012's Firebird, which I accidentally but revealingly just mistyped Direbird, the better). The choice of Liam Scarlett, Russell Maliphant and Akram Khan, all creators of stylish, emotional, watchable work, as choreographers showed Tamara Rojo knows exactly what she's doing. The company was on top form, the reviews were rave, and in Khan's creation, Dust, we got to see a duet between Khan and Rojo herself, the first time these two major talents have worked together, and hopefully not the last. ENB's smaller companion event, Choreographics, also deserves a mention here: an annual showcase for short new works by the company's own dancers, it was this year themed around WWI and performed in the Barbican Pit. The result was four punchy pieces, all boasting new music by young composers and performed by ENB dancers on fine form. I'd look out for new work by any of the featured choreographers, though James Streeter and Stina Quagebeur's pieces particularly stick in my mind.

Rite of Spring and Petrushka – Fabulous Beast Dance Theatre, Sadler's Wells

This was a 2013 premiere, yes, so not strictly the province of 2014, but it merits inclusion because it comes close to my top performance of the year, and because its April revival at Sadler's Wells featured a full, live orchestra, a significant improvement on the piano arrangements which accompanied its debut run the year before. David Brophy and the Royal Ballet Sinfonia played the two Stravinsky scores superbly, and Michael Keegan Dolan's company supplied performances to match. Keegan Dolan's re-imaginings are weird and wacky (men in floral dresses and dog heads in Rite of Spring, a woman on a 15-foot-high post in Petrushka), but so emotionally and artistically convincing that they now bid fair to rival the originals in my mental concept of these two Ballet Russes classics .
International Dance Festival Birmingham

Okay, I might be cheating a bit with this one, as it lets me sneak a lot of performances in under one tight umbrella – but that's pretty much what the people of the Midlands got with this incredibly generous month-long festival. It featured a whole lot of pieces that had been excellent in London (including two of my year's top picks, Crystal Pite's Tempest Replica, and Fabulous Beast's Rite of Spring and Petrushka), and some that the capital hadn't even had a sniff at: the only UK performance this year of Sylvie Guillem's 6000 Miles Away, an ambitious danced Duruflé Requiem, and a new programme from rising star (and Birmingham native) Aakash Odedra, as well as plenty of site-specific, community and outreach dance events. Definitely watch out for the next IDFB when it rolls around in 2016.


Alina Cojocaru and Friedemann Vogel in Romeo and Juliet – English National Ballet, Royal Albert Hall

I'm not always the biggest fan of supersized ballet productions (like the Royal Ballet's O2 experiment) but when a performance is as good as Alina Cojocaru and Friedemann Vogel's transcendent turn as Romeo and Juliet (pictured above), it's satisfying to know that thousands of other ballet-goers will also appreciate it. The Romanian star ballerina, who migrated from the Royal Ballet to ENB in 2013, had only performed with Stuttgart Ballet's Vogel a handful of times, but theirs is already an unforgettable partnership: pure, sweeping romance and heart-stopping emotion at every turn. Derek Deane's in-the-round production is well put together, and many other ENB artists were on fine form (the two casts I saw both boasted excellent Mercutios and Benvolios), but it was thanks to Cojocaru and Vogel that this was one of those rare occasions when a ballet is absolutely everything you want – except long enough.

Vladimir Shklyarov and Diana Vishneva in Romeo and Juliet – Mariinsky Ballet, Royal Opera House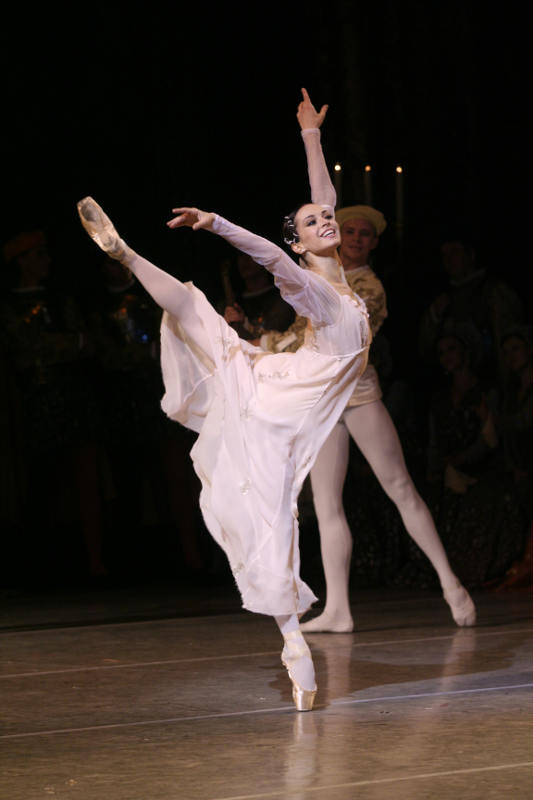 The Mariinsky summer season at the Royal Opera House ranged from the safe Swan Lake to Alexei Ratmansky's frequently-reviled (though not by me) 2002 Cinderella, and included a very rare chance to see George Balanchine's full length Midsummer Night's Dream. Tensions ran as high as ticket prices, as the cliques, claqueurs and rumour millsters analysed casting, rooted for their favourite dancers and badmouthed others, while British dancer Xander Parish, poached from the Royal Ballet four years ago, made his début as Siegfried amid hype-fuelled expectation to which he couldn't – in my opinion – quite live up. But there was still old-school Mariinsky class and star power on show, and much of it concentrated in the opening night's Romeo and Juliet with Vladimir Shklyarov and Diana Vishneva in the title roles. Vishneva (pictured right) is an international superstar ballerina of stunning charisma and dramatic ability; Shklyarov a handsome younger principal whose gallant partnerning and clean, beautiful dancing never disappoint. Together, they were always going to be a class act, but electric on-stage chemistry pushed their performance of Lavrovsky's dated 1940s Romeo and Juliet beyond that into the territory of the sublime.

Crystal Pite at Sadler's Wells

The Canadian choreographer, an Associate Artist at Sadler's, was responsible for two strange, beautiful, memorable pieces. Her own company, Kidd Pivot, performed The Tempest Replica, an eerily fantastical version of Shakespeare's play featuring insect-like masks, white papier-maché props, and an incredibly strong instinct for storytelling through movement. And as part of See the Music, Hear the Dance, the Sadler's event celebrating composer Thomas Adès in October, Pite created Polaris on a large cast of London dancers: in a hyped and star-studded evening, Polaris stood out for its scale, its beautiful design, and Pite's ability to create drama without plot and spectacle without bombast.

Symphonic Variations – Royal Ballet, Royal Opera House

There was plenty of Sir Frederick Ashton's work around in 2014. Birmingham Royal Ballet did a triple bill (and a Fille) in June, including the rarely performed 1941 Dante Sonata, while the Royal Ballet's summer season saw a wonderful run of Ashton's miniature masterpiece, The Dream, with the company's corps on top form in the fluttery fairy numbers. August and the Mariinsky even brought Marguerite and Armand, once exclusively a Fonteyn/Nureyev vehicle but now apparently sold anywhere – and not to its advantage, as the painfully leaden Mariinsky performance (scuppered by Diana Vishneva's obvious disdain for last-minute substitute Armand, Konstantin Zverev) showed. The all-Ashton bill at the ROH in November was also prevented by some weak performances from reaching the pinnacle of perfection, but not in Symphonic Variations (pictured below). A stellar cast of six graced this serene masterpiece from 1946, an abstract joy that has been likened to a heavenly tennis match (I call it Lucienne Day wallpaper for the soul). The linchpin was Vadim Muntagirov, who migrated to the Royal from ENB in the spring, and who is finally acquiring a regal stage presence to match his significant dancing talent. He's still only 24, which means he should get even better in the next few years – a very exciting prospect.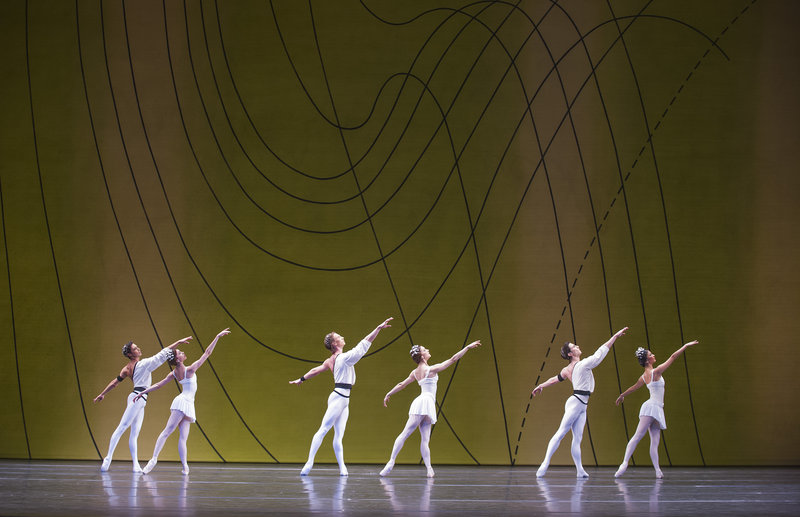 Liam Scarlett

The Artist in Residence at the Royal Ballet had a good year. The Royal Opera House saw returns of his deeply disturbing but good Hansel and Gretel (2013) and the disturbingly less good Sweet Violets (2012), as well as a big premiere (The Age of Anxiety) in November which, though over-long, featured a memorable combination of Bernstein, Auden, and the Royal's dancing/acting heavyweights Laura Morera and Bennet Gartside. Outside his home company, the BalletBoyz revived Scarlett's 2013 Serpent (the one with all the muscles and flesh-coloured tights), and his No Man's Land was one of the three pillars of ENB's Lest We Forget (see above). But it was actually in Paris that I saw his best work of the year: the beautifully-designed Hummingbird for San Francisco Ballet (main picture) drew intense performances from that company's star ballerinas Maria Kochetkova, Frances Chung and Yuan Yuan Tan, the latter looking unusually emotionally engaged. I still don't know what the narrative arc was – or what that title means – but I'd go to this barn dance at the end of the world any day.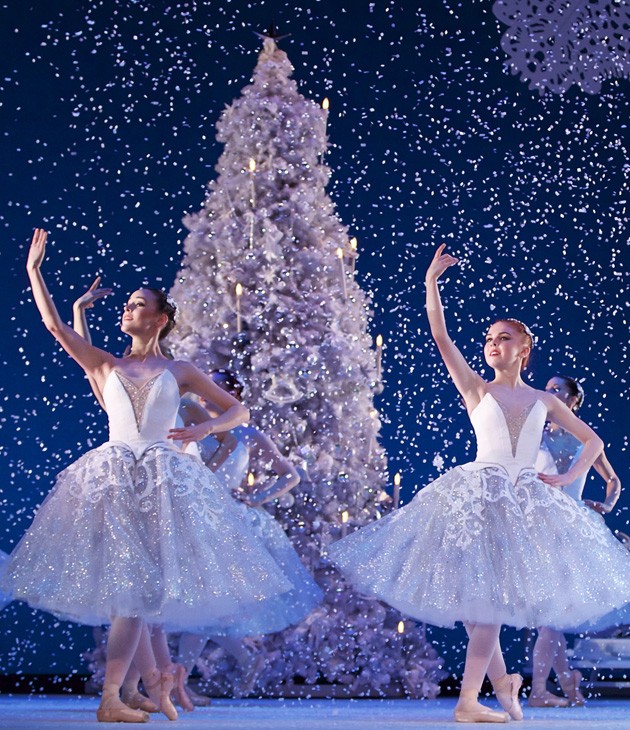 The Nutcracker – Scottish Ballet

It's harder to stage a classic Nutcracker than you might think, but Scottish Ballet have come pretty close with their Christmas 2014 creation, which takes the choreography and story treatment of company founder Peter Darrell's popular 1970s production (which was in repertory until 1997) and transforms it with lavishly updated designs by dance theatre veteran Lez Brotherston (pictured right: the Land of Ice and Snow). The resulting production is full of childlike wonder: it trusts in the simple power of good storytelling and good design, eschewing attempts to be clever or subversive, and sends the audience on their way with hearts full of Christmas joy.


We are lucky to have access to high quality dance of exhilarating variety
Share this article