Into the Woods |

reviews, news & interviews
Into the Woods
Into the Woods
Big-screen Sondheim adaptation is witty and shrewd, but sinister in the wrong place
My, what big openings you have: Lilla Crawford as Little Red Riding Hood.
Woods and forests were given a fresh impetus as a psychic terrain for the cinema by Lothlórien, Fangorn, and the other sylvan spaces so ethereally or threateningly rendered in The Lord of the Rings films and, to a lesser extent, by the Mirkwood of the second Hobbit movie.
All distorted black boles, labyrinths of tangled branches, knobbly roots, and conically sun-strafed clearings, they were movie woods to rival the great Gothic forest of Fritz Lang's
Die Nibelungen: Siegfried
(1924) and the magical Athenian wood Warner Bros. crafted at Burbank for Max Reinhardt and William Dieterle's
A Midsummer Night's Dream
(1935).
The Into the Woods woods don't set the pulse racing the same way. Although the dense, dark thickets designed by Dennis Gassner and filmed on a Shepperton soundstage physically reflect the influence of Arthur Rackham's peerless fairy tale illustrations, they lack their eldritch malice. The wild woods that engulf the 1937 Snow White and The Wind in the Willows' Mole (on the page) are much more terrifying. (Pictured below: Meryl Streep as the Witch.)
"I wanted [everyone] to feel…slightly scared," Gassner told the Los Angeles Times. Instilling dread in the audience would have been undesirable, of course, for Chicago director Rob Marshall's movie of Stephen Sondheim's 1986 fairy tale mash-up musical, adapted by James Lapine (who wrote the original book) and predicated as a safe family entertainment for the holidays.
It feels like a missed opportunity. But what Into the Woods misses in creepiness, it makes up for in wit. It's at its best when Sondheim's artful lyrics parody the self-regarding earnestness expressed in many Broadway songs and Disney's unctuous animated princess tales especially. It does this with more shrewdness and class than Enchanted and less smugness than the Shrek movies.

The bravura opening sequence – the 14-minute song "Prologue: Into the Woods" is a marvel of cross-cutting – sends the usual suspects under the branches on dedicated missions: Cinderella (the always game Anna Kendrick) to attend the King's festival and find her Prince (Chris Pine); Little Red Riding Hood (Lilla Crawford) to visit Granny; Jack (Daniel Huttlestone) to sell his milkless milk cow at the behest of his careworn mother (Tracey Ullman, excellent); and the Baker (James Corden) and his wife (Emily Blunt) to remove the curse placed on their fertility by the Witch (Meryl Streep), who, a potion in mind, has tasked them with finding "One: the cow as white as milk/Two: the cape as red as blood/Three: the hair as yellow as corn/Four: the slipper as pure as gold." (This clueless married pair was originated by Sondheim and Lapine.)
Ebulliently but not scarily portrayed by Streep, the redeemable witch herself heads wood-wards to see her sequestered adopted daughter, Rapunzel (Mackenzie Mauzy, more Baby Spice than Rackham waif). In the film's funniest scene, Rapunzel's prince (Billy Magnussen) and Cinderella's prince duet on "Agony" atop a waterfall, their perfect grooming and faux macho posturing suggesting they ought to settle down together rather than pursue a pushy scullery maid (Kendrick as Cinderella, pictured above) and a vapid prisoner with unmanageable hair. Red is more streetwise, a brat whose casual pilfering from the bakery raises the spectre of high-street shoplifting. Twenty-odd years ago, she might have been played by Christina Ricci in what could have been a subversive Tim Burton version, but the droll Crawford makes Red less acerbic than Ricci would have done.
Corden's diffident Everybloke narrates the story (rather than the musical's Mysterious Man), Blunt's romantically conflicted wife steals it. "Is it always 'or?/Is it never 'and'?", she sings plaintively in "Moments in the Woods". The Baker has discovered his latent manliness too late. The couple (Blunt and Corden, pictured below) takes center stage in the second act, but it's so tediously convoluted that it sags like a rope bridge weighed down by a Laurel and Hardy-borne piano. A leaner narrative might have emphasized Sondheim and Lapine's "be careful what you wish for" morality theme. Having achieved their goals under the woods' dangerously liberating influence, and got more than they bargained for, the five seekers must question and reverse their choices.
Jack, for example, is beset by giants in the land above his beanstalk, presented by Sondheim as a symbol of a pubescent youth's sexual hubris and, when growing rapidly in "A Very Nice Prince", as an object of interest for Cinderella. She doesn't anticipate the pitfalls of falling for a rake, however, and must escape her new husband, who tells her, "I was raised to be charming, not sincere". The five don't all make it out alive, for Into the Woods is not overtly sentimental. No prizes for guessing which one of them dies and why.
There was constant speculation during the film's long gestation that its killings and sexual content would be eliminated. In the end, there was a softening of these elements, if not a ruthless bowdlerization. Sondheim purists are more likely to regret the cutting of 10 songs (including two reprises), though the tunes of two of them were incorporated.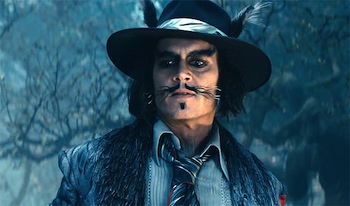 One nasty bit of business did slip through the net. Johnny Depp, stereotypically cast as the Wolf (pictured left), serenades Red with the prospect of her being devoured. Little kids will think this means "eaten", but Depp's arch lewdness suggests otherwise. Some abuse occurs off screen, but it's short of statutory rape. "Isn't it nice to know a lot!/And a little bit not..." Red sings afterwards. Lilla Crawford is 13. Sarah Patterson was reportedly the same age when she played Rosaleen in Neil Jordan's The Company of Wolves (1984), the best Red Riding Hood movie, but writer Angela Carter made it clear that the lycanthropic Huntsman (Micha Bergese) is a potential ravisher in a dream.