Whiplash |

reviews, news & interviews
Whiplash
Whiplash
Oscar contender and sleeper success is whiplash-smart
Pushed to breaking point and beyond: Miles Teller and JK Simmons in `Whiplash'
Among the many pleasures of Whiplash, the low-budget indie film that is now up for five Oscar nominations (Best Picture included) and by rights deserved more, is a final sequence so breathlessly exciting that if this were a stage show, the ending would induce an instant ovation.
As it is, the final manic drumming display from music student Miles Teller, and the corresponding interplay between Teller and his drill sergeant of a professor (JK Simmons) who is the young artist's destructive nemesis and his saviour as well, builds to such a furious climax that you wonder what director
Damien Chazelle
can do for an encore. The smart answer is nothing, and so the movie stops.
That I, at least, wanted it to continue for another reel or more owes everything to the sustained vision of a movie that doesn't always make sense in some of its details (more on that later) but that is so committed to its view of artistic excellence-as-obsession that it makes the similarly themed Black Swan look like a comparable walk in the park. Just as the dancer played by Natalie Portman in that film is willing to bleed for her art - indeed, a primal masochism seems to have helped get her to where she is - so, too, does the excellent Teller's single-minded Andrew Nieman embrace the blood and sweat and tears and even life-threatening accidents that come his way.
The pain, we come to understand, co-exists with Andrew's supreme need to be the best jazz drummer he can be - much like his idols, Charlie Parker and Buddy Rich, both of whom endured their own sufferings along the way to iconic status. And a visible trace of Teller's own scars, the results of a near-fatal car accident some years back, actually serves this character and his various physical and psychic abrasions well. His indrawn quality in social situations notwithstanding (there's a dinner table scene that is a classic of its kind), Andrew is fortitude through and through.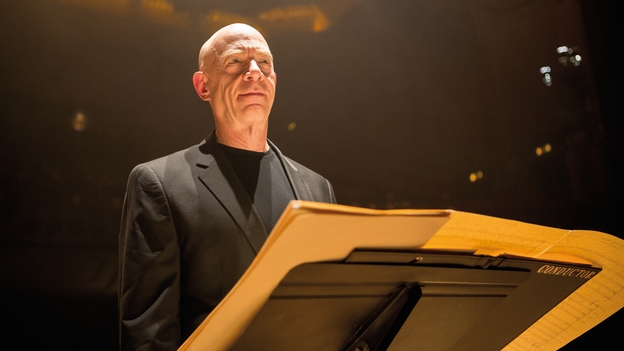 There are other ways of creating, to be sure, and Whiplash makes a telling point of contrasting Andrew's off-the-chart self-determination with his own father (Paul Reiser), a sweetheart of a dad who shares popcorn with his son at the movies but who fell far short of the ambitions as a writer he had set for himself. Then again, Dad probably never had a force in his life to match Simmons's Fletcher (pictured above), who sets a new celluloid bar when it comes to the tyrannical pedagogue: the type of instructor who, confronted with a student's single tear, is unimpressed and merely sets off on another volley of often homophobic, emasculating verbal abuse. (Sample: "You are a worthless pansy-ass.") When, that is, he isn't hurling instruments across the room or cutting a musical phrase short during rehearsal with a hand gesture that makes you wonder whether this man might not be happier wringing his students' necks.
Fletcher is a great role, and Simmons knows it, finding unexpected modulations in a character without a back story: is this powerhouse at the podium working out some peculiar sexual demons of his own via the bullying of his exclusively male charges? Chazelle isn't letting on. But you may never comprehend the complimentary phrase "good job" in quite the same way again once you've heard Fletcher anatomise it here, and Simmons's ability to summon both fear and, more surprising, empathy should stand him in good stead on Oscar night.
Sure, you might ask why Andrew and his classmates never seem to gather on their own to discuss their prof's, um, singular manner of instruction, and as the plot accelerates Chazelle momentarily seems to lose grasp of narrative logic, not least as involves a reckless driving mishap whose consequences are all but forgotten in the prevailing adrenalin rush. Still, such are the highs consistently induced by the gathering intensity of the movie that such cavils cease to matter. What doesn't kill you makes you stronger, and you leave Whiplash feeling both mightier in yourself and slightly in awe of what you have just seen.
Watch the trailer for Whiplash overleaf