Oscars 2015: Selma largely snubbed, Brits aplenty, and Meryl enters record books - again |

reviews, news & interviews
Oscars 2015: Selma largely snubbed, Brits aplenty, and Meryl enters record books - again
Oscars 2015: Selma largely snubbed, Brits aplenty, and Meryl enters record books - again
Who got tapped and sidelined in this year's Academy Award race
Thursday, 15 January 2015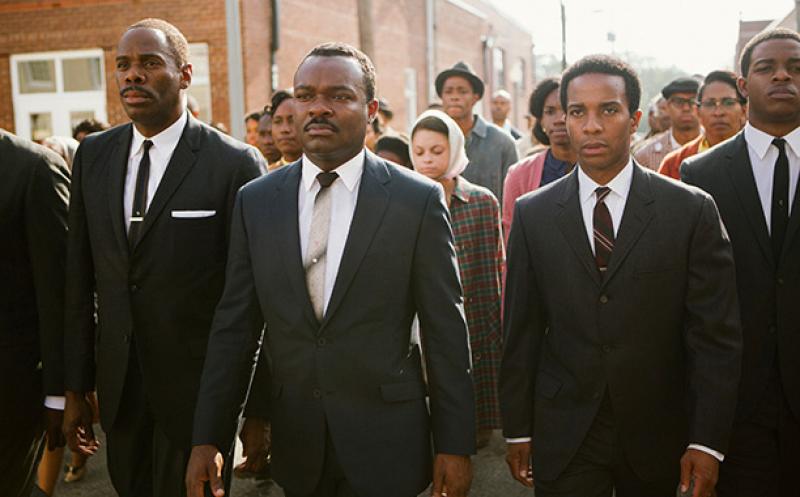 Dream deferred: Best picture nominee `Selma' was underrepresented in other categories
The Brits are back in the Oscar race big-time, with Benedict Cumberbatch, Eddie Redmayne, Felicity Jones, and Rosamund Pike among the first-time Academy Award hopefuls who will be duking it out in the leading categories.
But amidst the 2015 Oscar nomination hoo-ha, which includes a third consecutive nomination for Bradley Cooper (this time for
American Sniper
) and a career-defining 19th nod for the wondrous
Meryl Streep
(
Into the Woods
), spare a thought for those who didn't make the cut,
Mr Turner
's star and writer-director, Timothy Spall and Mike Leigh chief among them. Oh, and Ava DuVernay's much-acclaimed
Selma
, the Martin Luther King film that nabbed a shockingly scant two nods. This may be the whitest Oscar race in years.
This year's shortlist doesn't feature any of the jaw-dropping omissions that greeted last year's line-up, where neither Hollywood favourites Tom Hanks nor Robert Redford cracked the final quintet of names. Sure, there were those who expected more from Nightcrawler, which had been mooted for leading actor and supporting actress nods for Jake Gyllenhaal and Rene Russo, respectively, but Gyllenhaal can in any case console himself with some of the career-best raves he has been gathering in New York this week following his Broadway debut Tuesday night opposite Ruth Wilson in Englishman Nick Payne's Constellations.
Broadway, indeed, has rather more of a link to the Oscars than is usually the case. Both Cooper (pictured above) and supporting actress hopeful Emma Stone (Birdman) are currently appearing in Broadway shows, while the nine-time-nominated Birdman is of course set in and around the St James Theatre, though I don't recall Nathan Lane ever sprouting Michael Keaton-like wings during his run there in The Producers. Also scoring nine nods was Wes Anderson's wonderfully odd The Grand Budapest Hotel, and it's only a shame that a way wasn't found to include Ralph Fiennes - in his best screen performance in well over a decade - among the highly competitive best actor line-up.
Instead, that race pits real-life friends Redmayne and Cumberbatch against one another, both for playing singular British geniuses; the connection is amplified by the extraordinary fact that Cumberbatch once himself played the very person, Stephen Hawking, that finds Redmayne this year's favourite to win: Keaton is his main competition. The nice showing made by Foxcatcher (Bennett Miller, a 2006 nominee for Capote, was a surprise inclusion among the director retinue) found room for leading man Steve Carell but didn't extend, weirdly, to best picture, a category that itself stopped at eight names rather than continuing on to nine or ten.
Elsewhere, one is pleased to see Ida among a foreign film line-up that includes a rare entry from Estonia, and any mention of the blisteringly exciting Whiplash goes down well with me: supporting actor JK Simmons must be one of the firmest locks on the award in Oscar history. And the deletion from the final cut of the new song, "She'll Be Back", written expressly by Stephen Sondheim for Meryl Streep, means that Into the Woods - which has done better at the box office than many film musicals of late (Clint Eastwood's Jersey Boys, anyone?) - won't get to sing for its supper on Oscar night. Still, that likely doesn't matter much in context. Given Streep's continued march on the Oscars, there's precisely no doubt that she'll be back.
The 87th annual Academy Awards, hosted by Neil Patrick Harris, are on 22 February.
It's only a shame that a way wasn't found to include Ralph Fiennes - in his best screen performance in well over a decade - among the best actor line-up
Explore topics
Share this article