DVD: Gone Girl |

reviews, news & interviews
DVD: Gone Girl
DVD: Gone Girl
One more time for Gillian Flynn's he-said/she-said bestseller
Tuesday, 03 February 2015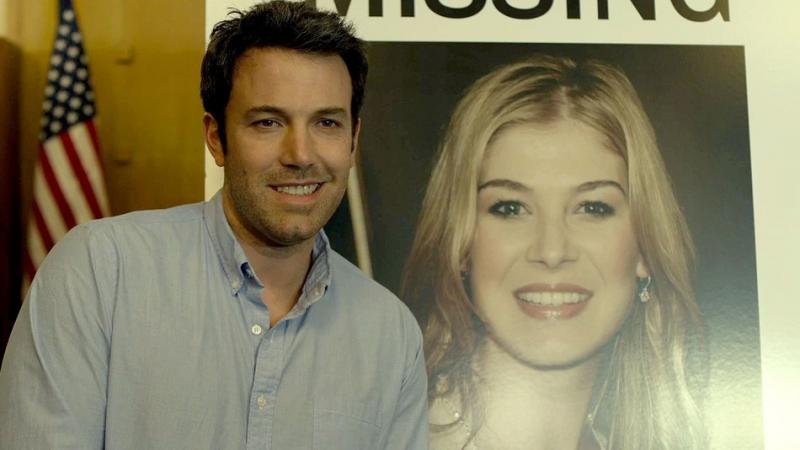 All smiles: Ben Affleck and (on the poster) Rosamund Pike in 'Gone Girl'
When a film is all about unreliable narrators, it's difficult to talk about it without ruining things for others. But it's also a problem for filmmakers. When Gillian Flynn's bestselling Gone Girl (1.2 million in UK paperback) was recalibrated by the author for the cinema, it was possible for the marketing material to refer to no more than the first 54 minutes of the movie. So explains director David Fincher in the commentary which is this release's only extra.
If they gave the game away, he adds, it wouldn't be worth making the film.
For Gone Girl first timers, there's plenty to feast on in a high-concept crime thriller cum garish social satire. The delusional Dunnes Nick and Amy (Ben Affleck and Rosamund Pike) are both guilty of buying into an all-American fantasy, only to be exiled by the recession to small-town Missouri where their happiness rapidly deflates. "We're so cute I want to punch us in the face," says Amy when the going is still good. As their story – make that stories, because they both have their own version – of marital implosion unfolds, you may of course wish to punch them in the face for other reasons: neither is anyone's idea of a hero or heroine you can root for.
Even if you know all about The Twist behind Amy's disappearance and Nick's trial by media, it's worth hunkering down with this release to pore over a clue-rich environment one more time. Fincher's commentary, which is very amusing at times, is a pleasurable bonus full of insights into storytelling technique, cinematic forebears, and film-set logistics. How, for example, do you shoot multiple takes of an extremely bloody murder when towards the endgame the film goes all grand guignol?
It's worth hunkering down with this release to pore over a clue-rich environment one more time
rating
Explore topics
Share this article