Selma |

reviews, news & interviews
Selma
Selma
Beautifully judged Martin Luther King biopic from director Ava DuVernay
Wednesday, 04 February 2015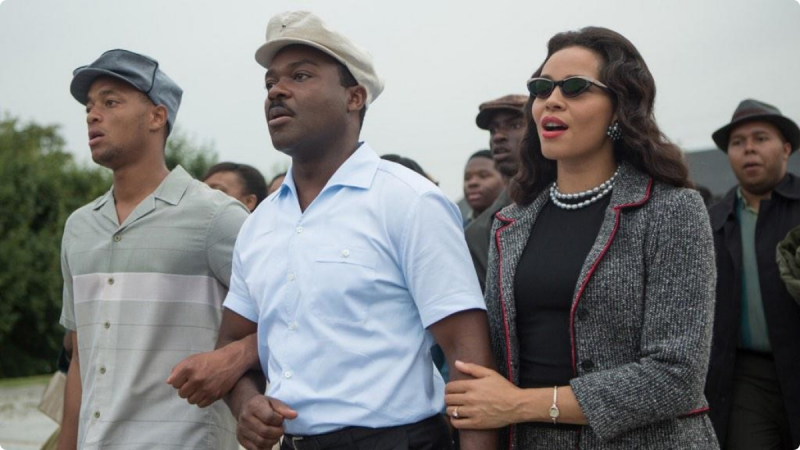 'Standing peaceful and proud, with nothing but their decency and faith to protect them': Oyelowo and Ejogo in 'Selma'
Few modern figures can match the towering legacy of civil rights luminary Martin Luther King, and any filmmaker should be rightly intimidated when approaching a biopic. Undaunted, Ava DuVernay has created something remarkable.
She pitches her film perfectly, presenting an intimate portrait of a man struggling to live up to his own legend and maintain the momentum of a movement, filtered through the powerful story of a series of initially small, eventually seminal protests in the town of Selma, Alabama.
Beginning in 1964, it follows King's receipt of the Nobel Peace Prize with a crime of devastating hatred that leaves a legacy of tension – from the outset we're under no illusions as to what King is up against. Frustrated by the obstacles which prevent black citizens from taking up their hard-earned voting rights, King (David Oyelowo) and his loyal band of cohorts join forces with Selma locals to organise acts of peaceful resistance, culminating in a march from Selma to Montgomery in 1965, after two failed attempts.
Their main adversaries are the brutal Sheriff Jim Clark (Stan Houston) on the ground and, in a political sense, the governor of Alabama – the reptilian, pro-segregation George Wallace (a brilliantly repugnant Tim Roth, so riddled with contempt he barely seems human); in the White House a stressed-out President Lyndon B Johnson (Tom Wilkinson) refuses to kowtow to King's pressure tactics. Meanwhile King's home-life, with wife Coretta (Carmen Ejogo) takes the strain. DuVernay's telling is punctuated by FBI updates, as the Bureau spy on the freedom fighters; the suspicious, distorted and demonising tone of their missives stands in stark contrast to the group's righteous, reasonable and impassioned actions.
Selma doesn't overreach by attempting to encompass King's extraordinary life's work, nor does it raise him up so high that he ceases to be relatable or credible. Paul Webb's dignified, focused and subtly exploratory screenplay gives Oyelowo a platform for a richly nuanced performance. Their version of King is still a superhumanly charged, electrifying public speaker but when he steps down from the podium or pulpit he's wracked with guilt and doubt. Oyelowo has chemistry with the admirable Ejogo and sparks of a different kind with Wilkinson as Johnson; their furiously combative dynamic is one of the film's most fascinating dimensions, with Johnson agreeing to the harassment of King's family and privately resisting his calls for change, only to ultimately play the hero on the public stage.
Producer Oprah Winfrey (pictured above right) takes on a small but plucky role and cinematographer Bradford Young (A Most Violent Year) deftly draws out the determination and powerful nobility of the marchers, getting terrific mileage out of the increasingly diverse faces joining the throng. The simple but sensitive style suits the subject matter – casting the struggle as a battle between the best and worst of humanity, with one side fuelled by blind loathing, and fighting with guns and bats and whips, and the other standing peaceful and proud, with nothing but their decency and faith to protect them.
DuVernay does well to focus on a small-town drama with far-reaching consequences. The message is clear: this is not a film that wields the greatness of its protagonist, forcing its audience into awestruck submission; it's one that sets out to inspire, that shows us what's achievable, that challenges people to act. In these increasingly unequal, still racially turbulent times, Selma reminds us how the courageous actions of a few really can make a difference. It'll make your heart ache and your spirit soar.
This is not a film that wields the greatness of its protagonist
rating
Explore topics
Share this article