Gorgon City, Concorde 2, Brighton |

reviews, news & interviews
Gorgon City, Concorde 2, Brighton
Gorgon City, Concorde 2, Brighton
London house outfit's live incarnation sends a south coast crowd doolally
Thursday, 12 February 2015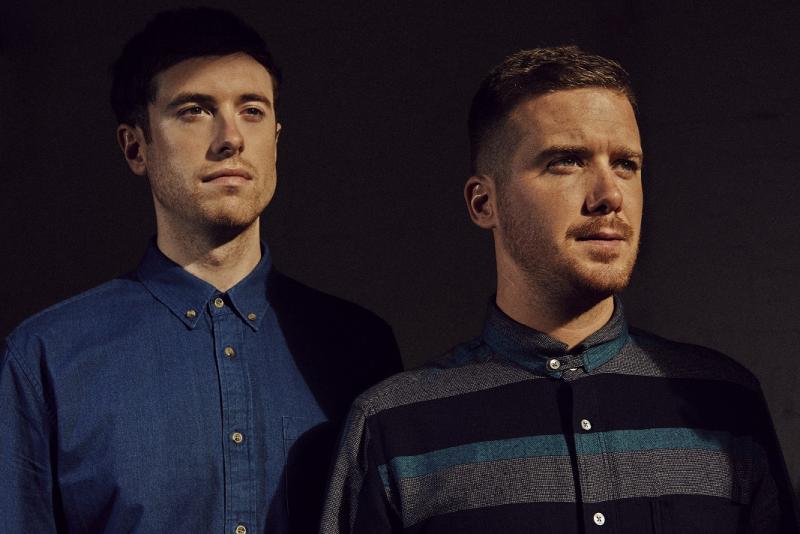 Kye Gibbon and Matt Robson-Scott, the two heads of Gorgon City
The vibe in the Concorde last night was unbelievably up. The short version of this review is that the band are decent live but the crowd made the evening fizz with manic human electricity. Gorgon City, like a less funk-based Rudimental, performed songs that magpie about the history of electronic dance music, focusing especially on the classic house template, but attaching it all to soul-pop songwriting.
DJ-producer duo, Foamo and Rack'n'Ruin, AKA Kye Gibbon and Matt Robson-Scott, appeared on either side of the stage in front of banks of synths, the latter with nine drum pads too, and then there was drummer Tugg (Nathan Curran) at the back.
Taking the spotlight, then, were singers Lulu James and Josh Barry, with full-lunged support from Janai. They spent the concert taking turns on songs originally sung by MNEK, Jennifer Hudson, Katy B and others over the band's two year career. All assembled, they cracked into "Coming Home", the opening track of their only album, and the crowd, dominated by glammed and ready-to-disco women in the twenties, immediately started to jig to its 2-step garage rhythm. The music never really reached fever pitch: a steady jog, a groove, but the crowd gradually grew frantic during the hour long set, a very multi-racial audience for Brighton, all grinning, hugging, whooping, recreating a 1990s rave vibe but with cans of Red Stripe rather than MDMA as the engine.
There were moments of wildness. Gibbon occasionally attacked a Roland 303 (or equivalent software) and built between-track acid attacks, almost as sonic punctuation, and there was a full-on drum & bass assault towards the end. Mostly, though, last night was about the place where south London's soul tradition collided with rave and then with the bass end offered by UK garage and dubstep. Behind the band, blinding lights flashed, stroboscopic spotlights played, in a satisfyingly old school retina-searing display. And everybody knew the words, from the debut single "Used to Be" to album tracks such as "Imagination" to hits such as "Here for You".
Gorgon City's album, Sirens, has its moments but there's also a tendency towards iPod earbud production, that ersatz plasticity prevalent in current Top 10 pop, designed, transistor-style, for mobile phones, etc. Live, however, there was no sign of this. The sound was full-bodied. Gorgon City's shows have, until now, been more PA than proper performance but this is changing. There's a sense they're prepping for festival season. By the time they reached the encore they'd swept the Concorde 2 to near hysteria. I was taken by surprise. The music wasn't mad but its effect was. They requested that everyone climbed on someone's shoulders for their biggest hit "Ready For Your Love" and half the place did it, then they ended with "Go All Night" with it's refrain, "Keep on dancing". The crowd obliged, right to the very back, egging each other on, losing themselves in it. That was really quite something.
Overleaf: Watch Gorgon City "Go All Night" featuring Jennifer Hudson live in BBC Radio 1's Live Lounge
The crowd gradually grows frantic during the hour long set, grinning, hugging, whooping, recreating a 1990s rave vibe but with cans of Red Stripe rather than MDMA as the engine
rating
Share this article