The South Bank Show: Mark Rylance, Sky Arts 1 |

reviews, news & interviews
The South Bank Show: Mark Rylance, Sky Arts 1
The South Bank Show: Mark Rylance, Sky Arts 1
Lord Bragg explores an actor's life
Wednesday, 25 February 2015
Rylance as Thomas Cromwell in BBC Two's 'Wolf Hall'
Going into this programme, it dawned on me that I knew next to nothing about Mark Rylance's background – where he came from, who his parents were, what he does in his personal life. Having reached the end credits I was little the wiser, other than having learned that he has a wife called Claire, since none of it fell within the purview of Melvyn Bragg's interviewing.
But I suppose there's always Wikipedia for the other stuff, and Bragg's close focus on Rylance the actor and his main spheres of thespian activity paid its own dividends. It prised out revelations about his approach to his craft, and assembled a portrait of a man who seems both aware of his prodigious abilities while modest enough never to take them for granted. At least that's how it looked to me, but then Rylance did admit that "the boundaries of who I am have always been very loose," and that he tells lies for a living ("you've paid money to be lied to, so it's not entirely my fault.")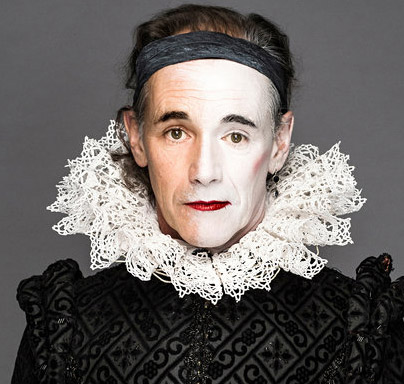 Rylance has of course been a highly regarded and much-begonged stage actor for many years, not least through the work he did during his decade as artistic director of London's Globe Theatre, and in many respects the place seems to have been the perfect cockpit for the actor and his particular view of his trade. While acknowledging the recent boom in academic study of Shakespeare, Rylance loves getting up close with his audience and down and dirty with the grunt-work of putting on plays – so much so, he recalled, that he spent a lot of time at the Globe cleaning out the gunk that gathered in its primitive drains. Rylance's idea of theatre is practical, physical and dynamic, for which the replica of Shakespeare's 1599 theatre was ideally suited. Rylance cherished "the nice fact that people could come and go, I loved that about it, that they could leave if it was boring" (Rylance as Olivia in Twelfth Night, pictured above).
His protean energy found another spectacular outlet when he played Johnny "Rooster" Byron in Jez Butterworth's Jerusalem (pictured below). Its fissile mix of 21st-century squalor and ancient English myth evidently unleashed something primal inside the actor, and Butterworth recalled how Rylance seemed to physically expand in front of him as he demonstrated how he wanted to play the role.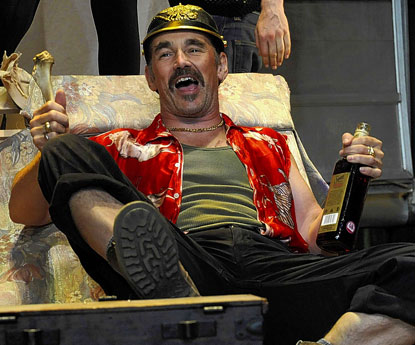 Rylance has traditionally been doubtful about film and TV work, but his portrayal of Thomas Cromwell in Wolf Hall has helped to push him into a new category of visibility. In fact his gift for infinitesimal facial expression and his particularly eloquent pair of eyes could yet make him a screen legend. Peter Kosminsky, who directed him in Wolf Hall and also The Government Inspector, remarked that he's "the most minute of film performers... Nothing is overblown, nothing is writ too large."
But for all the onward-and-upward stuff, it was Rylance's urge for self-examination that lingered in the mind. Talking to a roomful of actors and drama students, he made some brilliant points about keeping the "uncertainty" in a performance, so it wouldn't look as if every phrase or movement was the result of a series of pre-ordained decisions. The trick, as he explained it, would be to begin "To be or not to be..." and somehow not know what was coming next. Not everyone can do this, of course.
For all the onward-and-upward stuff, it was Rylance's urge for self- examination that lingered in the mind
rating
Explore topics
Share this article