Antigone, Barbican |

reviews, news & interviews
Antigone, Barbican
Antigone, Barbican
Juliette Binoche fails to shine as Sophocles' heroine, in an otherwise fine production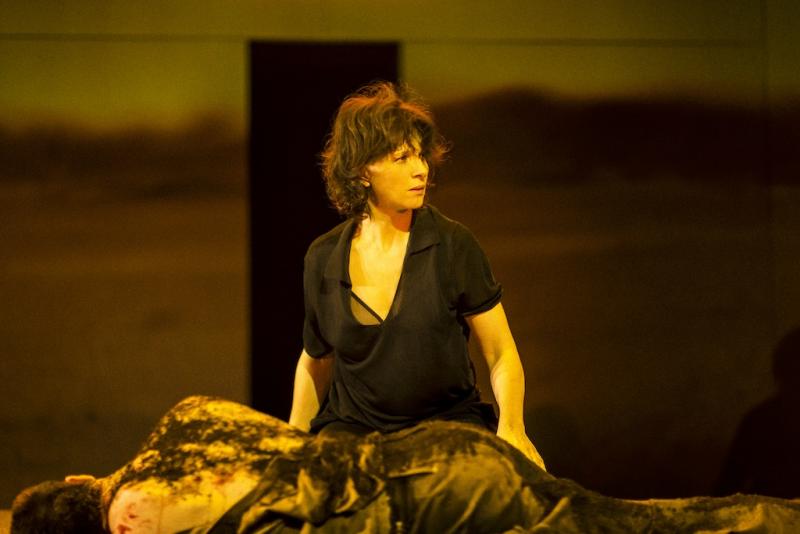 'Alien, foreign and strange': Juliette Binoche as Antigone
Last year the London stage was treated to an electrifying Medea and an intelligent, refreshing Electra, at The National and the Old Vic respectively. Now it's the turn of the Barbican to unleash the formidable force of Greek tragedy upon us, switching from Euripedes to Sophocles and a heroine who, compared to those others, is a pure-hearted innocent.
And how does the production compare? Favourably. In fact, Belgian director Ivo van Hove has offered a modern-dress interpretation as thrilling as his take on Miller's A View From The Bridge, currently playing across town. It's elegantly staged, with a marvellous new translation by Anne Carson that crackles with canny colloquialism and insight, features one of the best, most robust Greek choruses I've encountered and makes the play feel almost shockingly relevant.
One reason this is such a wonderful play is that it eschews the bloodletting of other tragedies, but feeds off the memory That it does not wholly deliver is due, surprisingly, to its star. Juliette Binoche captures the essence of Antigone simply by her bearing – that mixture of moral certitude, crazed rebelliousness and vulnerability. But the delivery is erratic; she's not yet in her groove.
The first view of her could not be more effective, striding across the Barbican's wide stage, dressed in black, wind blowing through her mane-like hair, a scarf flying behind her, profile proud. As Antigone embraces her sister, Ismene (Kirsty Bushell), she's a woman on a mission.
Having waged civil war over control of Thebes, the sisters' two brothers are both dead. Their uncle Kreon (Patrick O'Kane, pictured below right, with Samuel Edward-Cook) has taken the throne, determined to fashion a state beyond personal considerations. He buries one nephew, but decrees that the antagonist of the war, Polyneikes, must rot in the sun. Antigone vows to bury him, thus defying the king.
The play is a battle between the two; between Kreon's assertion that "if a man puts family or friends ahead of fatherland, I count him absolutely good for nothing," and Antigone's devotion both to family and to the fundamental right of burial. Once she is caught in her "act of perfect piety" his decision to bury her too, alive, unhinges everything he'd hoped to secure.
Just as Electra feels she has no choice but to grieve in perpetuity for her dead father, so Antigone must bury her brother, whatever the cost; there's an honour to her insistence that's irrefutable. The tragedy is really that of Kreon, whose misguided intransigence causes everyone's undoing.
One reason this is such a wonderful play is that it eschews the bloodletting of other tragedies, but feeds off the memory; Oedipus's shadow looms over events, Antigone is said to be paying her father's debts, while Kreon recognises that he is locked still in a familial cycle of self-destruction.
In the meantime, the action is verbal, as Kreon's stiffly suited bureaucrat is embroiled in debate over his actions. This is where van Hove's use of the chorus comes into its own, his supporting cast working collectively as Kreon's advisors, swaying between the arguments, while each peels off to play an individual prepared to stand up to him, demonstrating the flexibility – and the political nouse – that he cannot.
The confrontations between Kreon and his son Haimon (Samuel Edward-Cook), then with the seer Tiresias (Finbar Lynch) are particularly scintillating, not least when father and son clash bald-headedly over the fate of one's niece, the other's fiancée.
Another of the chorus, Obi Abili, also doubles as comic relief – and the closest the play comes to an ordinary Theban citizen – as a guard with an instinct for self-preservation that the royal family could well use.
Jan Verswetwel's set reflects the central tension in the play between the state and the eternal. At the fore is a strip of black leather sofas and low wooden cabinets, creating the feel of a swanky but informal meeting room, the setting for quietly-spoken, faux civilised political machination. Behind them, a back projection – sometimes of urban street scenes, more potently of desert landscapes – is dominated by a glorious, moving sphere, doubling as the sun and moon. Between, the bare ground on which bodies lay, alive and dead, waiting for burial.
It's a highly charged setting, around which Anne Carson's clean, agile, sometimes cheerfully contemporary dialogue dances. One has to chuckle at the cheekiness when Kreon praises his "top notch advisors." When he is chastised for "the sacrilege that you called public policy" Carson suddenly makes Theban politics hugely resonant. How many current events might be similarly described?
Carson also brings the sexism of the context to the fore, reminding us that women were given little part to play in this society. "We two are alone," Ismene tells her sister, "moreover we're girls."
In her defiance, Antigone does her level best to address this imbalance. And Binoche, with her innate, ferocious individualism, ought to be perfect in conveying that. In her quieter, more ironic moments, she is, while also making palpable the description of her rebel as "alien, foreign and strange". At others, however, she is too manic, too shouty, mincing her words, belying the clarity of the text. And then you feel the audience leaving her.
A marvellous new translation by Anne Carson crackles with canny colloquialism and insight
rating
Explore topics
Share this article