The Water Diviner |

reviews, news & interviews
The Water Diviner
The Water Diviner
Russell Crowe makes an entertaining debut as director
One of the film's mis-steps is the love story element - Olga Kurylenko as Ayshe and Russell Crowe as Joshua
Russell Crowe, who has played more than his fair share of rugged action heroes, makes his directorial debut with The Water Diviner, a film in which he plays, you've guessed it, a rugged action hero. He is Joshua Connor, a farmer living in the Australian Outback in the early 1900s, who has an uncanny knack of finding water sources, enabling him to farm this otherwise arid landscape (beautifully shot by Andrew Lesnie).
Actually, this isn't a film about water-divining or the Outback; rather it's about one man's search for his three dead sons, who went off to the Great War together as part of the Australian and New Zealand Army Corps (ANZAC) and never came back. Their mother (Jacqueline McKenzie) cannot get over her loss and commits suicide, prompting the stoic Joshua to keep his promise to her that he would bring his sons home, albeit in coffins.
Full marks to Crowe for telling at least part of the Gallipoli story through Turkish eyes
The Connor sons had fought at Gallipoli, the woefully ill-advised attempt in 1915 by Britain and her allies to invade Turkey via the Dardanelles, which ended with more than 110,000 dead and a humiliating allied retreat. Despite the fact that more British soldiers than ANZACs died in that battle (and the Turks lost more than either), Gallipoli continues to hold a deep significance for Australia and New Zealand – as anybody who has seen Peter Weir's 1981 Gallipoli will know – and ANZAC Day (25 April) is a major point in the calendar Down Under.
In Crowe's film, which is written by Andrew Knight and Andrew Anastasios, and nominally based on a true story, in 1919 Joshua goes in search of his lost sons on the Turkish peninsula, which by now is under British administration. The British officers – all puffed-up poshos, of course – won't allow him to enter the still militarised zone, where the allied forces (led by a sympathetic Australian officer played by Jai Courtney) are retrieving bodies from the mud to give them a proper burial.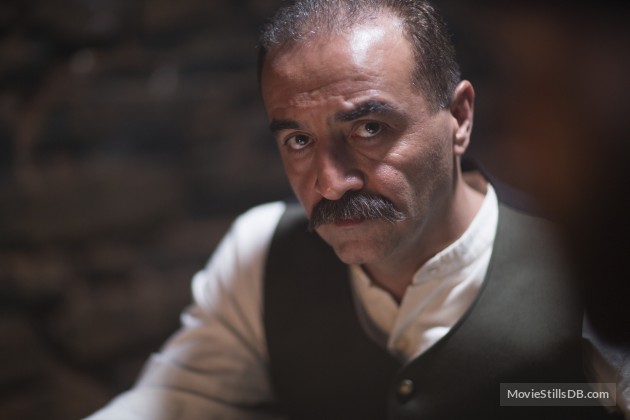 But the twinkly-eyed and resourceful Joshua gets there after receiving help from, first, Ayshe (Olga Kurylenko), the pretty young widow running the hotel he stays at in Istanbul, and her young son (the terrific Dylan Georgiades). If the adults' relationship starts out being less than believable, by the end of the film it also becomes laughably sentimental.
Then at the battle site Joshua meets Major Hasan (Yilmaz Erdogan, pictured right), a Turkish commander who had fought there a few years earlier and is now helping the allied troops locate the bodies. At first the two men are wary of each other but they learn to trust one another, each recognising another proud and morally upright man trying to do the right thing. This relationship – touching and beautifully played – is at the heart of the film, and Erdogan and Crowe's scenes together are terrific.
Then a scarcely believable twist in the tale causes Crowe to become caught up in the Turkish war of independence – and the film turns into Crocodile Dundee meets Raiders of the Lost Ark for the last reel as our hero rides galloping horses and speeding trains, gets into fist fights and gunfights, and rescues his new friend.
But Crowe, both as actor and director, mostly gets the tone right and the film's message – of forgiveness and redemption – is subtlely sent. There are a few mis-steps – the national stereotypes, the love story, the scene where Joshua teaches the Turks how to play cricket – but otherwise this is an entertaining film with a big heart. And full marks to Crowe for telling at least part of the Gallipoli story through Turkish eyes.
Overleaf: watch the trailer for The Water Diviner
Crowe, both as actor and director, mostly gets the tone right and the film's message – of forgiveness and redemption – is subtlely sent
rating
Explore topics
Share this article