Once Upon a Time in Anatolia |

reviews, news & interviews
Once Upon a Time in Anatolia
Once Upon a Time in Anatolia
Nuri Bilge Ceylan's masterful police drama will knock your socks off
The gathering storm: Erol Erarslan and a canine friend in 'Once Upon a Time in Anatolia'
A police procedural played out over a long dark night of the soul, Once Upon a Time in Anatolia is the magnificent sixth feature from Turkish writer / director Nuri Bilge Ceylan (Three Monkeys, Uzak). So much more than a simple thriller, it transforms a murder investigation into something gratifyingly profound and perversely beautiful; its grizzled, largely unfamiliar faces and their tales of woe will remain with you long after the end credits roll.
Swathed in scintillating sadness and infused with life's grim realities, it's lit up by bursts of black humour and an overwhelming sense of compassion.
Once Upon a Time in Anatolia opens peering through a dirty window, giving an indication of the grubby events that will follow. The camera gradually closes in to reveal three men engaged in an inaudible but apparently amicable conversation. Hearing his dog bark outside, one of the men - a burly chap later identified as Yasar (Erol Erarslan) - rushes to feed it. A crack of thunder heralds danger and, as a truck steams past, the opening credits kick in. The credits, it turns out, fill the space where this man will be murdered by his companions. When we return to the action we're following the police as they begin a frustrating, night-long search for his body.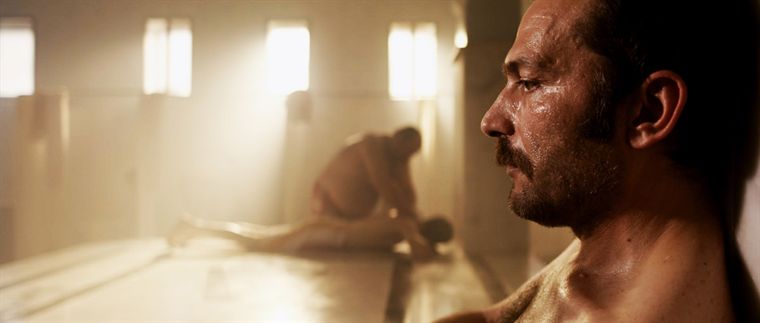 As they drive through the night, the investigation's convoy lights up the dark Anatolian hills like a restless fire. Out there at the whim of the elements these men are pursuing death through the countryside. When we enter one of the vehicles they have an enigmatic, exhausted suspect, Kenan (Firat Tanis), seated amongst them - their large bodies and gruff authority near swallowing him up. The police investigation is led by Chief Naci (Yilmaz Erdogan), a crabby man, who – as we learn from a phone conversation that he is unable to keep private - has a disabled son and a demanding wife. Also pivotal to the investigation are the accompanying doctor, Cemal (Muhammet Uzuner, pictured above right), a gloomy yet kind man with heartache in his past and, sharing in his romantic misery, the authoritarian but good-humoured Prosecutor Nusret (Taner Birsel).
Its slow-burn storytelling patiently uncovers the truth behind the murder and draws out the investigative team's own secret sadness, assisted by the camera's penetrating gaze. From Nusret's description of the corpse, which references Clark Gable, to the unseen (but wincingly audible) autopsy, to romantic deviations such as following an apple as it tumbles down a stream, its genius is in the detail. Once Upon a Time in Anatolia is terrifically shot and played throughout. One sequence of particular note is their frequently amusing rest-stop at a local village. When the lights go out the Mayor's young daughter, Cemile (Cansu Demirci, pictured below left), brings light and refreshment to the men seated in the darkness. As she moves among them like an angel she illuminates every suddenly smitten face, handing out drinks by lamplight. Her presence is felt sweetly as a youthful, softly feminine counterpoint to the dominant crusty masculinity.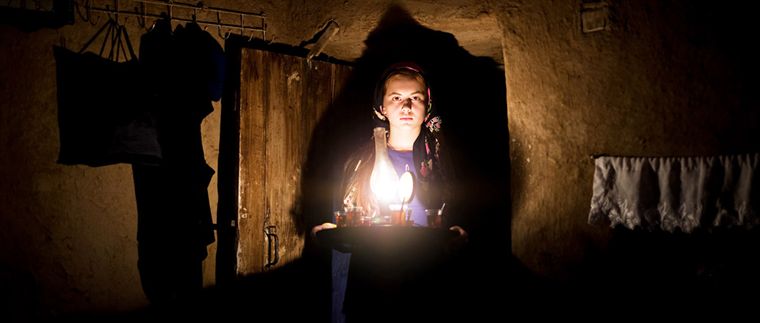 The idea for the story came from one of Ceylan's co-writers Ercan Kesal (the third writer credited is Nuri's wife Ebru Ceylan); Kesal is a doctor who recalled being part of an investigation searching for a body at dawn. The story, however, remains largely fictional. Describing his approach to setting the scene Ceylan has said, "If you want to find something, you have to get lost first". He has also stated that the title is not a nod to the work of Sergio Leone, as of course it seems. The apparent explanation appears within the film and is to do with the way we shape and make stories of our past. After a particularly melancholy moment of morbid introspection from Dr Cemal ("Still the years will pass. And not a trace will remain of me. Darkness and cold will enfold my weary soul"), the police driver Arab Ali (Ahmet Mümtaz Taylan) tells him that "you've buried us before we're even dead" and talks optimistically of him weaving the events of the night into a "Once upon a time" style tale to tell his future family.
Once Upon a Time in Anatolia wears its 150-minute running time very honestly, but don't be deterred as it's utterly engrossing throughout. As the night wears on, time and tiredness conspire to reveal the truth. Ceylan shows shrewdly and sensitively that so much of life's colour surrounds the mire of murder, and thus we see heartbreak, vulnerability, remorse, betrayal, humour, clumsy interactions, squabbles and touching bonds. This is quite simply filmmaking of the highest order. From the sudden frightening illumination of a stone face carved into the landscape, to the gradual psychological reveal of the men before us, it's a masterful elevation of the macabre.
Watch the trailer for Once Upon a Time in Anatolia