DVD: Darling |

reviews, news & interviews
DVD: Darling
DVD: Darling
Christie and Bogarde still amaze in the iconic satire of Sixties superficiality and decadence
The beautiful and the damned: Dirk Bogarde and Julie Christie in 'Darling'
Julie Christie ushered in the swinging sixties as Liz, the girl whom Billy (Tom Courtenay) loves but isn't man enough to accompany to London in Billy Liar (1963); director John Schlesinger introduced her swinging her bag as she bounces along a Bradford street. Christie does exactly the same in London when Schlesinger introduces her as the grown-up Diana Scott in Darling (1965), now restored and re-released on DVD and Blu-ray for its 50th anniversary.
(The original trailer is the disc's sole extra.)
Schlesinger, screenwriter Frederic Raphael and producer Joseph Janni must have asked, "What happened to Liz?" when they dreamed up Diana, though Christie made them very different women. Whereas Liz is liberated, carefree, and wise, the initially guileless model Diana proves shallow, amoral, spiteful, and neurotic, a middle-class social climber haphazardly living a life she hasn't the awareness to examine, whose avowed independence belies her childish need to be constantly entertained and cossetted by her lovers.
Christie deservedly won the Best Actress Oscar for nailing Diana's emotional unintelligence and private anguish, though the character's chronic self-deluding is clumsily signposted in her voiceover narration, an autobiographical commentary restrospectively recorded for a glossy magazine cover story.
Unable to recognise how much she loves and needs her live-in partner, the intellectually inclined BBC journalist Robert (Dirk Bogarde, typically restrained and incisive), Diana gravitates to the soulless, Macchiavellian advertising kingpin Miles (Laurence Harvey, pictured with Christie, above), who steers her into jet-set orgying. She ends up the neglected chatelaine of an Italian aristocrat (José Luis de Vilallonga), a latterday Susan Alexander Kane or Princess Grace. Far from emancipatory, her bobbing between three suitors – a steadfast workaholic, a corrupt "swordsman", a rich bore – augurs that of Christie's Bathsheba in the next Schlesinger-Raphael-Janni collaboration, Far From the Madding Crowd (1967). In Diana's case, it is born of desperation.
She was the filmmakers' conduit for their skewering of the vanities of the upper-class and the art-fashion-media crowd. Whereas Richard Lester and the Beatles did it insouciantly in A Hard Day's Night (1964), Schlesinger's touch was heavy-handed, as in his depiction of a world hunger fundraiser that highlights the nobs' casual racism, lust, and gluttony.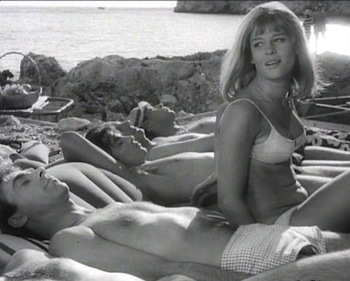 The film's hesitant imitating of nouvelle vague spontaneity inevitably dates it. More successful is the incorporation of documentary techniques, as when Robert conducts a vox pop in Bristol (and Bogarde and Schlesinger, both gay, hear out a homophobe's diatribe), or when Diana and her photographer confidant Mal (Roland Curram, pictured with Christie above) holiday in a gay cruising resort on Capri. Schlesinger was clearly sympathetic to British TV drama's embrace of non-naturalism at that time.
Darling is at its most touching when an ageing literary rebel baptises Robert's and Diana's romance by giving them a memento of their visit, and when Robert calls on Diana, after they've split, to tell her the novelist has died. The old love we cling to fades further when those who endorsed it disappear.
Diana's avowed independence belies her childish need to be constantly entertained and cossetted by her lovers
rating
Explore topics
Share this article