Victim review - timely re-release for attack on homophobia |

reviews, news & interviews
Victim review - timely re-release for attack on homophobia
Victim review - timely re-release for attack on homophobia
A tense melodrama enfolding tragedy that did more than any other to decriminalise homosexuality in the UK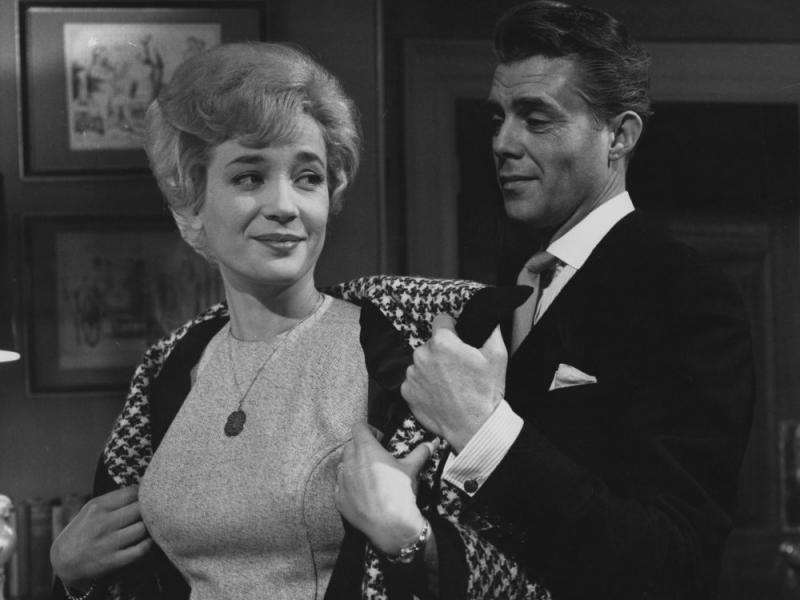 Lavender marriage: Sylvia Syms and Dirk Bogarde in 'Victim'
Victim was released in 1961. Six years would pass before the passing of the Sexual Offences Act cautiously exempted from prosecution men over 20 who had consensual sex in private.
Yet the
Basil Dearden suspenser
probably played an equally important part in de-stigmatising
homosexuality
by highlighting the ugliness of homophobia.
Dirk Bogarde is needle-sharp as Melville Farr, a sophisticated London barrister with a successful practice who is about to become a QC - and whose tamping down of his homosexuality has filled him with angst. He lives peaceably, however, with his wife Laura (Sylvia Syms), having confessed to her before they married that in his past he had chastely loved a fellow Cambridge undergraduate who subsequently committed suicide. Mel and Laura kiss passionately at one point, but her voluntarily working as a teacher of infants, including a special-needs pupil she individually monitors, suggests she regrets her and Mel's childlessness.
Lightning strikes twice. Victim initially unfolds as the story of "Boy" Barrett (sympathetically played by Peter McEnery), a vulnerable young building labourer who had fallen unrequitedly in love with Mel after the latter had given him several lifts in his car. "I wanted him," Mel unhappily confesses to Laura when she demands the truth in the film's most powerful scene.
Though Mel and Boy never consummated their relationship, Boy ended his involvement with the St Martin's Court book-dealer Harold Doe (Norman Bird). Mel's refraining from sex with both his university friend and Boy strains the script's credibility, but in the repressive climate of the early 1960s the film would have never been financed if it had seemed to endorse then-illegal acts. Both gay, Bogarde and Dennis Price, who plays a supercilious theatre star, were courageous to participate in Victim.
Subjected to blackmail demands, Boy has stolen £2,300 from his building firm and tries to flee abroad as the police pursue him. A nervy friend (Donald Churchill) attempts to help him, but Mel, fearing Boy is blackmailing him, refuses to take his calls. Mel is overcome by guilt when he learns that boy has hanged himself, and he determines to bring the blackmail ring to justice, knowing this is likely to end his marriage and definitely destroy his career.
Janet Green had written the anti-racist film Sapphire (1959) for Dearden and his producer partner Michael Relph. She and her husband John McCormick wrote Victim for Dearden and Relph after they had read the 1957 Wolfenden Report recommending the decriminalisation of homosexuality. Their script has been criticised for giving lines to characters - including the snide barfly Madge (Mavis Villiers) and Harold's venomous assistant MIss Benham (Margaret Diamond) - who look upon homosexuality as an aberration or disease. "They disgust me," sneers Miss Benham. "They're everywhere - everywhere you turn.... Somebody has to pay for their filthy blasphemy."Green and McCormick were not condoning this revulsion but showing how prevalent it was - and how loathing homosexuality is symptomatic of a bigot's social disaffection or sexual shame. For example, Madge, a caustic, blowsy middle-aged prostitute, spins absurd lies about being in demand for glamorous modelling assignments. The film's voice of reason is Harris (John Barrie), the detective inspector investigating Boy's thieving and suicide. When his number two Bridie (John Cairney) rails against homosexuality, Harris calmly upbraids him by explaining that puritanism was also a crime once.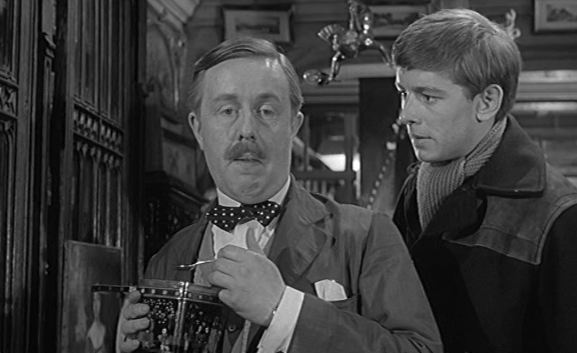 Both Madge and Miss Benham are involved in the blackmail ring, which is led by a lordly blind man (Hilton Edwards) and his spiteful effeminate companion (David Evans). Their smug heavy (Derren Nesbitt), also gay, causes the death of the four-times convicted gay barber Henry (Charles Lloyd-Pack); a craven gay man (Nigel Stock) is also implicated in the blackmail. Green and McCormick may have felt their script would have shirked the truth if they didn't include homosexuals driven to visiting misery on other homosexuals, but the value of their inclusion in the film is moot.
As the anguished Harold, Norman Bird gives one of the film's standout performances. Both he and Lloyd-Pack (Roger Lloyd-Pack's father) express the impotence and embitterment of men whose sexual and emotional needs were deemed legally inexpressible. Retrospectively, the premature deaths of the scientist Alan Turing (in 1954) and the record producer Joe Meek, the playwright Joe Orton, and the Beatles manager Brian Epstein (all in 1967, the latter pair in the month after the Sexual Offences Act became law) drew attention to the plight of gays. Among their contemporaries, numerous non-famous gay men, like Harold and Henry, must have also taken their own lives or lived in paranoid dread owing to state-sanctioned homophobia.
Victim was tautly and economically directed by Dearden. It features outstanding London location photography, notably in and around St Martin's Lane and other parts of the West End, as well as in Chiswick (where the Farrs live) looking up toward Hammersmith Bridge. The black and white cinematography by Otto Heller (who had suffused Soho and Fitzrovia in richly lurid Eastmancolor on Michael Powell's 1960 Peeping Tom) reserves his most dramatic lighting for Bogarde's face and his troubled talks with Laura. Mainly, it accents the ordinariness of a city in which men love and desire other men because that's what they do.