Brighton Festival book events: The Moomins and the French Resistance |

reviews, news & interviews
Brighton Festival book events: The Moomins and the French Resistance
Brighton Festival book events: The Moomins and the French Resistance
Two entirely different Q&A events prove thought-provoking
Moomintroll and friends
The Brighton Festival has all manner of talks during its three week run, audiences with everyone from octogenarian French avant-garde filmmaker Agnès Varda to ceramicist Edmund de Waal, author of The Hare with the Amber Eyes. theartsdesk will be covering the de Waal evening, as well as a Q&A with novelist Margaret Atwood and her partner Graeme Gibson, later in the month.
This past weekend, however, I dipped into a couple of other talky events, both of which were thoroughly engaging but might have benefited from a 21
st
Century technological upgrade.
On Saturday night, Nicolette Jones, Children's Book Editor on the Sunday Times, hosted a celebration of the life and work of Tove Jansson, the Finnish author and artist behind the Moomin books. Present were Jansson's niece and guardian-in-chief of her estate, Sophia Jansson, the His Dark Materials trilogy author, Philip Pullman, and the prize-winning – and heavily bearded – children's writer Philip Ardagh. Pullman, intense in waistcoat and ponytail, looking somewhat like a time-traveller from the 18th Century, neatly summed up the Moomins' appeal when he described how, as a boy, he'd hugely enjoyed Batman and Superman but never fell in love with them as he did the Moomins.
The evening was a heartfelt Tove Jansson love-in, eulogising her bravery and individuality
Sophia Jansson, smart, smiley, blond and very Scandinavian, gave insight into her aunt's life and relationship with her portly, Hippo-snouted creations. Tove was clearly very proud of them but, later in life, felt they overshadowed all else she'd achieved. She lived a life of rustic isolation with her female partner and it was no surprise, especially in Brighton, that the audience was primarily made up of lesbian couples, but this was not an evening of sexual politics. Instead, the onstage quartet flicked through Jansson's wonderfully simple illustrations in a haphazard slideshow and talked about the characters. These ranged from Moominmama who, Sophia Jansson explained, was based on Tove's own mother, to the icy terror of the Groke, the Moomin books' most sinister figure, yet one who, typically, also has melancholic, sympathetic traits. The evening was a heartfelt Tove Jansson love-in, eulogising her bravery and individuality – she spoke out against Hitler in the Forties, and lived in a relationship with a woman before that became legal in Finland in 1972 – and reading passages not only from Moominvalley in November, but also Jansson's best known adult tome, The Summer Book.
The following afternoon Resistance, with historian-authors Roderick Kedward and Caroline Moorhead (pictured below), chaired by Martin Evans of the University of Sussex, looked into the true nature of everyday resistance activities in France during the Vichy regime and the Nazi occupation. Kedward, so nervous he was shaking and occasionally stuttered, opened with a talk which set the scene, explaining that resistance varied from individual to individual and area to area.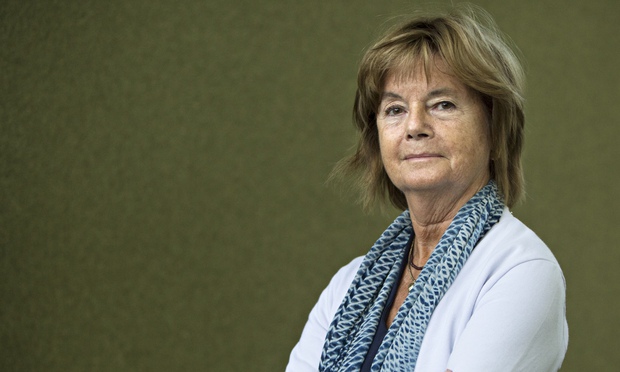 He pointed out that acts of violence were only one form of resistance but that smaller deeds, such as a village post mistress in Aix-en-Provence destroying a letter to the authorities that informed on a Jew in hiding, were equally important. He explored the concept of resistance itself, a theme he came back to later when an audience member questioned the difference between resistance and terrorism (resistance, Kedward said, had human rights as its aim).
Evans then conducted a chat with both authors. Moorhead spoke eruditely about the subject of her latest book, Village of Secrets: Defying the Nazis in Vichy France, a remote village high in the Massif Central whose longstanding, isolationist religious beliefs pushed them to harbouring multitudes of Jewish children. Most fascinating was the grey area of contradictions; how those harbouring Jewish children were not necessarily very nice people, how the children of women who'd been killed for their resistance activities angrily resented their mothers rather than celebrating their bravery, how the Germans sensed that the village was harbouring Jews but let it lie, setting up their own rehabilitation camp in the peaceful area. Kedward's stories of spikily suspicious, yet boozily welcoming French hospitality when he went to conduct interviews with old resistance members in the late Sixties and early Seventies were also most entertaining.
The format for both talks was 45 minutes of interview and another quarter of an hour of audience Q&A. It worked alright but, given that the average university lecturer now uses all manner of visual stimulation to engage their students, from PowerPoint upwards, it's not unreasonable to suggest that an audience paying £10 a head might be offered similar bells'n'whistles, maybe extending such events by another quarter of an hour to compensate. Nonetheless, both events were sold out, and both set my brain whirring, stimulating extensive conversation about their subjects, which is to say they were successes.
Philip Pullman summed up the Moomins' appeal when he described how, as a boy, he'd hugely enjoyed Batman and Superman but never fell in love with them as he did the Moomins
rating
Explore topics
Share this article