The Apple Family Plays, Brighton Dome |

reviews, news & interviews
The Apple Family Plays, Brighton Dome
The Apple Family Plays, Brighton Dome
Soul-searching theatrical quartet puts America under the microscope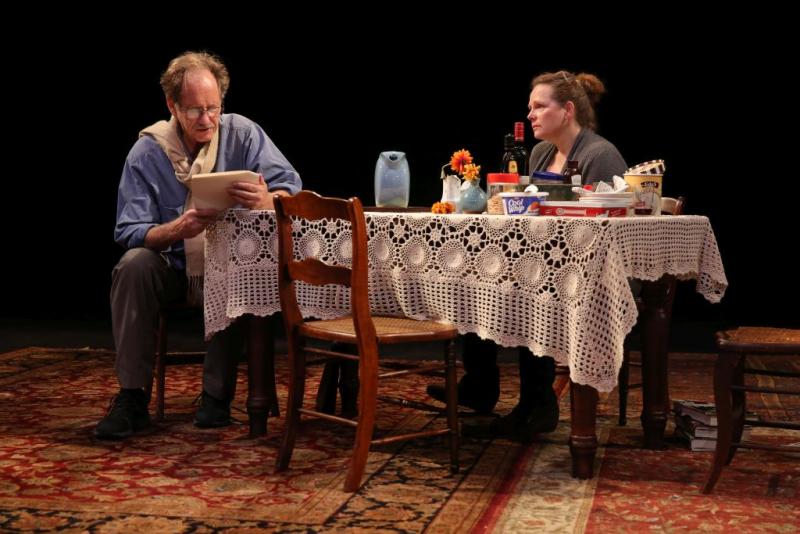 D-day/s: Jon DeVries and Maryann Plunkett as Benjamin Apple and his niece, Barbara
"I hear America singing," wrote Walt Whitman, the American poet whose language playwright Richard Nelson has co-opted for the title of the second (Sweet and Sad) of his remarkable quartet of Apple Family Plays.
And those wanting to know what song is being sung in certain corners of liberal America right now should make every attempt to see any or all of these plays, whether on their continued European tour (Weisbaden and Vienna beckon) or perhaps on screen: their original Off Broadway stagings at New York's Public Theatre have been recorded for public television Stateside, and much the same cast (with a few replacements, only one of whom is brand new) pitched up earlier this week at the Brighton Festival in something of a programming coup.
As someone who spent the day seeing all four plays in sequence – an investment in time only slightly longer than seeing both parts of the stage version of Wolf Hall – I was sorry to bid the Apples farewell and sorrier still to clock the abiding melancholy charted by the plays, however much Nelson proffers an olive branch of sorts in the sheer fact of community, not least in the theatre. (The final moments are quite pointedly addressed directly to the house as the lights come up.) Although the action, such as it is, rarely leaves the dining table which is carefully laid at the start of each play, Nelson and his devoted cast achieve nothing less than a gentle requiem for a kind of statesmanship – an unforced decency, shall we say – that seems all but lost, the word "lost" chiming resonantly as it gets repeated across six-and-a-half hours of stage time.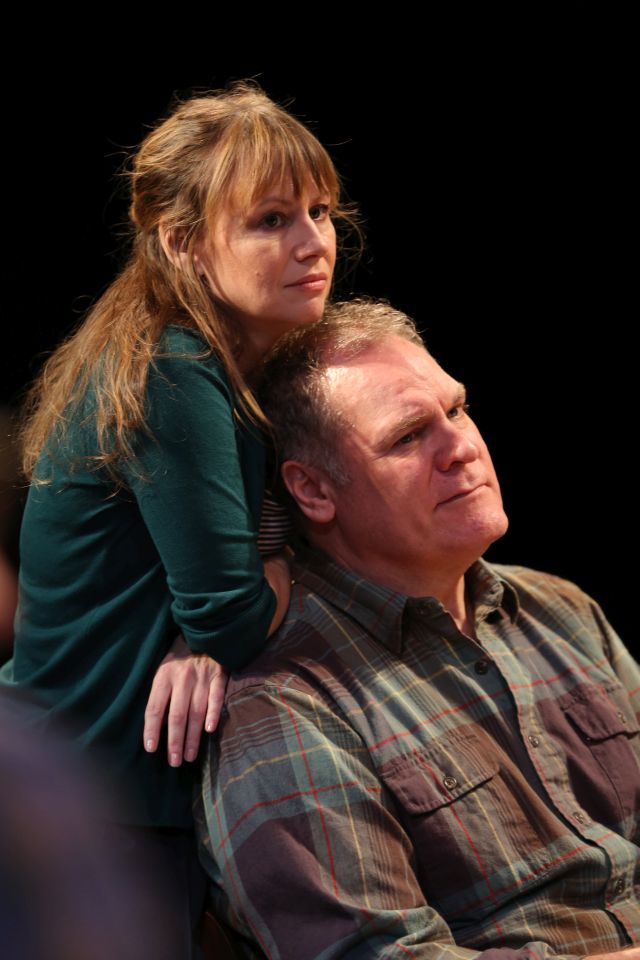 That the plays widen out to speak to those who may never have heard of Rhinebeck, New York – the upscale town where they take place and where Nelson, a long-standing British theatre regular, himself lives – are scarcely surprising. You don't have to get references to the Rainbow Room and Kirsten Gillibrand to buy into Nelson's lament for a social discourse ruled on virtually every front by money, and if the last play (Regular Singing) feels in any way anti-climactic after the previous three, that's only because it is less concerned with shaping the personal and the political into one sustained conversation: its terrain is that of a deathbed vigil kepf for a character whom we never see, and only once did I wonder whether the absent Adam is meant on some level to embody his country in its attenuated death throes.
In New York, the plays were premiered across three years on the days on which they take place, and each had its own self-contained run at the Pulic before all four were seen in repertory as the conceptually audacious venture came to a close. Watching them unfold chronologically across a single day, I can't quite imagine separating the four out in any substantial way, so firmly do they seem aggregate parts of a whole that may be greater than its individual components.
Sure, there are occasional moments in performance that don't entirely land, and I do wish company newcomer Jesse Pennington – playing youngest daughter Jane's actor-boyfriend, Tim – wasn't so self-conscious in ways that go beyond his character's status as the lone outsider to the Apple brood. And his appealing colleague Sally Murphy, a onetime Julie Jordan in the Broadway iteration of Nicholas Hytner's landmark staging of Carousel, would do well to speak up: intimacy and inaudibility are not the same thing. (Murphy is pictured above with Jay O Sanders.)
But for the most part, Nelson, doubling as his own director, finds the natural rhythms within families whereby flare-ups are as inevitable and spontaneous as a sudden smile or hug, and any domestic tugs-of-war pale next to the ongoing argument that the Apples have with the civil and civic society they see slipping away at every turn. Not for nothing do these plays come with the Chekhovian subtitle (oddly absent from the Brighton programme) Scenes from Life in the Country: they share with the Russian master a more than glancing awareness of disappointment as the metronome by which so many of us, without realising it, keep time.
It will scarcely come as a surprise to learn that there are three sisters here – Jane, the writer, and her older schoolteacher siblings Barbara and Marian, teachers both – and a much fretted-about lawyer-brother, Richard, and even an offstage sister-in-law, Pamela, whom Nelson rescues from the noxious depths achieved by Natasha, her forebear in Three Sisters. Fold in a doddering uncle, Benjamin (Jon DeVries, pictured with scarf above), an actor who in his day was a celebrated Gayev in The Cherry Orchard only to have turned – at least in his own mind – into a putative variant on that play's forgotten servant Firs, and one finds Nelson paying homage where it is due while also carving out very much his own distinct niche. (At one point, the writer-director seems to pay fleeting reference to his erstwhile Broadway musical version of James Joyce's The Dead). One notes, too, that this quartet chimes in numerical terms with talk of Chekhov's four great final plays – the difference being that Nelson, one trusts, has plenty of authorial vigour in him yet.
The first and third plays take place on election days, the title of the opener (That Hopey Changey Thing) borrowed directly from Sarah Palin in full envenomed flow. That the second and fourth are set on days of commemoration – Sweet and Sad on the tenth anniversary of 9/11 and Regular Singing on the 50th anniversary of JFK – foreground memory as arguably the project's abiding theme, not least given Benjamin's mounting forgetfulness as a counterpoint to the sustenance in remembrance that these plays themselves represent. For my part, I'll long remember the peerless Maryann Plunkett, as the carer of the bunch, Barbara, deconstructing the journalist Tom Wicker's account of Kennedy's death as if parsing his sentences were itself an act of resurrection. Or Sanders (Plunkett's real-life husband) recalling a Wallace Shawn-like misadventure that Richard suffered one night in a London hotel room only to be brought round by an act of linguistic awareness not to be revealed here.
And just as Tony Kushner in his own, very different American theatrical epic Angels in America finds room amid the prevailing despair for "more life", so Nelson in his own way does, too. Where there is theatre and an audience, The Apple Family Plays suggest, so can be found society and life. I can't imagine anyone present the other day in Brighton who wouldn't join the Apples round the table and drink to that.
The plays share with the Russian master a more than glancing awareness of disappointment as the metronome by which so many of us, without realising, it keep time
rating
Share this article