Mad Max: Fury Road
Mad Max: Fury Road
Long-delayed comeback displays appetite for self-destruction
Return of the Road Warrior: Tom Hardy as monosyllabic Max
There is still much to be said for George Miller's original 1979 Mad Max, a cheap but ferocious tale of rape, murder and vengeance in a gang-infested dystopia. However, only two sequels later, Mad Max Beyond Thunderdome (1985) found the franchise blimping out into a steroidal freak-show. After a 30-year intermission, Fury Road is much more of the latter, now saturated with digital enhancements while almost dispensing with plot entirely.
The potential audience for Fury Road wasn't born when its predecessors came out, so it was a brazen move indeed by Miller (still aboard as writer/director) to demote narrative and characterisation to submerged layers occasionally glimpsed amid the ongoing crashes, explosions, incinerations and amputations which are what the movie is made of. An opening sequence of Max (Tom Hardy, initially unrecognisable under a matted thicket of snake's-nest hair), standing beside his battered Road Warrior-mobile and gazing across a rust-coloured desert, sets him up simply as an icon we're implicitly invited to support. Who he is or how he got here aren't explained, though he is tormented by flashbacks of his dead family.
Then he's captured by a gang of vampire-like War Boys and incarcerated in a towering rock called the Citadel, which is populated by assorted freaks, midgets and fleshy naked women having their breast milk methodically pumped out. As for Max, they drain his blood. This is because there's been some kind of toxic apocalypse and everybody's blood is cancerous, though not Max's. But I only know this because I read the production notes, which add helpfully that "it's 45 years after the fall of the world."
Mainly, the movie is structured as two gigantic chase sequences – everyone goes all the way out, and then they turn round and go back again. It all kicks off when Furiosa (Charlize Theron, pictured above with Hardy), who drives a huge armoured truck called the War Rig, veers off her stipulated route and sets off for the fondly-remembered "Green Place" of her childhood. The idea that this is an ecological protest movie is a red herring though, since this post-civilisation malarky merely provides a blank canvas for Miller and co-writers Brendan McCarthy and Nico Lathouris to scribble their grotesque caricatures on.
Furiosa is pursued by the repulsive Immortan Joe, the diseased dictator who runs the Citadel, and his goon squad armada, with some help from the Rock Riders on their trail-bikes. Long story short, you get interminable uninterrupted slabs of outlandish custom-made cars, bikes, jeep-type things covered with spikes etc roaring across the desert trying to destroy each other, with ghoulish figures on long bendy poles lobbing explosives from a great height.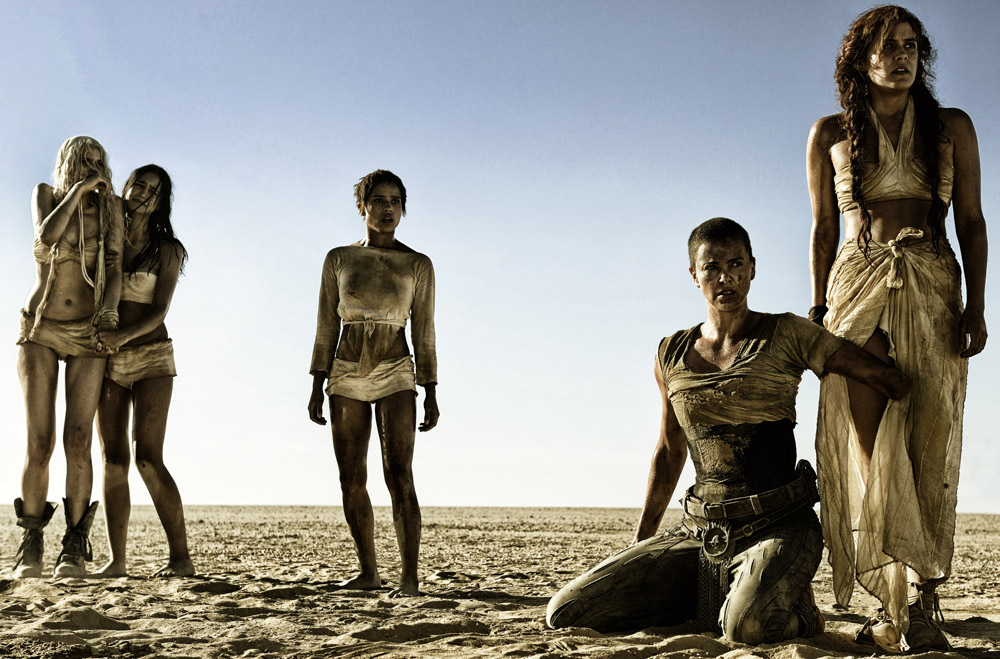 Booming pseudo-metal music rages incessantly – the pursuers have enormous drums and a heavy metal guitarist harnessed to the front of one of their vehicles – to the point where it starts to batter you into a trance-like state. In the entire two-hour duration Hardy and Theron barely get a page of dialogue between them, with Hardy's occasional grunted syllables making him sound oddly like Simon Day's satiric rock star, Brian Pern.
Green issues aside, Fury Road does also tout a sort of feminist agenda, with Theron apparently welcoming the notion of playing an "alpha female" who slugs it out on equal terms with Hardy. Furiosa's homeland, or what remains of it, turns out to be populated by a weatherbeaten matriarchy who wield shotguns like grizzled frontierswomen. Part of Furiosa's mission is to rescue Immortan Joe's harem of oppressed, captive wives (pictured above), though since they turn out to be a bevy of underdressed wet-dream lovelies (including Rosie Huntington-Whiteley, Zoe Kravitz and former Dior model Riley Keough), any "progressive" pretensions seem paper-thin here.
If you're a hardcore computer gamer inured to marathon sessions of annihilation while being pulverised by Death Metal from wall-to-wall speaker stacks, this may be the movie for you. For myself, not so much.
Overleaf: watch the trailer for Mad Max: Fury Road