Long Shot review - semi-hilarious odd couple romcom |

reviews, news & interviews
Long Shot review - semi-hilarious odd couple romcom
Long Shot review - semi-hilarious odd couple romcom
Attracted opposites Theron and Rogen are audaciously anarchic, eventually
All the President's idiots: Tom (Ravi Patel), Maggie (June Diane Raphael), Fred (Seth Rogen) and Charlotte (Charlize Theron)
This is a romcom of two radically different halves, vaulting so dizzyingly from insultingly unbearable to daringly hilarious that walking in half-way through becomes a viable option.
It begins as a grim case study of the patriarchal odd couple, as schlubby gonzo journalist Fred Flarsky (Seth Rogen) becomes the unlikely speechwriter then unbelievable lover of immaculate presidential hopeful Charlotte Field (Charlize Theron). Hollywood's touching interest in improving nature's stacked odds against such coupling noticeably dims when the genders are reversed.
The flat cinematography, jolly synth burbles signifying comedy and unlikely co-stars unpleasantly recall Touchstone Pictures' tacky 1980s vehicles for Bette Midler and Richard Dreyfuss. Occasional funny lines expire in a vacuum of unnatural behaviour, hardly improved by the arrival of Fred's black best friend (O'Shea Jackson Jr., pictured below right), Charlotte's amusing Indian assistant (Ravi Patel) and a cameo by Boyz II Men. As Rogen ramps up his grating-voiced shtick to viscerally unappealing levels, the saddest sight of all is the great Theron being wasted as a powerful politician with the glazed, seductive persona of the sort of bland blonde movie star she's never been.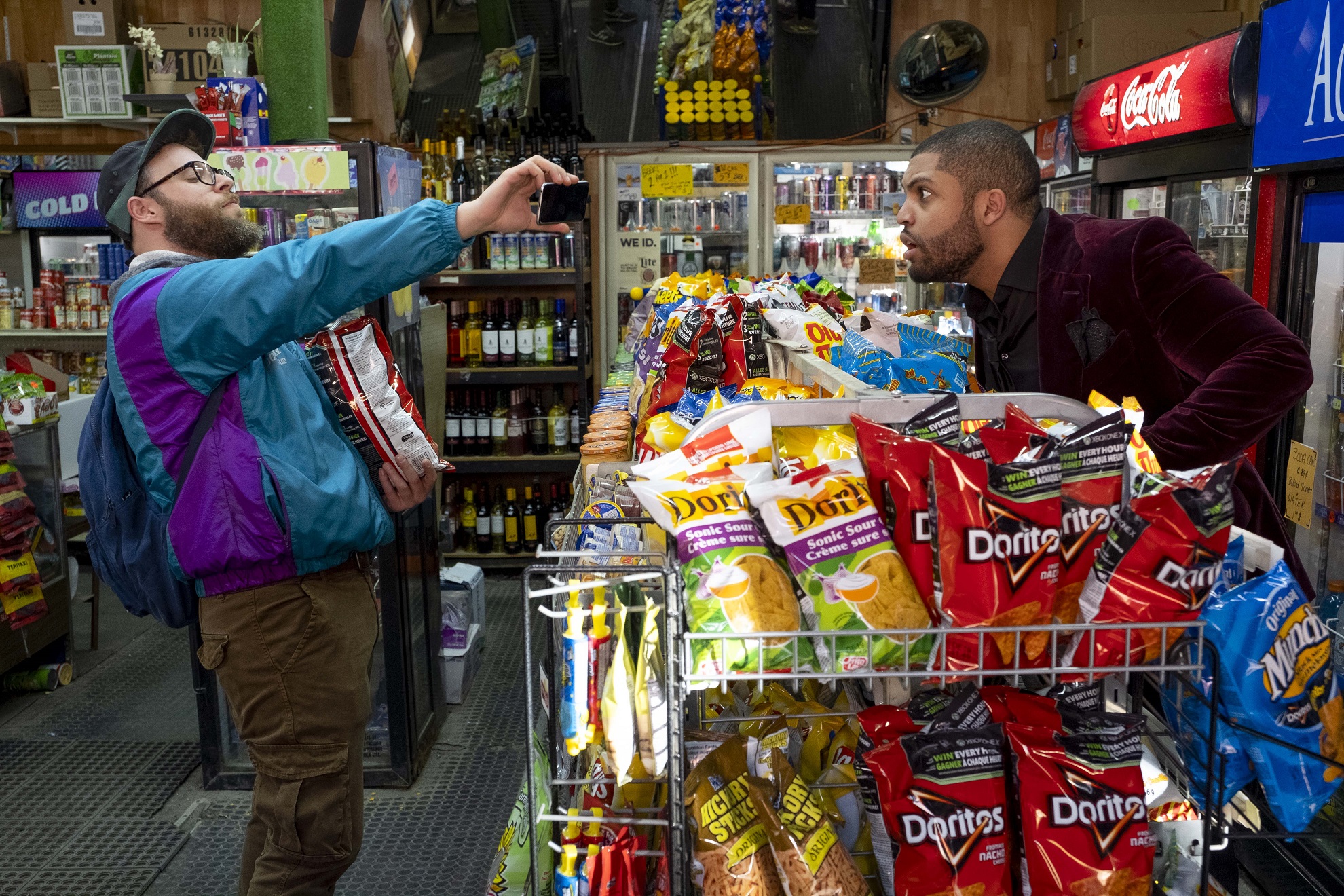 And yet, the eventual redemption of these mismatched lovers is also experienced by the viewer. The first, funny sex scene loosens everything up, revealing Theron and Rogen's genuine chemistry, and rendering the tired beauty and the beast routine redundant as their relationship clearly works. Drugs further confirm surprisingly compatible comic skills, as Charlotte is dragged from MDMA-enhanced clubbing to tackle an international crisis with stoned sang-froid. The political calculation behind her earlier frozen beauty cracks, reducing her looks' importance as much as his. Her ruthless Chief of Staff Maggie (June Diane Raphael), who shows Fred's potential drag on Charlotte's career by test-polling her dating a sack of potatoes, starts to seem a touch harsh.
All the earlier meeting-cute is anyway a tortuous preamble – or, viewed generously, an elaborate front – for a third act which audaciously lets rip. Jonathan Levine (who directed Rogen in the more serious 50/50) marshals manic energy for scenes of bedroom and political farce, cinematographer Yves Bélanger floods his formerly grey palette with colour, and co-writers Dan Sterling (The Daily Show) and Liz Hannah (Spielberg's journalism paean The Post) trample taboos.
Sperm gets its best sight-gag since There's Something About Mary. The sharpened dialogue even spreads to O'Shea Jackson Jr., the eerie, charming spit of his dad Ice Cube, as he muses that his pal Fred might like to hook up with Taylor Swift next. Asked what they'd have in common, he dreamily replies: "You're both white. You haven't got a care in the world."
A film which appeared cluelessly reactionary ends up proudly flaunting its creators' liberal credentials, as Theron joins a long list of dream Democrat Presidents. She differs from the noble likes of Martin Sheen not only in her gender but her sexual frankness, as she campaigns with a man who has become a notorious porn and drug fiend on her arm. The slick, entitled sheen we've come to expect of our rulers is replaced by dishevelled, regular behaviour capable of empathy with the ruled. Much as Fred's frog turns into a prince, Long Shot becomes briefly, exhilaratingly revolutionary.
The first, funny sex scene loosens everything up, revealing Theron and Rogen's genuine chemistry
rating
Explore topics
Share this article