Nina Conti, Theatre Royal, Brighton |

reviews, news & interviews
Nina Conti, Theatre Royal, Brighton
Nina Conti, Theatre Royal, Brighton
Wonderfully funny evening with a comedian-ventriloquist at the top of her game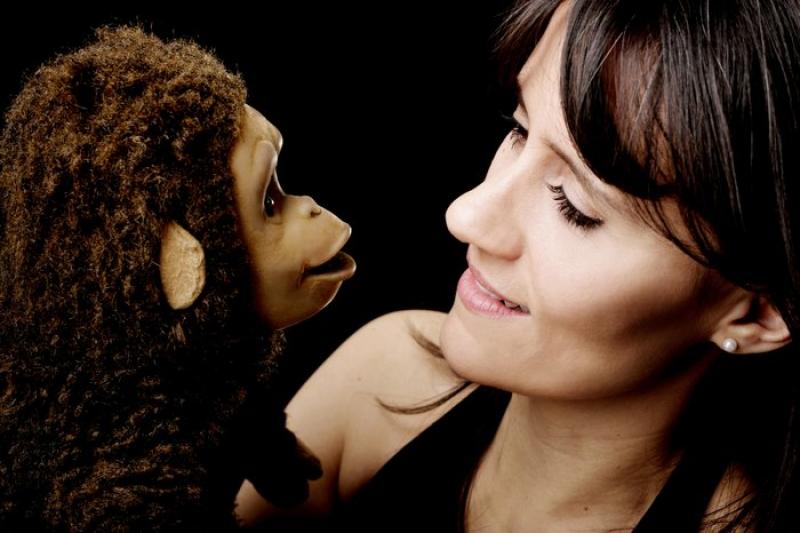 Two of the many sides of Nina Conti
"Two-and-a-half hours? That's one hell of a long puppet show," said a friend. We had, however, read the Brighton Festival programme wrong. The pre-interval section of last night's show was a screening of the BBC documentary Nina Conti – A Ventriloquist's Story: Her Master's Voice, which was on television a couple of years back and nominated for a BAFTA.
It's oddly moving, with Conti attending the world's biggest ventriloquists' convention in Kentucky, ostensibly saying goodbye to her career, and leaving a doll owned by her late mentor and lover, theatrical maverick Ken Campbell, at a spooky home for retired ventriloquists' dummies. An elegy to Campbell and richly funny insight into Conti and her world, the film also drew attention to some deep emotional resonances; the loss of a loved one, the ability of shy people to express themselves through ventriloquism, and the thin line between what ventriloquists do and pure schizoid lunacy.
It's a brave thing to set up your live show with an insight into everything behind it but Conti followed this with ease. She says her show is called In Your Face and explains at the start that the whole thing is improvised. She starts with a section where Monkey, her main and most famous puppet, greets people in the front row. Conti is genial while Monkey says the unsayable, asking someone, "Are you fucking him?" of a friend in the next seat. There's an explosion of Monkey profanity when one of the pair's "victims" turns out to be a teacher of autistic children and therefore not an ideal target for mockery.
Conti has blossomed into a genius of improvised comedy, a complete master at her craft
Conti is brilliantly matter-of-fact, chatty, apparently devoid of artifice, but everything is a set-up, being memorized and used later. Her greatest trick throughout is that when the audience or an onstage volunteer assumes they're talking to Monkey, she draws attention to the ludicrousness of communicating with a tatty puppet projection of herself. But when they make the opposite assumption, that she and Monkey are one and the same, she comically distances herself from such an idea as equally idiotic.
Much of the show is devoted to sequences where audience members come onstage, put on cartoon prosthetic jaws, which are controlled by Conti, then she devises routines using them. One of these front row stooges, a female tennis coach, she turns into a vapid airhead – "Yes, I'm, really, really thick," this hapless woman announces in a braindead aristocrat accent – to chokingly funny effect. Yet these apparently vicious turns are somehow managed with guileless good humour. Everyone's in on it, right to the finale where the tennis coach and her own daughter perform a wonderfully silly dance routine together under Conti's watch.
Monkey has his own section, where he hypnotizes Conti to sleep and chats with the crowd. They fire questions at him, ranging from self-consciously arcane historical trivia about ventriloquism, which Monkey bats off, to bawdy groupie propositions, which he relishes, clearly, while pointing out the difficulties, given that he's only animated when attached to Conti. Something about Conti's wide-eyed openness combined with this undercurrent of dirt is, indeed, rather sexy and later in the show the wannabe Monkey-lover is dragged up to meet the subject of her fantasy with fabulously funny results.
Conti has blossomed into a genius of improvised comedy, a complete master at her craft, capable of mesmerising audiences, turning their emotion on the smallest detail, delivering considered theatre woven perfectly amongst the lewdest comedy and belly laughs. I left the theatre awed at her talent and wiping my eyes from so many extended bouts of laughter.
Overleaf: Watch the four-minute trailer for Nina Conti – A Ventriloquist's Story: Her Master's Voice
Bawdy groupie propositions Monkey clearly relishes, while pointing out the difficulties, given that he's only animated when attached to Conti
rating
Share this article