DVD: Birdman |

reviews, news & interviews
DVD: Birdman
DVD: Birdman
Oscar champ stars Michael Keaton as a Hollywood Icarus braving Broadway heat
Welcome to New York: Michael Keaton (left) and Edward Norton.
Michael Keaton – like Cary Grant, Bill Murray, and George Clooney – is one of those stars who frequently convey their awareness that the situations they're in are preposterous. He tautens his jaw muscles; his eyes express a mix of incredulity and suffering. That look is one of the many pleasures of Birdman or (The Unexpected Virtue of Ignorance), 2014's Best Picture Oscar-winner and Keaton's crowning achievement as a mature actor.
Alejandro González Iñárritu's heavy dramas (Amoros Perros, 21 Grams, Babel, Biutiful) tend to the portentous. Turning to blackish comedy has rejuvented him. He didn't conceive Birdman as Keaton's personal comic psychodrama, however, but as a bravura exercise in extended-take cinema along the lines of Alexander Sokurov's Russian Ark (2002), the better to demonstrate life's unedited quality. Emmanuel Lubezki's hand-held cinematography gives the illusion of a single take, but its apparent seamlessness locks the viewer into the protagonist's mid-life crisis as it unfolds in the Borgesian backstage labyrinth of a Broadway theatre.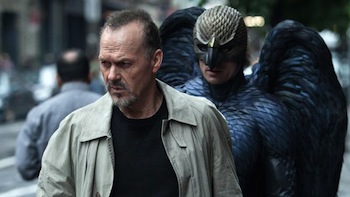 Implicitly drawing on Keaton's past as the Caped Crusader in Batman and Batman Returns, Birdman introduces the self-levitating Riggan Thomson as a jaded action movie star who has jettisoned his popular Birdman superhero to adapt, direct, star and court hubris in his New York production of Raymond Carver's short-story collection What We Talk About When We Talk Above Love. This brave attempt to gain artistic credibility while sacrificing fan adulation and another payday is endangered by Riggan's insecurity and the knowledge (when unleashed by the devil's advocate in his growling alter-ego, pictured above) that Birdman's telekinetic powers are still his to command, profitably.

He is further vexed by the waywardness of his recovering addict daughter and assistant (Emma Stone, pictured below), an outwardly hard-boiled Social Media brat still chafing from years of paternal neglect, and the unbounded arrogance and contempt of his replacement leading man. This is a ridiculously showboating Method actor (Edward Norton, himself a onetime Incredible Hulk), whose Broadway debutante girlfriend (Naomi Watts) brought him into the play, not anticipating he would try to penetrate her on stage during a bedroom scene. She, Riggan's ex-wife (Amy Ryan), and his long-suffering lawyer (Zach Galifianakis) are in his corner; his pregnant actress mistress (Andrea Riseborough) is gunning for emotional commitment.
On the eve of the premiere, Riggan is warned by the New York Times's vindictive hag of a theatre critic (Lindsay Duncan) that she intends to kill the play because, as far as she's concerned, he espouses Hollywood philistinism.Though snatches of the performance suggest Riggan is a competent stage director, his anxiety is such that a mistake he makes during intermission causes him to live out an exposure nightmare in his underpants – the funniest Manhattan landmark scene in years.
The film's most poignant scene is a rapprochement between Riggan and his ex that's played sadly and soberly but enables this Icarus to fall to earth gently. Success can't compensate for losing a family, but Riggan's daughter still needs him. Though a crash awaits him, the constant convergence of reality and fantasy in his psyche justifies the final magical realist touch that indicates Riggan is rising above his demons and emerging from his maze.

The disc extras include a 33-minute making-of documentary featuring cast and crew interviews and information on how the long takes were achieved. There's also a more substantial interview with Iñárritu and Keaton on the movie's themes.
Riggan lives out an exposure nightmare in his underpants – the funniest Manhattan landmark scene for years
rating
Share this article