Violence and Son, Royal Court Theatre
Violence and Son, Royal Court Theatre
New play about fathers and sons is very hard to stomach, but impossible to forget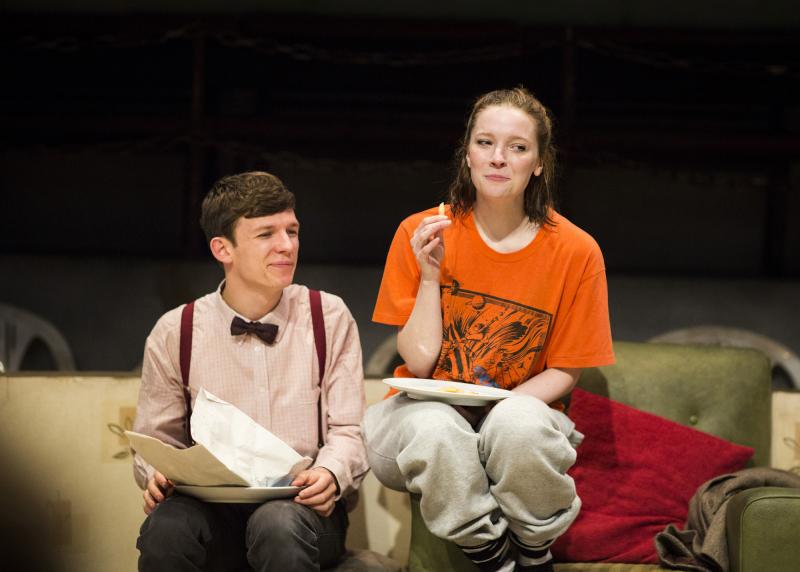 Chip off the old block: David Moorst and Morfydd Clark in 'Violence and Son'
Titles can be warnings as well as come-ons. In Gary Owen's new play about a teenager growing up in the Welsh Valleys, it's not difficult to guess what the main theme of the play is. Stumbling out of the performance tonight I had the distinct impression that this is the most disturbing, even chilling, play of the year. Not only is it written with enormous skill, but what it has to say about men, and boys, feels both emotionally true and morally repellant.
It's a drama about truths that maybe I just don't want to know about.
The central character in this four-hander is 17-year-old Liam, a mummy's boy whose mother has died of cancer about six months previously. With no one to look after him, he has been forced to move from the North of England to a shabby flat in Wales, to live with Rick, his "biological male parent" – the man his mother ran away from years ago. Rick's nickname is Vile, which we are told is short for "Violence". So we don't really need to be told the reason that Mum ran away. He's a bit of a beast: tattooted and beer-swiling, and with a cunning and manipulative attitude to the sex war.
This is a play about excruciating feelings, full of strong emotional truths and perceptive insight
A lonely, awkward boy, Liam has made friends with Jen, a young woman who is a year older then he is. They meet at college and Liam intrigues her with his passion for Doctor Who. There is one problem: she already has a boyfriend, Jordan, a rugby player. As she discusses her relationship, it begins to look as if she is attracted to Liam, the gawky geeky boy who wants to go to uni. In the first scene, Jen – dressed as Amy Pond – is round his place, and Liam is in costume as Matt Smith's Doctor.
A touch of contrived plotting results in Jen deciding to stay the night. Egged on by Rick, and also by his mouthy girlfriend Suze, Liam must decide whether or not to make a move on Jen. What should he do? As all of the characters, fuelled by cans of drink, discuss the anatomy of male and female relationships, the theme of masculinity comes roaring and shouting across designer Cal Dyfan's circular bullfighting ring stage. Then comes the violence. And then the ugliness of the sexual violence.
At first, Owen's dialogues are bright and bouncy, the lines bounding across the space. The text is full of jokes, and sharply observant one-liners. Constantly surprising, with rapid somersaults and athletic turns, the writing is frequently filthy and often jaw-dropping. It's not that often that you hear the Queen called a cunt within five minutes of a play's start. But humour about using Doctor Who as an aid for discussing your love life blends seemlessly into negotiations of relationships, especially that of a long-absent father and his son.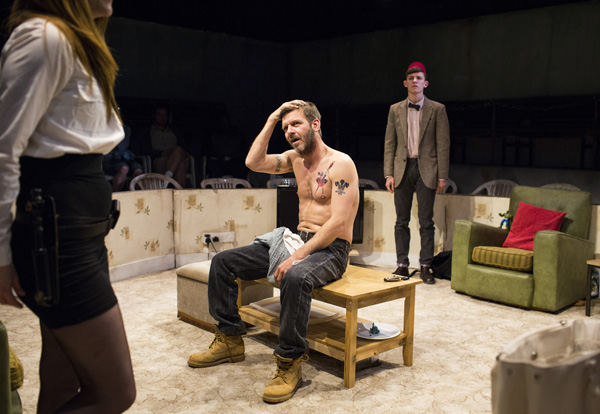 At its best, this is a play about excruciating feelings, full of strong emotional truths and perceptive insight. Soon, however, what starts off as a comedy of awkwardness turns, in the final half hour, into something much, much darker. Without giving away the shocking ending, the depressing conclusion of the play seems to be that fathers hand down misery to their sons, and that violent masculinity is an evil that lurks in the genes, waiting for the call, just waiting to be released.
This dispiriting suggestion is arrived at by sacrificing character to plotting. Or is it? Or is it me: am I just unwilling to accept that a geeky boy could behave very badly? Is this an implausible story, or a deep look into the nightmare of the male psyche? What is disturbing is that this troubling question comes across like a punch in the jaw. Okay, the theme of masculinity is very 1990s, and this linear and episodic play feels rather traditional in form, but surely its power is undeniable.
Directed by Hamish Pirie with fluency and skill, Violence and Son is acted by a crack cast (pictured above): David Moorst's Liam is a nerdy hobbyist with attractive streaks of decency and bravery, while Jason Hughes's Rick is a crafty hard man whose anguish is dangerously close to the surface. Likewise, Morfydd Clark's concerned and likeable Jen contrasts neatly with Siwan Morris's sharp-tongued Suze. Thrown together for some 18 hours of one long night, they make for a thrillingly combustible mix. Hard to stomach, but impossible to forget.
The depressing conclusion of the play seems to be that fathers hand down misery to their sons
rating
Explore topics
Share this article