theartsdesk in Orkney: St Magnus Festival |

reviews, news & interviews
theartsdesk in Orkney: St Magnus Festival
theartsdesk in Orkney: St Magnus Festival
Wintry weather didn't dampen spirits at midsummer celebration of music and the arts
Et in Orcadia ego: conductor Antonio Mendez and the Scottish Chamber Orchestra
Ebb of Winter felt about right. It's one of Peter Maxwell Davies's most recent works, a yearning for the brightness and warmth of spring at the end of an Orcadian winter, written in 2013 for the Scottish Chamber Orchestra's 40th anniversary.
And it was given a welcome re-run (on the summer solstice, no less) as part of the Scottish Chamber Orchestra's second concert at the St Magnus International Festival in Orkney, what must surely be Britain's furthest-flung classical music celebration, founded back in 1977 by Maxwell Davies himself.
But winter hadn't quite ebbed enough: with blankets of mist forcing a handful of flights to the Orcadian capital Kirkwall back to the mainland, and temperatures barely making it into double figures, the vivid tone poem by Max (as every Orcadian seems to call him) felt like an apt musical counterpart for the festival's unseasonably chilly opening weekend.
Still, you don't travel to St Magnus for the weather – and with artistic director Alasdair Nicolson's gratifyingly eclectic programme keeping festival-goers occupied morning, noon and and well into the night, it was fairly easy not even to be aware of it. In any case, it did little to dent the gentle festival buzz around Kirkwall, with instrument-case-carrying musicians strolling around the red-sandstone St Magnus Cathedral or pitching up for afternoons in the main street's lively cafes.
At times it can feel as if St Magnus takes over Orcadian life entirely for the length of the festival, and not only because of the steady influx of mainlanders swelling the islands' population – performers and listeners alike, not to mention the gaggle of young artists attending the festival's concurrent composing and conducting courses. It's also there in locals offering spare rooms and beds to billeted musicians, and in Kirkwall's Pickaquoy Sports and Leisure Centre transformed into a surprisingly effective concert venue for the duration – complete with sports trainers incongruously selling the interval ice creams.
Pickaquoy was the venue for the Italian-themed opening concert from resident orchestra the Scottish Chamber Orchestra, joined for the first time by young Spanish conductor Antonio Méndez. Judging by his vivid, energetic performances, bursting with detail and life yet summoned seemingly with the subtlest flick of a wrist, he's definitely a name to watch. His Mendelssohn Italian Symphony was bright and eager, with a nice sense of gentle flow in the third-movement minuet, and he pushed the SCO players hard in a frenzied concluding tarantella. His Stravinsky Pulcinella felt elegant, even nonchalant, yet – despite the music's origins in 18th-century Italian dance music – thoroughly 20th-century in its thick textures and abrupt contrasts of mood. Alec Frank-Gemmill (pictured above) stepped out from his usual seat at the SCO's principal horn as soloist in an immaculate, characterful account of Mozart's Horn Concerto No 3, fluid and spirited.
Maxwell Davies's Ebb of Winter made a bracing opener for the SCO's second concert, again meticulously delivered by Méndez, who charted a sure trajectory from the work's dark, angular opening through to the acid brightness of its brass-and-glockenspiel conclusion. But the Pickaquoy's capacity audience was really there to support friends and family in the Orkney-sourced St Magnus Festival Chorus, who gave a thoroughly creditable account of the Mozart Vesperae solennes de confessore, perhaps a little lacking in power, but buoyant and joyful nonetheless. Méndez proved a highly effective storyteller in a very impressive Beethoven Pastoral Symphony after the interval: brisk, beautifully sculpted, and shot through with period rawness.
There was more Orkney-sourced talent in Ring of Strings, a concert that filled the Pickaquoy's stage with an enormous string orchestra drawn from the SCO, Orkney Camerata, Orkney Schools' Strings and Orkney Traditional Music Project, all pleasingly mixed up into a single, multi-ability entity – although it was a missed opportunity not to spell out the event's laudable ethos a bit more clearly to the audience. Still, the huge ensemble played with spirit and confidence under conductor Gordon Bragg, most impressively in Sally Beamish's brooding, Shetland-inspired The Day Dawn, even if the work that gave the concert its title, by Glasgow composer Eddie McGuire, divided the gargantuan ensemble back into its constituent parts for what felt like an unconvincing patchwork of folk and classical.
There was a whole different side to Eddie McGuire later the same evening as a captivating trad flautist in a clutch of Scottish and Irish tunes at an informal gig in the Reel, the Kirkwall cafe/venue/music school run by starry Orkney folk musicians Jennifer and Hazel Wrigley. The Wrigley Sisters (Jennifer on fiddle and Hazel on piano/guitar) were the late-night show's big draw and they delivered a blistering – and hugely entertaining – set in which they tried to outfox each other in unpredictable jumps from tune to tune. It came as a stark contrast to an exhausting solo recital from violinist Fenella Humphreys (pictured above, with Sally Beamish, Adrian Sutton and Peter Maxwell Davies) in the atmospheric St Magnus Cathedral just beforehand, which featured no fewer than three world premieres (from Beamish, Maxwell Davies and Adrian Sutton) alongside Biber, Bach's mighty Chaconne and a flashy Ernst caprice on Schubert's Erlkönig. Humphreys played well, and the three new works – especially Maxwell Davies's thoughtful new Sonatina – were strong and distinctive, but nothing shone as it should have done in a programme so heavy in its intellectual and emotional demands, far too hard-going for a 10pm slot.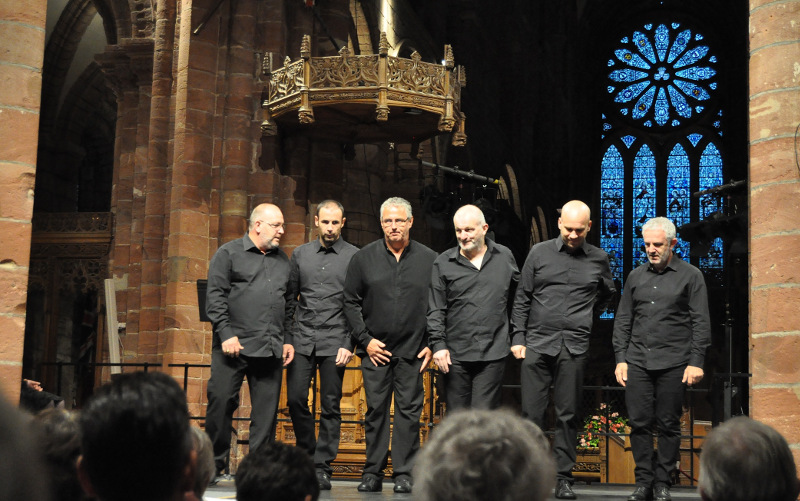 Kirkwall's understandably the base for much of St Magnus, but Nicolson ensures his events take excursions out into the rest of the Orkney archipelago, with an SCO octet even heading across the water to rocky Hoy for a morning wind recital. And it was over to the port and fishing town of Stromness, Orkney's second settlement, for an afternoon recital by Norwegian pianist Christian Ihle Hadland – dodging circling curlews and divebombing arctic terns on the way, and skirting the neolithic Ring of Brodgar, Orkney's answer to Stonehenge. Hadland played Bach's Goldberg Variations to a capacity audience crammed into Stromness's tiny Town Hall. He gave quite a personal account, indulging in repeats only when the fancy took him (mostly it didn't, making the recital surprisingly brief), playing up the work's flashy virtuosity, and making quite a meal of articulation, with super-clipped staccatos and emphatic accents all over the place. He was masterful at picking apart the work's contrapuntal complexity, though, and produced a memorably harrowing account of the G minor 25th variation.
No less memorable – for entirely different reasons – were two other folk events Nicolson had slid in alongside his classical offerings. Sväng are a zany harmonica quartet from Finland, and they delivered foot-stomping tangos and Balkan-style tunes in Kirkwall's Fusion nightclub, bass harmonica player Paso Leino making the walls shake with what the group described, quite aptly, as a "toaster-looking instrument". Earlier, Corsican sextet A Filetta (pictured above) described their island's vocal polyphony as a "fragile tradition", and fragile, too, were their astonishingly intimate, focused performances of Corsican hymns and songs in St Magnus Cathedral, the six singers wrapping arms around each other for musical and emotional support.
With theatre, poetry and visual art (including a Damien Hirst exhibition in Stromness's tiny Pier Arts Centre) adding to Nicolson's already rich musical mix, St Magnus achieves the near miraculous in celebrating the abundance of the islands' culture while also inviting compelling artists in from elsewhere to sample and add to it. It's the festival's 40th outing next year, and we're promised a specially extended event, possibly with a strong piano focus (if the festival gets the Steinway it's long been raising funds for), and no doubt a continued emphasis on new music. But the festival's enduring strength is its magnificent, sometimes raw natural setting, and it's the magical combination of provocative events and enchanting location that makes St Magnus stand out among international festivals.