theartsdesk at the Edinburgh International Film Festival - part 2 |

reviews, news & interviews
theartsdesk at the Edinburgh International Film Festival - part 2
theartsdesk at the Edinburgh International Film Festival - part 2
Boundary-pushing documentaries were among strong offerings in the festival's closing days
Brothers in arms: Crystal Moselle's prize-winning documentary 'The Wolfpack'
It has felt like a strong year for the Edinburgh International Film Festival, even with new artistic director Mark Adams joining part-way through the programming process. And as the event sprinted towards its ever-denser conclusion – 17 "best of the fest" screenings of this year's most in-demand films joined the already full programme for the event's final day on Sunday 28 June – it was inevitably time to announce the festival's award winners.
Marielle Heller's The Diary of a Teenage Girl (reviewed by Demetrios Matheou in his earlier round-up) took the best international feature film award, and the award for best performance in a British feature film was shared between James Cosmo (for The Pyramid Texts) and Charlotte Rampling (for 45 Years). Mike Hoolboom's Scrapbook was named best short film, and the McLaren Award for best new British animation went to Stems, directed by Ainslie Henderson.
Documentaries have played a healthy role in the success of this year's festival, many of them taking refreshingly oblique approaches to their subject matter – sometimes lyrical, sometimes impressionistic, sometimes full-on in-your-face. Crystal Moselle's remarkable The Wolfpack (reviewed below) was the worthy winner of the best doc award, but it was one among a raft of strong offerings. Another, Big Gold Dream: Scottish Post-Punk and Infiltrating the Mainstream, directed by Grant McPhee, won the festival's audience award.
It has also been a festival of quiet innovation, with two live music events – a 30th anniversary showing of Back to the Future with a live score from the Royal Scottish National Orchestra, and Roger Corman's Little Shop of Horrors with live lip-sync, sound effects and original score from New Zealanders Live Live Cinema – both drawing big audiences that reached well beyond traditional film festival-goers.
Here are eight picks from the festival's second half, with a particular focus on some of this year's most successful and innovative documentaries.
Inferno (Vinko Möderndorfer)
This unremittingly bleak but hugely powerful Slovenian drama feels like a punch in the face: an already destitute Ljubljana family faces one terrible event after another in a relentless downward spiral of debt, eviction, prostitution and worse. Möderndorfer's screamingly anti-capitalist film veers dangerously close to agit-prop at times, especially in the cruelty of Jernej Sugman's sadistic company boss. But what keeps it the right side of melodrama is the astonishingly intense central performance from Marko Mandic (pictured above) as a man ready to crack at any moment, as well as production designer Dusan Milavec's evocative images of falling snow and candlelit interiors. It's far from easy viewing, but it feels like a timely call to action.
That Sugar Film (Damon Gameau)
Australian actor and director Damon Gameau (pictured) takes a well-worn, Morgan Spurlock-style approach in his documentary exposé of the evils of sugar consumption, putting himself through a high-sugar diet for 40 days and getting a team of experts to chart the consequences for his health. His conclusions are sobering and admirably lucid: we don't even realise the vast amounts of sugar we consume, and despite what the food industry tells us, not all calories are the same. His presentation is slick and witty – all visual trickery and starry cameos from the likes of Stephen Fry and Hugh Jackman – which might sweeten the pill of his tough message, even if it sometimes threatens to overshadow his subtler points too.
Above and Below (Nicolas Steiner)
Young Swiss director Nicolas Steiner's poignant portrait of life on the fringes of US society is so assured that it's hard to believe it's his first movie, let alone his graduation offering from film school. Easier to believe, though, is that the initial cut was over six hours long. Even at its final two-hour length it takes its time to tell the stories of its protagonists – Las Vegas storm drain-dwellers, a grandfather scraping an existence in the Californian desert, and a young Iraq war veteran living in a make-believe mission to Mars. Despite the strangeness of his subjects' lives, though, Steiner's documentary is neither judgemental nor voyeuristic. Instead, he offers a compassionate, lyrical reflection on individuals who simply don't fit into the modern world. In its own unhurried, sensual way, it's a remarkable achievement.
Melbourne (Nima Javidi)
Following closely in the footsteps of Asghar Farhadi's 2011 A Separation – whose star Peyman Moaadi it also shares – the debut film from Iranian director Nima Javidi is a claustrophobic drama about a middle-class Tehran couple on the verge of a move to Australia, whose lives are thrown into turmoil after they agree to babysit a neighbour's newborn. Javidi expertly ratchets up the tension to an almost unbearable degree as blame and guilt are thrown back and forth between them in the never-changing apartment setting, and a relentless succession of phone calls and visitors threatens to expose what they're desperate to keep hidden. With fine performances from Moaadi and Negar Javaherian as his wife (pictured above), it's a meticulous examination of a relationship in sudden crisis as well as a thriller with horribly universal resonance.
The Wolfpack (Crystal Moselle)
It's no surprise that Crystal Moselle's compelling movie won this year's EIFF award for best documentary feature film. Its subject matter is horribly fascinating: six brothers who have grown up virtually imprisoned and home-schooled in the same New York housing project apartment, rarely leaving for contact with the outside world, and instead concocting meticulous re-enactments of favourite Hollywood movies, complete with elaborate home-made props and costumes. It's deeply unsettling stuff, especially when Moselle asks their father Oscar about his reasons for this bizarre and borderline abusive upbringing. But what emerges is something far more intimate and hopeful, as Moselle captures the young men starting to push for and slowly achieve greater freedom, and gently probes for their responses to the restrictions of their earlier lives. With her own handheld camerawork and extensive footage from the family's own home movies, Moselle's film has a rough-and-ready, honest feel and moves fluidly between scenes – it might pull back from asking the most difficult questions, but by the end it feels like a portrait of hope and love in the face of adversity.
The D Train (Andrew Mogel)
Jack Black gives a superb performance in Andrew Mogel's comedy-drama of squirm-inducing awkwardness as needy Dan, determined to convince high school associate and now seemingly successful Hollywood actor Oliver Lawless (an equally strong James Marsden, both pictured above) to come to a 20-year reunion party – whatever it takes. In what turns into a desperate quest for approval, he drags his family and blindly faithful boss into increasingly credulity-stretching lies and deceit. Mogel manages a nicely subversive twist on the familiar high school reunion trope, injecting some darker references to issues of sexuality and self-belief, but he doesn't seem to know how to tie up convincingly all the loose ends he's created. It's a laudably provocative spin on a well-worn format, but its final scenes feel a bit pat.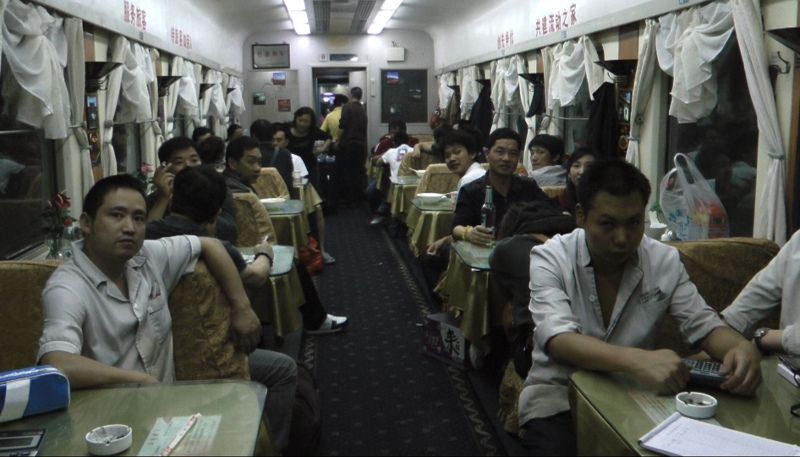 The Iron Ministry (JP Sniadecki)
What Lucien Castaing-Taylor and Véréna Paravel's 2012 Leviathan was for the North American fishing industry, so US director JP Sniadecki's The Iron Ministry is for the Chinese railways: a slow-burn, sometimes abstract, often sensorially overwhelming portrait, with no narrative and little speech, but an incessant soundtrack of machine noise and screeching rails. It's sometimes monotonous, even tedious, just like the interminable rail journeys it describes, but its images are unforgettable: sleeping passengers crammed into the smallest crevices; offal and animal innards hanging from train door handles. It's an intense, cumulative experience, one that doesn't attempt to explain (despite Sniadecki eavesdropping on illuminating conversations about national identity and the powerlessness of being denied the vote) but instead paints a powerful cinematic picture through image and sound.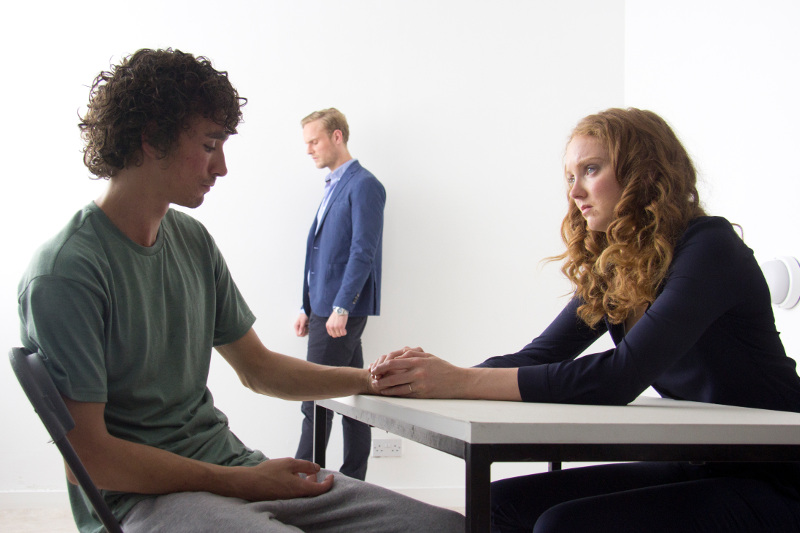 The Messenger (David Blair)
It's tempting to describe British director David Blair's sorrowful The Messenger as a grimy UK Sixth Sense, with dishevelled dropout Jack seemingly compelled to pass on messages from the dead to their recently bereaved loved ones. But Blair seems at pains to pack a traumatic family background and even a government conspiracy into his atmospheric thriller, while still keeping the pace slow and the mood mournful throughout. Robert Sheehan is magnificent as the conflicted Jack, full of rage at the demands of the dead yet compassionate about their need for closure, and Lily Cole is superb as his sister determined to give him a helping hand (both pictured above), even if Tamzin Merchant is given little chance to do anything but weep as a TV presenter whose war reporter partner has been brutally murdered. By the movie's can-we-really-believe-anything-we've-seen conclusion, though, it feels a bit like Blair has simply tried to shoehorn too much into his supernatural shocker.