Richard II, Shakespeare's Globe |

reviews, news & interviews
Richard II, Shakespeare's Globe
Richard II, Shakespeare's Globe
The Wilton Diptych meets Monty Python, and Richard II comes to provocative life
Trading places: Charles Edwards as Richard II abdicating for David Sturzaker's Henry IV
The earthy contact with groundlings that Shakespeare's Globe offers in its stagings makes a comical but telling context for Richard II, a play largely about political point-scoring between kings. The people whose interests lie so remote, in reality, from the moral tussle between King Richard and his cousin who will wrest the crown from him and become Henry IV, are, in reality, everywhere underfoot.
Literally underfoot, since a cross-shaped thrust stage has been created in the Yard that makes cracks and corridors for the £5 promenaders to pack, looking right up the actors' jerkins, their hands in danger of being trodden by the players' boots, even having their heads mistaken for stones.
As a result there are a lot of laughs in Simon Godwin's stimulating production, which is both good and occasionally less good. The good is that you are given something much more challenging than the tragification of Richard II, since in Charles Edwards' robustly epicene performance, we're looking at a man whose hubris crosses beyond what's allowed and triggers a surge of solid English impatience with posers. The less good is that it's a wee bit Monty Python's Life of Dick in places (Edwards' Palin resemblance has been useful before).
What's stimulating is the way that Godwin places the necessary splendour of the royal image, both to the king and to the people, as the central question – and that one still hasn't gone away. The golden setting and sumptuous medieval costuming evoke the Wilton Diptych, the dazzling icon (pictured right, courtesy National Gallery) Richard had painted to enshrine his new mythology, and you are being invited to look back through seven centuries of sceptical democracy to the mystical but legal impregnability of a king's divine 14th-century authority. No compromise: what do we today think we would have thought then?
Some careful characterising encourages one's full engagement with an extremely lively political situation, rather than a more emotional reaction to a troubled royal youth. Edwards' Richard, playing to the gallery with calculated bravura, doesn't give us a soulful introvert but simply insists that he has the crown, he has the right, and may do as he wills. Who are we to disagree with the unarguable?
It's fascinating to see how Shakespeare twisted the knife in Richard as a historical figure, which would have been noticed by the elderly Elizabeth I in 1595. The play's two contradictory messages are that a king is king, no matter what; but that if a king is bad, someone else may seize the crown legitimately. There were many parallels to be spun by political advisers between Richard and Elizabeth, both dealing with rising anxiety about their lack of heir by smiting their disloyal associates. Shakespeare came close to disaster when Richard II was chosen by Elizabeth's enemies to be performed to drum up public support for her rebellious ex-lover Essex.
That loaded background increases the contemporary force of Godwin's direct, pragmatic and clearly spoken production, which the seductive brackets of the medieval setting magnify rather than clouding. Five fine heralds with trombones periodically pump up Richard's magnificence with Stephen Warbeck's musical fanfares. The king's vanity might be excused by the entertainment he's giving his subjects – everyone loves a political performance artist – but one does listen more closely to those not so easily taken in by the performance image.
This focus on the language is an emotionally intelligent steer
Our switch of sympathy to a king-killer is made easier by the thoughtful work that the lithe, usefully anonymous David Sturzaker has put into Bolingbroke's part, and in particular into his relationship with his father, William Gaunt's gently authoritative John of Gaunt. Their articulation and naturalistic behaviour makes the father and son's parting a revealing little jewel of emotional truth, genuine family love, something Richard has never had, as king from the age of 10, all his feelings subjected to calculation. It also enhances a valuable impression that Harry Bolingbroke is a young man still forming his views. And Gaunt's speech about England is gorgeously delivered by Gaunt (no relation, apparently), with a moving sincerity that is not easy to put over these days in that language without inviting cynicism.
This focus on the language is an emotionally intelligent steer, and it adds colour to a rather straightforward play not overflowing with poetic arias. Edwards' delivery of Richard's flights into eloquence reveals them as cumbersome and self-satisfied (at one point Richard does a strained parody of Marlowe's "Was this the face…", a theatrical in-joke by Shakespeare about his dead rival). His final scene has nothing tragic in its pathos, the inflated ego has been punctured, but it's still lapping up the attention. Very good. By comparison Bolingbroke's plainer language seems less forced, more sincerely expressed.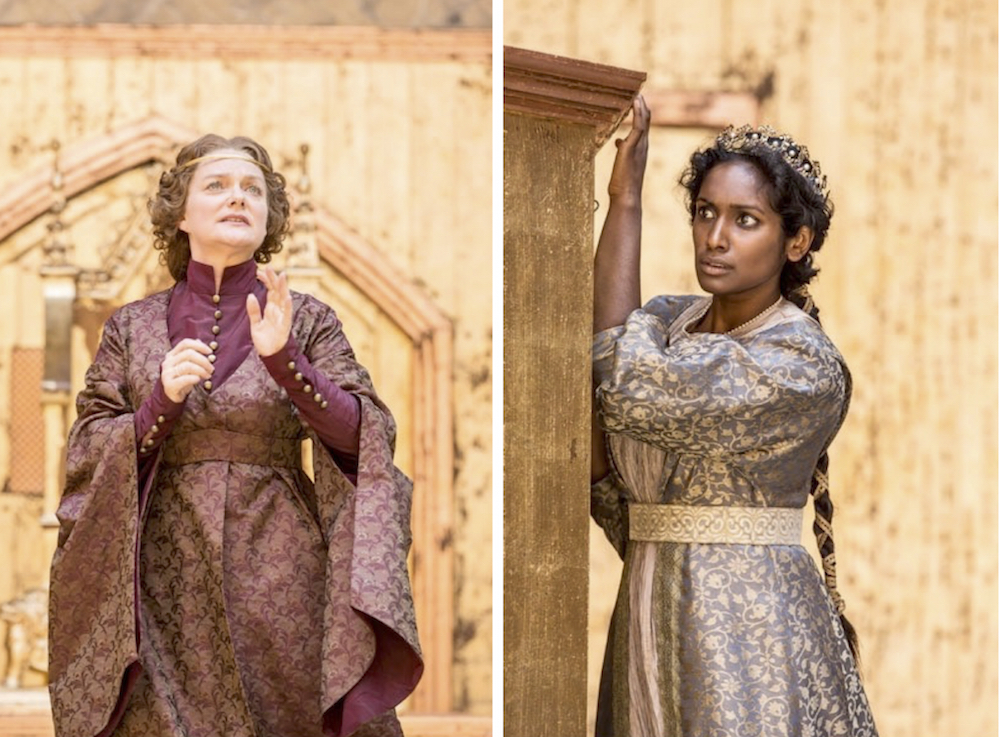 The courtiers' loyalties come across as largely expedient and (fairly) amusingly cynical. Graham Butler is a treasurably slithery Aumerle, writhing with the conflicting desires he feels for his boss. A caterpillar indeed. Maybe William Chubb overdoes the John Cleese irascibility in his York, but late bouquets to Sarah Woodward as his unshakable spouse and Anneika Rose's passionate Queen Isabel (pictured above).
The play ultimately feels like neither quite tragedy nor mordant political drama. Perhaps realistically in the circumstances, Shakespeare didn't make Bolingbroke rise to tragic stature as a man who usurped the appointed king and used the Henry II excuse to wriggle out of culpability for murdering him. Uneasy lies the head that wears a crown, indeed – but that was another story Shakespeare held over for Henry IV, Part II.
Edwards' Richard, playing to the gallery with bravura charisma, simply insists that he has the crown, he has the right
rating
Share this article