Richard II, Donmar Warehouse |

reviews, news & interviews
Richard II, Donmar Warehouse
Richard II, Donmar Warehouse
This swift, fluid Shakespeare sees Grandage bid a fitting farewell to the Donmar
Wednesday, 07 December 2011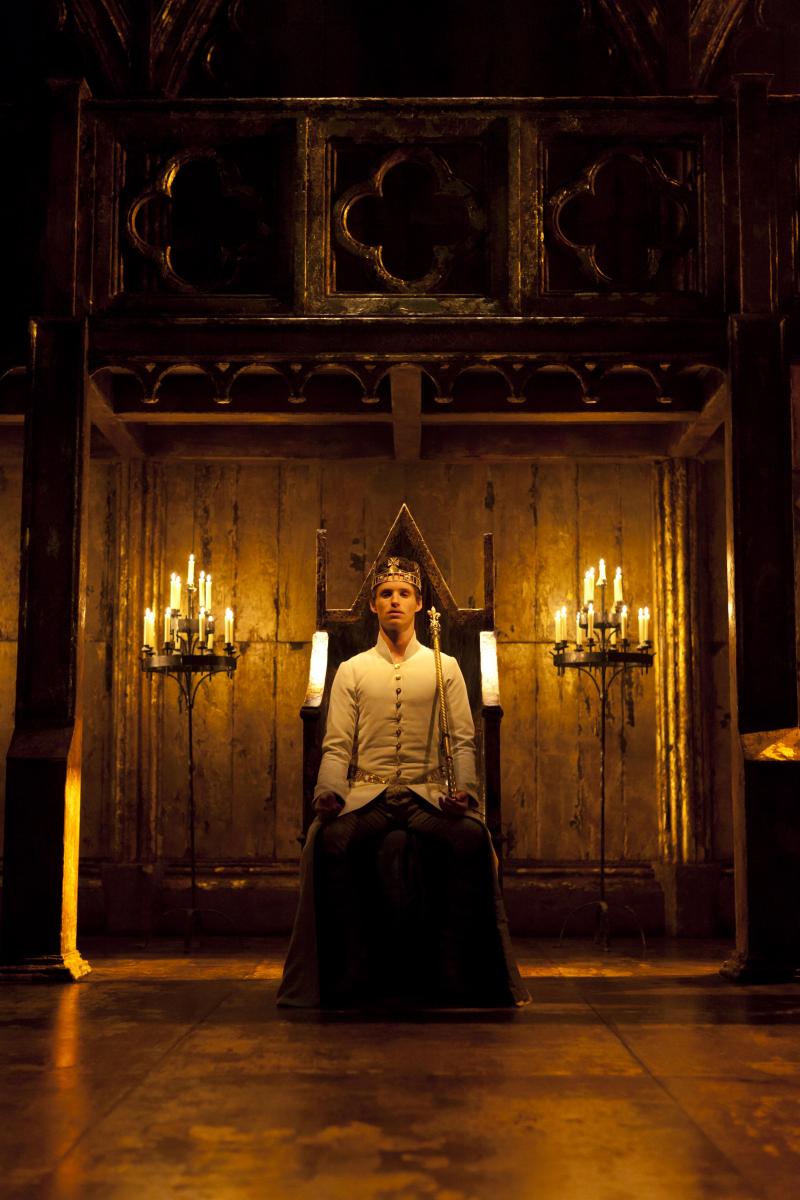 Richard II (Eddie Redmayne) bears the ritual weight of Grandage's production on his slight shoulders
A recent newspaper article championed the topicality of Richard II, laboriously rewriting it from camp conservatism to a politically current meditation on the "sad stories" we still tell of the deaths of kings. Heads may have rolled and states collapsed this year, but thank goodness Michael Grandage felt no need to underline Shakespeare's fragile lecture on kingship with gaudy contemporary markers.
Uncluttered, direct, and tense with the energy of political unrest, this
Richard II
is a fitting farewell from the director to the theatre he has led for the past nine years.
Everything in Shakespeare's text stresses duality, the ascent of the victorious Bolingbroke matched in the descent of the humbled Richard II, and the play's double face has drawn much directorial attention (John Barton's 1974 production nightly alternated the actors playing Bolingbroke and Richard). Here however, Grandage seems less invested in two yoked fates than two individual psychologies.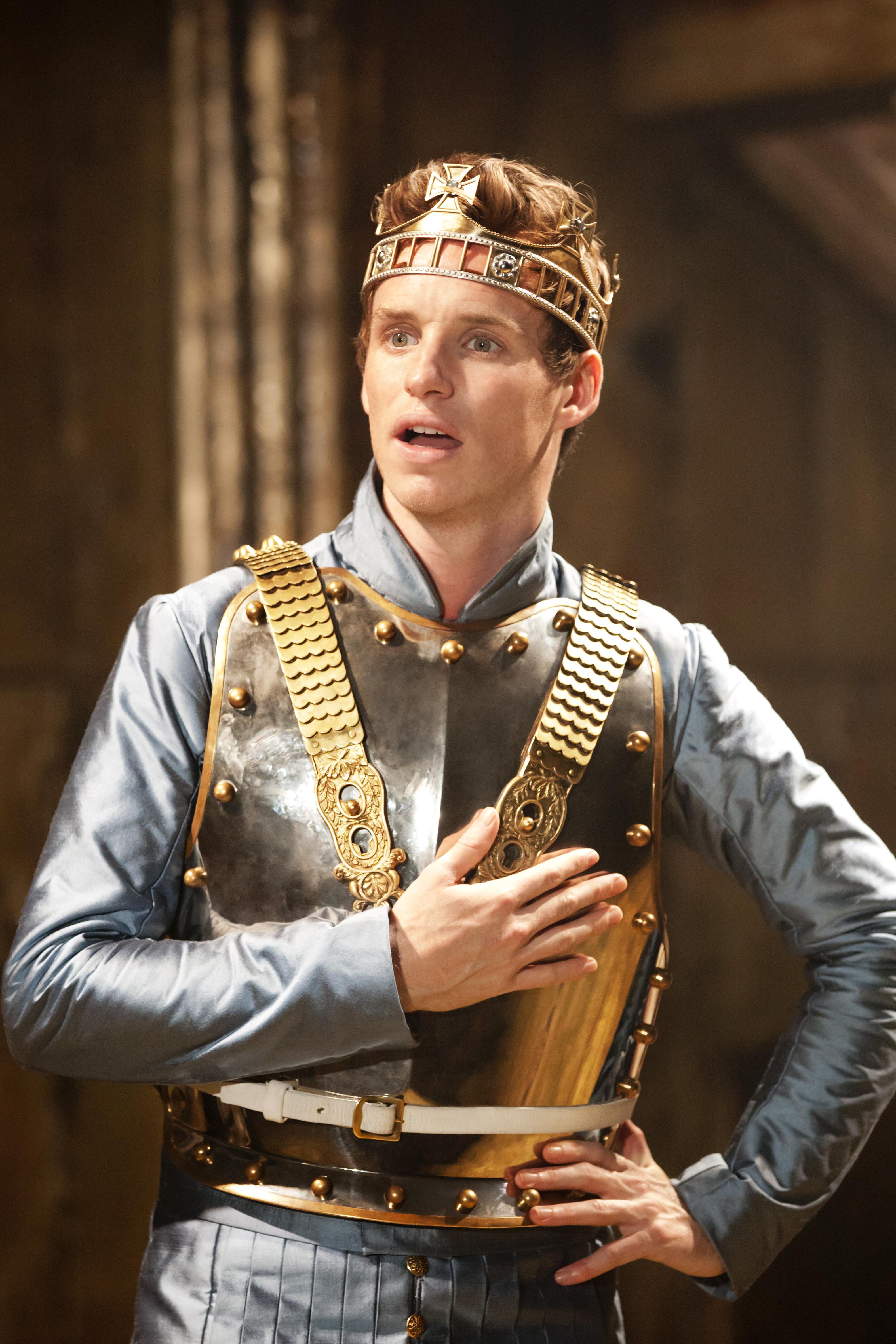 While Andrew Buchan's Bolingbroke suffers as a result – his crisp physicality requiring the impetus of more direct opposition to Eddie Redmayne's unsteady king – Richard II himself gains the greater weight of attention. We look to him to supply both halves of the dual, the opposition of first and last acts, the episodes of banishment and imprisonment, to supplement the lack we find in his usurping kingly double. For a young actor – as a young king – the pressure is immense, and it's hard not to think that Grandage intends us to see this dramatic kinship when he so deliberately overfaces Redmayne in this role.
We enter the Donmar to find ourselves part of a royal audience – Richard II already seated in state with crown and sceptre, his limbs as artfully precise in their architecture as the Gothic arches that soar above his head. Richard Kent's designs frame this self-staging king within his own hallowed temple, the air charged with incense, and composer Adam Cork's modal chantings further underscore the visual elisions of the worlds of church and court. It's a staging that gives Redmayne a ritual weight his frame can scarcely bear, and Grandage's direction revels in this tension between the oversized symbolism of kingship and the undersized boy-king who must embody it.
Richard II contains some of Shakespeare's most formal verse patterning, but Redmayne's approach (shared by the cast as a whole) sits across the grain, rubbing up against the smoother planes of the poetry and animating it with syncopated emphasis. If he loses some of its balance then it's a sacrifice that helps animate his awkward, unfinished king who "…feel[s] want, taste[s] grief, need[s] friends", and seems most at home at his most exposed. His abdication scene, while perhaps lacking grandeur, makes the most of its grinning pathos, the jokes dripping bright from the speeches like the blood we never see fall.
While Redmayne's Richard takes care of the play's melodic arc, it is the bolder episodic intrusions of the supporting cast that add texture: the widowed Duchess of Gloucester is a mere fragment of a part, but Sian Thomas brings a wry pragmatism to her tragedy; the parting scene between young friends Bushy, Green and Bagot (Michael Marcus, Stefano Braschi, Daniel Easton) is no less charged for being so brief; Michael Hadley's John of Gaunt rails with lean ferocity (and no little humour) against hypocrisy in his death scene. Only the family of York remains a cipher, the relationship between the Duke (Ron Cook), his wife (Sian Thomas) and his traitor son Aumerle (Ashley Zhangazha) left disconcertingly undeveloped.
Action flows swiftly thanks to Grandage's fluid, occasionally anti-poetic approach to language, but not even he can combat the tide that sees each scene swirl with ever-greater urgency into the plughole of the closing rhyming couplet, its curt summary gurgling distractingly in the ears. It's an unlikely play for the director's fluid naturalism, a gangly, didactic piece whose reach occasionally exceeds its grasp. In casting so young a lead, however, Grandage seems to celebrate this unfinished quality, inviting us as we marvel at the visual gloss of the production to take pause over the rougher dramatic finish that signals the gap between kingship in Shakespearean concept and in historical practice.
EDDIE REDMAYNE'S FINEST MOMENTS
Birdsong. TV solves the problems of Sebastian Faulks's novel where movies and theatre failed
Fantastic Beasts and Where to Find Them. JK Rowling casts a new spell starring Redmayne as a wand-wielding zookeeper

My Week With Marilyn. Slim, prim but well-acted tale of the legendary star's misadventure in England

Perspectives: War Art with Eddie Redmayne. Oscar-winning actor proves that he did learn something as a Cambridge art history student

Red. Alfred Molina skilfully embodies 20th-century art giant Mark Rothko. Redmayne assists

The Danish Girl. Beautiful but sanitised adaptation of a heartbreaking story

The Theory of Everything. Redmayne's Oscar-winning turn as Stephen Hawking, the scientist struck down with motor neurone disease
PLUS ONE TURKEY
The Pillars of the Earth. Ken Follett's Middle Ages: English history shot in Hungary and funded by Americans
Not even Grandage can combat the tide that sees each scene swirl with ever-greater urgency into the plughole of the closing rhyming couplet
rating
Explore topics
Share this article