theartsdesk at Wilderness Festival 2015 |

reviews, news & interviews
theartsdesk at Wilderness Festival 2015
theartsdesk at Wilderness Festival 2015
The Waitrose of festivals offers the best of most things, just this side of self-parody
Björk: visually sumptuous, but too cerebral for a crowd wanting to dance the M40 out of its system
You wake up with the multimedia traces of a Björk gig dancing across your eyes and the flavours of soft-shell crab and pomegranate playing across your tongue. The cluster of high-end dining establishments is denser than in Mayfair, yet the scenery in which they're set - rolling parkland scattered with bunting-strewn marquees - looks more like the stage of a medieval battle re-enactment than the scene of the gourmand or connoisseur.
In addition to which, before your morning shower, you queue up next to someone wearing a silver bodysuit and full facial glitter. (Maybe you're wearing that yourself, as you sit down to your £75 worth of birch sap martini and hay-baked arctic char?) Welcome to Wilderness, the festival that mixes up high-concept and popular cultural experiences more vigorously than ever before.
The festival was founded in 2011, among other things to elevate the culinary festival experience to the same level as the musical for the increasingly diverse, prosperous, and elderly festival-going audience. Wilderness is best known for bringing serious chefs to the sort of event previously characterised by pot noodles and mud pie, but it's not just the serious food that's expanded the Wilderness programme: theatre, literary events, discussion, a "wellbeing" programme comprising spa, sanctuary, yoga, and the like, and outdoor activities including riding, archery and fishing. Even the most diverse family or group of friends could attend and find something for everyone to do. The final addition, and a gorgeous bonus, was the lake swimming (pictured below). You could get expensively Scandinavian about it, with a lakeside hot tub, or take the British seaside route and get changed awkwardly under a towel, and just jump in. Beautiful, especially after a hot day's trekking between venues.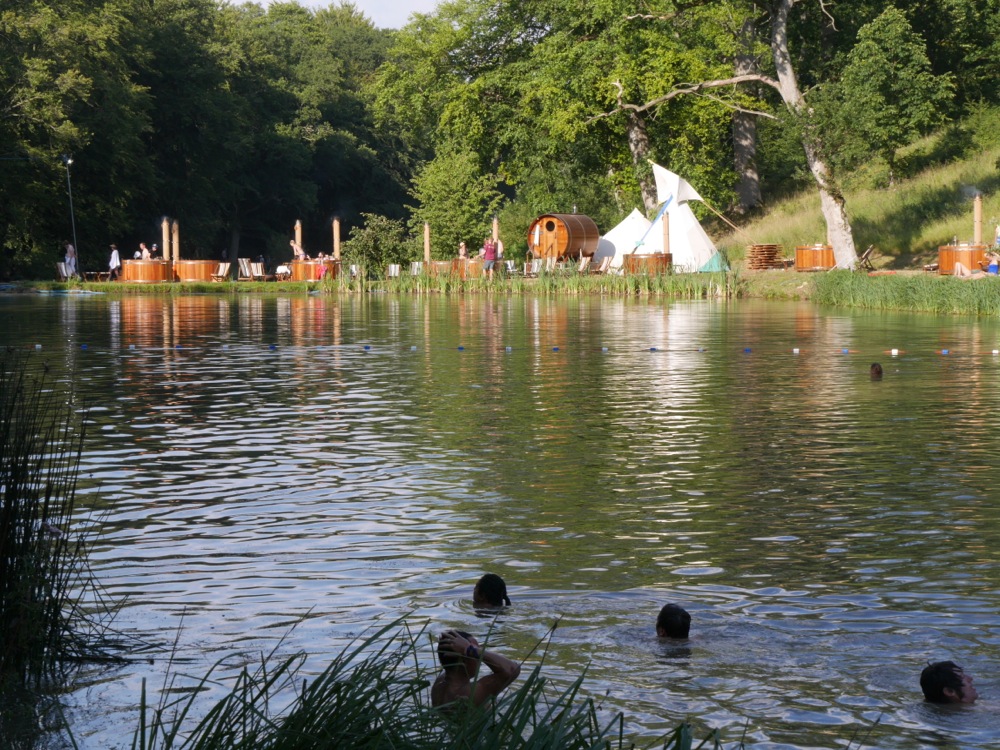 The main stage was positioned to exploit a natural slope, creating a slightly tiered viewing platform, so the stage and its glorious big screen were visible to all, with a lovely view over Oxfordshire behind. That big sky was also the perfect setting for the fireworks that stylishly punctuated Björk's astonishing multimedia show, and took off with the Saturday night spectacle (pictured below) designed by Spanish company La Fura Dels Baus, otherwise known for the Beijing Youth Olympics opening ceremony.
The musical programme goes very obviously for quality over quantity, designed to appeal, like the food, theatre and talks, to a well-informed, discerning audience. This was true both of the established acts – Björk, Nick Mulvey, George Clinton - and the less familiar names, such as Ibibio Sound Machine and Perfume Genius. For much of the time you'd be forgiven for thinking there was a bias towards strongly rhythmical funk or Afrobeat-based groups. These were all bands that combine a serious artistic purpose - there was much joy, but no frivolity at Wilderness - with the kind of sound that anyone could dance to. And you'd have to put Medusa on stage to stop the audience dancing to Caravan Palace, George Clinton, Seun Kuti or Ibibio Sound Machine. Then there are the more reflective, lyrical charms of Perfume Genius or Nick Mulvey. And there's Björk, who is both impossible to categorise, and also - though clearly a big draw - very difficult to schedule.
She opened her show with "Notget", a spectacular collage of retina-bursting pink from the huge screen, sky-drenching pyrotechnics and Björk's Markus Wernitznig dress and mask over the glossy string sound of the white-clad Heritage Orchestra, which set the tone of the evening for a performance that was arguably as much a multimedia art show as a gig. Even after the fireworks had finished, visuals dominated. "Army of Me" was accompanied by a hypnotically disturbing film of a bee hive being attached by orange wasps (hornets?), "Hunter" by a close-up of spiders, while the Vulnicura songs used more familiar iconography. The cleavage in black, heart-shaped tracery ("lionsong") looked disturbing on a huge screen, while the footage of Björk in a lime dress against the 360 degree volcanic shore of Iceland ("stonemilker") was drawn out too long to have much impact.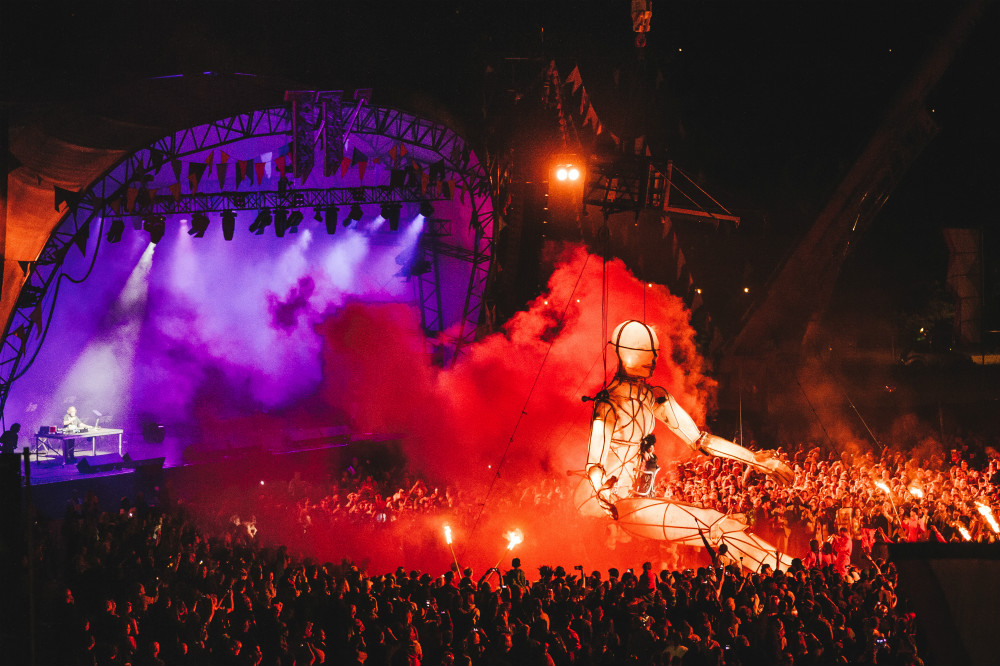 The interplay of words, images and music, the ripples of symbolism, visual and aural, and the way in which a mood created in one medium is then manipulated in another summed up the strength of the set. Björk has been busy on the festival circuit this summer (though recently canceled the series after Wilderness, which gave her appearance here extra curiosity value), though her act is so subtle and layered that in some ways if feels as if it ought to take place in the Barbican, in a quieter and more controlled environment. Though spectacular and engrossing, it was perhaps not rousing enough for a crowd who had mostly just been disgorged from a sweaty M40, and there was a hubbub of chat beneath the eerie sights and sounds. Dancers needn't have feared, however: the party began pretty early on Saturday with Ibibio Sound Machine, and continued all the way to Seun Kuti, on Sunday evening, with a few gentler interludes courtesy of Nick Mulvey and Perfume Genius.
Ibibio Sound Machine's self-titled debut album was well received in the right quarters last year, but tales of its Ibibio-language, folk-tale derived songs (fascinating, though the lyrics were almost completely inaudible against Anselmo Netto's fantastic, heart-pumping percussion) don't convey just what a great party sound this is. The band's highlife and funk ancestry was firmly to the fore, as Eno Williams led from the front in a rampaging set that quickly drew a decent audience of new converts. There are not many bands as well able to hold both a party and a seminar. Expect to hear more from them.
George Clinton was a growl of charisma few could match
French band Caravan Palace have been detonating dance floors for nearly ten years now, and gave what was, for me, the performance of the weekend. Essentially, it's the best of trad jazz, and the best of electronic dance music - with a touch of rap and funk to season the mix - blended into an outrageously itchy-footed acoustic rave sound. There are sinuous, exhilarating solos from violinist Hughes Paven and klezmer-influenced clarinettist Camille Chapelière, exhibiting the melodic virtuosity of a Bechet or Grapelli, with rave rhythms holding it all together. Lead singer Zoe Colotis leads the show in mini-skirt and white suspenders, all the better for her flapper-style dance. The hot jazz heritage the band exploits is wholly appropriate - the delirious abandon of the dancing crowd is exactly the response those jazz bands had in the 1950s, and here it's turbocharged with serious dance music expertise.
Nick Mulvey didn't really fit into the dance-funk pattern of the weekend, but (unlike Björk?) matched the crowd's contemplative, feel-good mood in his early evening performance with an appealing blend of slick-licking acoustic and neatly rhymed - but never twee or smug - lyrics. He did, however, rather surprisingly blend into the Björk theme of the weekend, with a superb cover of her song "Batchelorette", his long lines and melancholic harmonies capturing her mood expertly.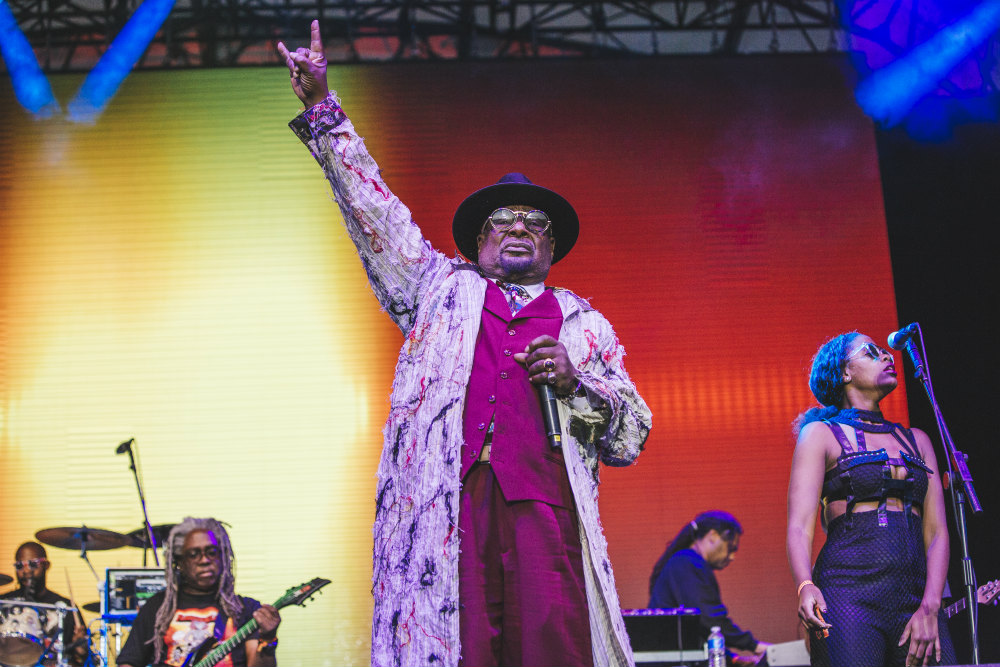 George Clinton (pictured right) brought a dizzily swaying crowd to noisy climax with the grinding, low-slung rhythms of his Parliament and Funkadelic headline show on Saturday night. No one else that weekend would be singing "we want to funk" or (what sounded like) "let's beat the pussy like Tom & Jerry". Their frank sensuality, with its gorgeous brassy funk and howling electronics, gave the audience the cathartic blast of rhythmical hedonism they'd wanted (and not found) in Björk's gig. With upwards of 15 people on stage at any one time, and seemingly two or three musical ensembles vaguely circling round one another, the concept of parliament (and a chaotic one at that) suited their performance well. It wasn't always a very clearly defined sound, but it was a growl of charisma few could match.
Seun Kuti, youngest son of Afrobeat star Fela, leads his father's band Egypt 80, and their live act communicates a distinct sense of historical double-take. Many of the songs, and musicians, remain from Fela's band, and his highly distinctive blend of highlife and funk comes through poignantly. Seun's songs add a more contemporary sound, echoing the collaboration of producers Brian Eno and Robert Glasper for recent recording projects have had. His song "Higher Consciousness" is typical, both in its sense of idealistic longing, and in its musical composition, in which a contemporary solo sound (here in his signing, though evident elsewhere in his sax playing) overlays a more traditional rhythmic foundation. On stage, Kuti dances with a mesmerising energy, his expression a kind of fixed, far-away intensity, and his movements jerky and crablike. His songs are generally long, and energy levels build to an ecstatic rave, and it ends up a blast.
Wilderness explicitly sets out to do much besides the music, so it's perhaps not fair to criticise the provision for smaller bands: that's not really what it's about. However, both the folk barn - more of a large shed in terms of size - and the jazz venues were a fair bit too small for the crowds gathered there. The Sunday evening crowd to get into the Ronnie Scott's evening in the Champagne Laurent Perrier Orangery - there's a name to conjure the bordellos of New Orleans, if ever there was one - was several times too large for the venue, and the Wilderness audience seemed a perfect fit for the event.
In the theatre, I witnessed an extraordinary exclusive, in a truly unexpected conclusion to Bittersuite's immersive, inter-generic performance of music, dance, theatre and gastronomy. To a string trio score of somewhat unremarkable contemporary minimalism, the participants, sitting in a circle, are blindfolded. Then, to the live musical accompaniment they are swirled, danced, massaged and have the taste-buds tantalised with unexpected gastronomic puzzles, delivered for half an hour. It's very much a case of the whole - novel and intriguing - being more than the sum of its parts, and it makes for a really unusual festival experience. At the end of my show, there was a burst of applause, which I initially thought was for the performance. Then I noticed a guy on his knees on the other side of the space. The applause got louder, I noticed a small box in his hand, which he was holding up for the woman with him, and suddenly it became clear that he was proposing! He'd come to the Bittersuite performance at Wilderness last year, and been planning it ever since. The power of art, ladies and gentlemen.
I'm not sure my own concept of wilderness includes a Sweaty Betty Zen Den or a #VolvoMoments Swedish craft activity
The various literary and discussion venues were probably the best attended of all, and the sense that the Wilderness audience is at least as much Hay-on-Wye as it is Glastonbury, or even Latitude, oozed from every overcrowded reading and discussion I happened upon. Despite being only a few miles down the road from David Cameron's constituency, the festival's political mood was more Guardian Review or London Review of Books, and the bunting-draped bookshop/cafe (pictured above) was one of Sunday morning's most popular hang-outs. In the fiction tent next door, I heard Patrick Barkham of that august organ read from his quietly engrossing study of the coastlines as wild places. For readers, the most solitary kind of cultural consumer, meeting a respected author is usually worthwhile in itself. More valuable than the inevitable reading of extracts from the new work is the discussion afterwards, and these Wilderness audiences always acquitted themselves well.
Over the way in the forum tent, meanwhile, the same paper's columnist Zoe Williams discussed the future of political engagement with David Babbs (pictured together, right) of campaigning organisation 38 Degrees, a wholly enlightening encounter that again featured pertinent and intelligent contributions from the tent floor. Next up Williams chaired a discussion entitled "The Path Past Growth", mainly about popular misconceptions in economics. With an erudite and incisive panel including successful finance writer John Lanchester, Tony Greenham of the New Economics Foundation and Megan Ashcroft of the site Renegade Economist, sacred cows were slaughtered and reactionary economic totems felled. There was a sombre consensus that the causes of the 2008 crash remained unaddressed, and that another, perhaps worse, was five or ten years away. Unfortunately, in what must register as one of the sourest notes of the festival, Greenham revealed that Cornbury Park Estate, in which the festival is held, is registered to an offshore tax haven. Somehow, it put the festivalgoers' good intentions, culturally, politically and economically, into cruel perspective. Say what you like, but The Man collects the profit, doesn't pay much tax on it, and stashes it in Bermuda.
Theartsdesk's expenses budget didn't stretch to the sampling of the banqueting hall, the chef's table, Petersham Nurseries (Michelin starred 2011-14), or the Mark Hix restaurant (though his takeaway menu, with a lobster roll for £10, was tempting). Alas for the penniless critic. Judging by the heaving tables and straining belts widely in evidence, they were popular and highly successful. Haute cuisine might not be exactly my idea of a wilderness, but the open country has arguably never offered such dining richness.
At a more affordable level, the catering seemed genuinely better, and more varied, than any festival I've been to. The geographical range of cuisine was extraordinary, and in a long weekend, you would only really scrape the surface of the range on offer. There was, however, in the proliferation of the "shack" or "hut", and VW Camper or Citroën H van, a sense of self-consuming, self-regarding parody in the way some of this high-concept street food is presented and described ("Camel-Toe" sausage, anyone, pictured?). Unlike anything else at the festival, this relentless parade of gaffer-taped weatherboarding, theatrical corrugated iron and faux automotive heritage began to feel clichéd.
Clearly, the concept of wilderness isn't to be taken literally. Even allowing for a generous helping of poetic licence, I'm not sure my own concept of wilderness includes a Sweaty Betty Zen Den or a #VolvoMoments Swedish craft activity. However, to spend a long weekend kicking back, splashing out, and taking in some amazingly diverse sights, sounds, and ideas, whether that's in the lake, in the forum, theatre or on stage, Wilderness takes some beating. With bigger stages for the smaller bands and a cull of the pretentious hot-dog fryers, it should be an even more delectable proposition next year.