Aimard, Philharmonia, Salonen, Usher Hall, Edinburgh |

reviews, news & interviews
Aimard, Philharmonia, Salonen, Usher Hall, Edinburgh
Aimard, Philharmonia, Salonen, Usher Hall, Edinburgh
Last-minute replacement soloist makes for confusion in dramatic Edinburgh Festival concert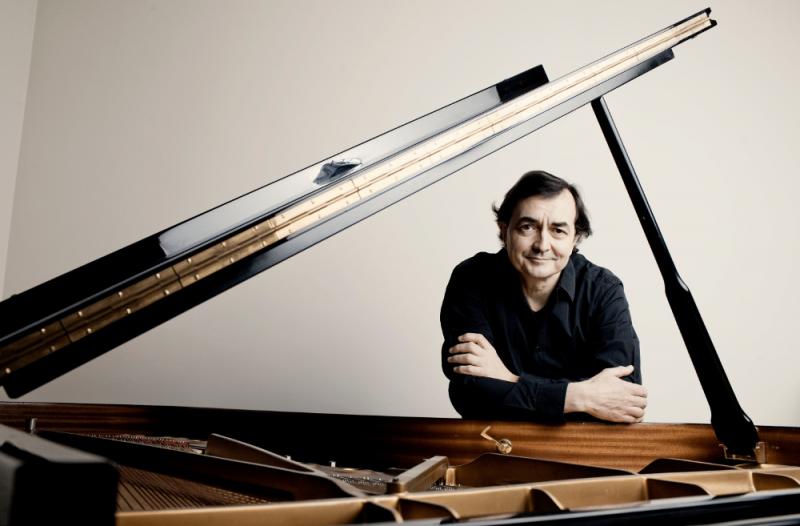 Clean, crisp Ravel from Pierre-Laurent Aimard
It was the first major casualty of the 2015 Edinburgh International Festival. Global superstar pianist Lang Lang was stuck overseas, forbidden from flying by his doctor because of an ear infection, and therefore unable to perform Bartók's Second Piano Concerto with the Philharmonia Orchestra as planned (it had been an enticing prospect). But fear not, Lang Lang lovers – word is that he'll be recovered in time for his solo recital of Bach, Chopin and Tchaikovsky on Friday 21 August.
It was sad to see a few noticeable gaps among the Usher Hall's seating, especially when there was an equally starry figure as Lang Lang's stand-in: French pianist Pierre-Laurent Aimard. He went for the Ravel Piano Concerto in G instead of the Bartók, meaning that conductor Esa-Pekka Salonen introduced an additional item – Ravel's Ma mère l'oye Suite – as an unscheduled concert opener. Confused? Well, that was a feeling that also extended to some parts of the Usher Hall auditorium, where the new programme – with Stravinsky's Petrushka and Tchaikovsky's Francesca da Rimini still forming the second half – felt long, demanding and strangely ordered.
Still, full marks to the Festival and Aimard for getting things together at the very last minute. He gave quite a no-nonsense Ravel Concerto, clean and crisp overall, which sometimes made the work feel brittle rather than witty, but at other times nicely stressed its fractured modernism. His quite brisk slow movement felt gracefully Mozartian rather than particularly heartfelt, and strangely unmoving as a result. But it was a remarkably agile, beautifully articulated performance nonetheless.
A fine, stormy performance of Tchaikovsky's Francesca da Rimini felt like – well, probably too much of a good thingSalonen, however, seemed like a different conductor across the concert's two halves. He seemed to meddle in both Ravel pieces when he might have been better leaving things well alone – the touching simplicity of the five musical children's tales in Ma mère l'oye felt rather overwrought in his heavily detailed readings, in which nearly every bar seemed to have its tempo, phrasing or dynamic pulled around. It worked well in the sparkling oriental fantasy of "Laideronnette, impératrice des Pagodes", with featherlight textures and gently shimmering colours. It worked less well, however, in the closing "Le jardin féerique", glacially slow and deprived of much sense of child-like wonder.
After the interval, though, he let rip in a blistering Petrushka, and showed what the Philharmonia is truly capable of – huge walls of sound, alive with teeming detail, yet also passages of sublime subtlety and calm. And the piece also put some of the Orchestra's exceptional players – notably principal clarinet Mark van de Weil and principal trumpet Jason Evans – firmly in the spotlight. Some of the gear changes as Stravinsky slides from one musical image to another felt a little clunky, but it was a big-boned, extrovert account, full of vivid storytelling, and compelling from beginning to end.
And to follow it with what was admittedly a fine, stormy performance of Tchaikovsky's Francesca da Rimini felt like – well, probably too much of a good thing. It was driven, churning, turbulent, but it felt a bit like we'd just heard all that in Petrushka. Still, Salonen handled the pacing expertly, with a superb vision of the piece's grand architecture, and managed to make it all feel doom-laden and thrilling at the same time. Quite an achievement all round.
Salonen let rip in a blistering Petrushka, and showed what the Philharmonia is truly capable of
rating
Explore topics
Share this article