DVD: The Town That Dreaded Sundown |

reviews, news & interviews
DVD: The Town That Dreaded Sundown
DVD: The Town That Dreaded Sundown
Arch reimagining of a gruesome 1976 proto-slasher film of the same name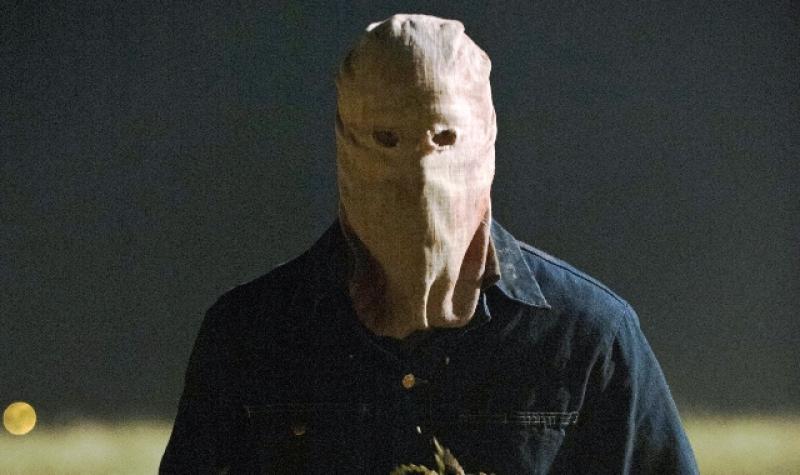 Watch out, sackhead is about
Any film about a series of real-life unsolved murders is ready to be tagged as exploitation. With The Town That Dreaded Sundown, the waters are muddied as it draws on a 1976 proto-slasher film of the same name which luridly retold the true story of killings which took place in the Arkansas-Texas border-straddling town of Texarkana in 1946. It features a murderer recreating the Seventies film in the present day while also revisiting the 1940's crimes.
A meta-take on exploitation, The Town That Dreaded Sundown is not only a sequel but also includes sequences from its inspiration and seeks to celebrate trash cinema as much as it attempts to scare. If it weren't so violent, it could have been the product of John Landis's imagination (though it lacks his humour). Instead, it is directed by Alfonso Gómez-Rejón, who has been behind episodes of Glee and American Horror Story. The Town That Dreaded Sundown was his first feature. His second is the similarly film-history savvy and soon-to-be released Me and Earl and the Dying Girl. The screenplay is by Roberto Aguirre-Sacasa, who has written for Marvel Comics as well as Glee. Both Gómez-Rejón and Aguirre-Sacasa are knowing, and it shows.

The film begins with Jami (Addison Timlin) attending a drive-in screening of the 1976 film with her boyfriend. She doesn't like it, so they leave for a smooch in his car at a lover's lane secluded area. The murders instantly begin, with her witnessing the killer – with trademark sack over his head – despatching her boyfriend. Gruesome murder subsequently follows gruesome murder. Eventually, when unmasked, the nature and motives of the killer are found to be as convoluted as the premise driving the film.
Timlin carries proceedings, but there are continual side-turns into expositions which slow the pace. It's fun though, and clever. But it also collapses under the weight of its ambitions and is hard to follow. For a film overstuffed with ideas, it's a pity the extras on the DVD are feeble sound bite-style clips of those involved which offer no insight. An in-depth expository from Gómez-Rejón would have been much better. And, hopefully, Me and Earl and the Dying Girl will be more coherent.
Eventually, when unmasked, the nature and motives of the killer are found to be as convoluted as the premise driving the film
rating
Share this article