Love and Betrayal in India: The White Mughal, BBC Four |

reviews, news & interviews
Love and Betrayal in India: The White Mughal, BBC Four
Love and Betrayal in India: The White Mughal, BBC Four
William Dalrymple finds in an Anglo-Indian marriage that crossed cultural boundaries hope for today
Friday, 04 September 2015
James Achilles Kirkpatrick in Mughal dress painted by his friend, court painter Tajali Ali Shah
William Dalrymple has discovered a fascinating true romance from history in this story of the relationship of Indian-born British diplomat James Achilles Kirkpatrick and the Muslim princess Khair-un-Nissa in Hyderabad at the turn of the 19th century. His remarkable programme not only captivated in itself but threw a fascinating light on layers of cultural differences, adaptations and understanding.
Individual tolerance and even delight in varying views was threatened then, as now, by societal pressures and fear of the unfamiliar.
Dalrymple uncovered the profound involvement of Europeans with the culture of the subcontinent in the 18th century, before Victorian moralities stifled such engagement. More than a third of westerners had liaisons and marriages with Indian women, including Kirkpatrick's great friend, General Palmer of Poona.
Their attachment was a passionate affair, leading to an improbable romance
Kirkpatrick, born in India, educated in England, had Tamil as his first language, wrote poetry in Urdu, and added Persian and Hindustani to his linguistic armoury. Hyderabad was a very rich city, its Mughal ruler Nizam ali Khan successfully ruling a Hindu population; it was home to the largest diamond mines in the world, with its prosperity further enhanced by international trade in silk, spices and perhaps other darker cargoes.
Successful in his diplomatic overtures, which involved a judicious mixture of flattery and insight, Kirkpatrick was an East India Company officer in his thirties when he fell in love at first sight with Khair-un-Nissa, then only 15 (the couple pictured; see Gallery). Their attachment began as a passionate affair, leading to an improbable and lasting romance evidently aided by the very young Khair's mother. Their liaison was denied, especially by the overbearing Richard Wellesley, the new and intolerant Governor General (and elder brother of the future Duke of Wellington). Kirkpatrick's own elder brother William was an aide to Wellesley and took the blame for concealing the truth of his sibling's interracial love, but things became even more complex. Kirkpatrick, who had converted to Islam and married Khair, was blackmailed by the Indian Prime Minister of Hyderabad into supporting treaties which favoured the natives. It was love in a time of war: Kirkpatrick, originally intent on conquering India, had himself been conquered, while, rather than a British conquest, India herself had conquered the British imagination.
Dalrymple's narration was attractively tenacious and profoundly involved. We strode with him through modern Hyderabad, its great monuments and arches smothered in human and wheeled traffic, and visited the huge magnificent neo-Palladian mansion built for him as Resident. The polymath Kirkpatrick's own design was built by skilled masterbuilders from Madras. Now a girls' college, its grandeur was but a pale echo of its past, the original sphinxes guarding the impressive external staircase replaced in Victorian times by lions. In the gardens, once home to a subcontinental Capability Brown design inhabited by deer, elk and sheep, there are still the ruins of what once had been the elegant women's quarters, and a marvellous stone doll's house for Kirkpatrick and Khair's two children.
Dalrymple's burly figure barrelled through a cubby-hole of a secondhand bookshop in Hyderabad (Dalrymple pictured above, with bookseller Mr Bafana) where he discovered an autobiography in Persian by a cousin of the beautiful Khair. He read endlessly – four years in all – through the Kirkpatrick papers in the British Library, and visited the elegant Swallowfield estate in Berkshire, where Kitty Philips, née Kirkpatrick, discovered in 1838 the portrait painted in India of herself and her brother before they were sent – Kitty only three years old – back to England to be educated, and perhaps removed from the influences of her high-born Shia Muslim family. (Pictured below: George Chinnery's 1805 portrait, Sahib Allum, Sahib Begum. The Kirkpatrick Children)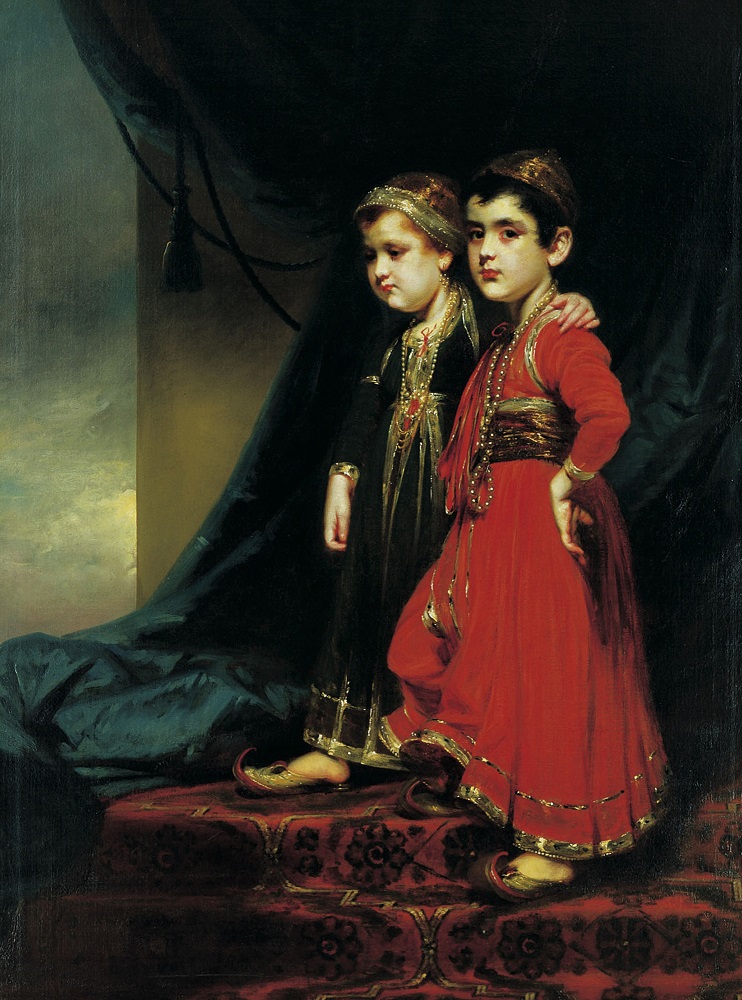 He also found the swathe of letters written by Kitty, who was brought up as an evangelical Christian and became a leading light of Torquay society (the inspiration, too, for a novel written by Thomas Carlyle), to the grandmother she was never to see again once she had left India, now touchingly in the family archive of Kitty's great-great-great-grandson David Vaughan.
The apparently serene happiness of the Kirkpatricks was not to last. He was summoned in 1805 to Calcutta whilst severely ill, to see Lord Cornwallis, the new Governor General who temporarily heralded a more tolerant atmosphere, and died as he arrived in the city, aged only 41. (Dalrymple reminded us that the average Englishman usually only lasted two monsoon seasons.) He was buried immediately in the Park Street Cemetery, still an architectural glory – if dilapidated – of Calcutta. His widow daringly made a pilgrimage to his grave two years later to grieve, and became unfortunately entangled in an ill-fated alliance with Kirkpatrick's assistant and subsequent successor, Henry Russell. She died herself in 1813, aged 27, it was said of a broken heart.
Dalrymple's story was complex, taking in the Company's defeat of 16,000 Frenchmen, the largest French garrison in India, in 1798, leading to a Hyderabad treaty favourable both to the Nizam and the Company; Persian miniatures of courtly life by Venkatchellam; East India Company politics and pressures; the mix of Mughal and South India culture; the cuisine of the biryani, a spicy meat stew which sent Dalrymple into culinary raptures; and he enlisted a curator from the Metropolitan Museum and professors from Cornell and Harvard to cast further light on Indian art and culture.
Even more affecting was Dalrymple's own fervently voiced conclusion: that East and West can meet in spite of the conventional rhetoric of clashing civilisations. Bigotry, prejudice, racism and fear drive East and West apart, but it isn't, even in this story of doomed love, necessarily so.
Spike Geilinger directed and shot a memorable film, making every image pertinent to the affecting tale; as all too often though, the music was a distraction.
Below: images of Khair-un-Nissa and James Achilles Kirkpatrick. Click to enlarge