10 Questions for Composer Max Richter |

reviews, news & interviews
10 Questions for Composer Max Richter
10 Questions for Composer Max Richter
With an eight-hour piece about to debut, the composer, pianist and producer talks Sleep
Saturday, 26 September 2015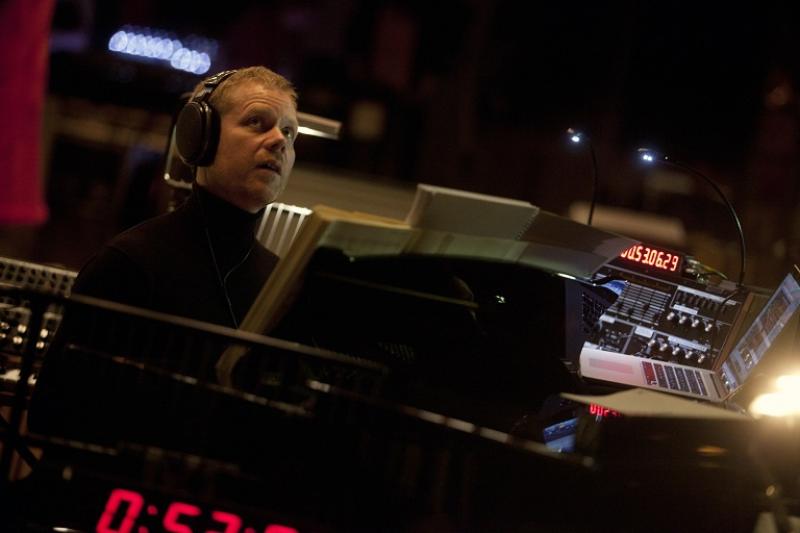 At the controls: Max Richter at work
Composer, pianist, producer… Max Richter (b. 1966) is nothing if not prolific, not to mention unique. His traditional training, which included Edinburgh University, the Royal Academy as well as Florence, under composer Luciano Berio sits alongside a fascination with the otherwordly sounds of German electronica and American minimalism.
As well as his solo work, which blends emotional depth and power with a refreshingly direct approach, he has collaborated on operas, ballets, theatre, film and television scores.
In 2012, Richter released Recomposed by Max Richter: Vivaldi – The Four Seasons, in which he took the (over)familiar concerto and reimagined it, to huge acclaim. Quite an undertaking, but big projects seem to have a certain allure for the composer. His latest is the eight-hour lullaby, Sleep, and its one-hour companion piece, which Richter refers to as a "daydream". Tonight, the 26th September, will see a live broadcast of the long piece in its entirety on Radio 3 – the longest ever on the BBC. theartsdesk caught up with Richter in Berlin to talk about experience, influence and dream states.
Barney Harsent: What were your first musical experiences?

Max Richter: I remember thinking, from a very young age, that certain sounds had a kind of logic to them and I was fascinated by that idea – that sounds could add up to more than just noises. Immediately, I started thinking about music – little tunes – and combining them in my head. I didn't really know that this was composing or that was something somebody could do, it just became a habit for me.
Later on, I was taken to see Disney's Fantasia and obviously that features Stravinsky's The Rite of Spring in the dinosaur sequence. I was shaken to my core, really. Again I was young – no more than six or seven, and I pestered my mother to take me back for the next show, because I was so obsessed with "the dinosaur music".
And what about when you started to learn an instrument?
When I was starting to learn the piano – it would have been 12 or 13 or something like that – I was fortunate in that the milkman was a sort of secret composer. At that time a milkman was one of the jobs you could do if you were an artist – deliver the milk, get that done and then get back to writing a novel or whatever it was you did. He heard me dutifully practising my Mozart sonatas or whatever, and took me on as a bit of a project. So, along with the milk in the morning would be the latest Phillip Glass on vinyl. It was an amazing education, because that music was not known at all outside of New York or aficionados. There I was at 12 years old, in North London, listening to all these hardcore pieces of music, it was a very fortunate moment.
As you grew older, what were your influences?
There were always two things going on for me: One was the whole classical music tradition, and the two main figures for me personally have always been Bach and Purcell everything sort of comes from that, really. Schubert, Mahler, Weber, Stravinsky, Xenakis – going forward in history – those were my sort of touchstones in classical music. Then there was the other side of my brain and, really, the fuse was lit by hearing some of the very early German electronic music, particularly Kraftwerk. It really was an alarm call moment for me when I encountered that. I was amazed – this was a new kind of sound making and was completely different from anything I'd encountered before. I'd listened obsessively to the Beatles and that was kind of the Holy Grail of songwriting and pop song forms, and then there was this strange sound that had a very peculiar, very different emotionality – a totally different grammar – and I set out to find out how you made these sounds. I figured out it was a thing called a synthesiser but, unfortunately, they cost as much as a house. So the next thing was to get the schematics and a soldering iron. I spent a lot of time in my teenage years building synthesisers and it was really the only way I could get my hands on those noises – and I was obsessed by those noises.
As a composer who uses the studio and electronics, do you ever feel overwhelmed by the possibilities this affords?
Well, not really – it doesn't seem like that to me. Speaking personally, my process is idea driven. I have an idea that I want to communicate, something I want to talk about, some musical thing that I want to figure out or a story… ideas bring with them their own landscape. Some things exist very naturally on a string quartet and some things can only exist in a computer or a tape machine or a studio. I just follow the material… the means of turning that into something? There's usually one best way of doing it.
What was the initial idea behind Sleep?
I wanted to make a piece that had a landscape quality, which was big enough to inhabit, both sleeping and waking. When I started to think about music for sleeping through, there are precedents in all kinds of fields: durational work in art; colourfield painting; some of the more extreme, early minimalist music, but all of them focused on the idea of this piece being bigger than you and navigating through it in a way that is different from conscious listening. So I suppose that was the starting point.
Watch the video for "Dream 13 (minus even)"
Was the process of writing a piece of this scope and length a different one for you?
It foregrounded something that has always been in my work really, which is an interest in sonority and texture and colour. This has allowed me to turn that up and make it really central to the project. The second thing is that it's a big set of variations. I love variation forms because you have something which is being discussed or looked at, but we have a chance to look at it from different perspectives – like looking around a sculpture. For me that's a very nice, architectural principle and I return to it often. This big piece, because it's a landscape, I wanted there to be the possibility of recognition, of encountering things that you know. Variation forms are perfect for that because you can have transformations of material across big distances, but you recognise them on their return. I imagined that if someone was sleeping through it, they might wake up occasionally, or if they were awake, they might nod off and there would be points of recognition as these moments recur. I thought there would be something satisfying about that as a navigational tool.
Do you have any specific hopes about how people might experience this piece and how it engages with the subconscious mind?
Every piece is a question mark: we write the thing, put it in front of people and then start to get answers. I think, maybe even more than usual, this piece is like that. I think of it as a laboratory really. One of the things I wanted to explore with it – particularly the relationship between the eight-hour piece and the one-hour daydream – is how our experience might be different listening actively to the one-hour piece having listened to the longer one, and vice-versa. In a way it's quite a good time to have written this piece, because neuroscience is starting to unpick the functions of the various bits of sleep. For example the slow-wave state, where we consolidate memory and learning. Arguably, even decision making can happen – people can express preferences. Whether that's musical preferences I don't know [laughs], but it's actually a much more receptive and responsive state than we previously thought. It's only quite recently that people have thought of it as anything more than a switched-off brain, but actually we're very busy in sleep doing all kinds of things. Sleep is trying to shine a light on that, not via research, but by experience.
Watch the video for "Path 5 (Delta)"

Other than the obvious, what are the main differences between the one-hour 'daydream' and the longer piece?
Both have music that isn't in the other. They're both landscapes, the big one is to be inhabited, and the small one, perhaps, is to be explored. Another way to characterise it is maybe the difference between listening and hearing: we navigate the one-hour one actively. It's a little bit like the ratio of sea-ice, y'know? One–eighth being above the water and seven-eighths underneath, and that little bit poking out is the one-hour piece.
Your work is very direct, simple without being simplistic, and makes a very direct connection with the listener. How difficult is that to achieve – is it something you've been trying to do since your first compositions?
In a way this goes back to my training, which was a very straightforward university and conservatoire training and very much within the tradition of European modernism. It's probably not an exaggeration to say that complexity was pretty much considered synonymous with good. I never really felt very comfortable with that. I felt the idea of the composer being cleverer than the audience and telling them all these things that they were too stupid to understand… I felt that, politically, it was really difficult – particularly because music is a liberal art and these composers who were making this rather totalitarian music were all spouting left-wing views. That was rather strange. And of course audiences stayed away in their droves! [Laughs] Simplicity doesn't have to be dumb and a directness is something really to be prized in creative work. After all, music is a conversation. It's communicative art and if you're trying to have a conversation with someone, you want to try to speak plainly. So I really went back to renaissance models of ways of constructing music – and, obviously, also informed by the American minimalists. It seemed to me there was a way of making a language which could be, rather than, as you say, 'simplistic', simple and plain-speaking and well made.
Finally, what music are you enjoying at the moment?
I tend not to listen to much music when I'm writing, which tends to be most of the time. I listen to a lot of very old music, renaissance music – Bach and Purcell, but I also listen to a lot of music that's very unlike mine. Lots of electronic stuff, things like Triangle records, they're doing some great stuff… all kinds of electronic stuff, really. And I've had a bit of a Low resurgence recently as well – droney guitars!
Overleaf: watch the trailer for "Sleep"
I spent a lot of time in my teenage years building synthesisers – I was obsessed by those noises
Share this article