How Gay Is Pakistan?, BBC Three |

reviews, news & interviews
How Gay Is Pakistan?, BBC Three
How Gay Is Pakistan?, BBC Three
Returning émigré Mawaan Rizwan discovers unexpected facets of gay life
Wednesday, 21 October 2015
Standing out in the crowd: presenter Mawaan Rizwan
As a YouTube comic Mawaan Rizwan is clearly at ease on screen, and right at the beginning of How Gay Is Pakistan? he was telling us about coming out as gay to his family last year: it was "the worst news ever for Pakistani parents".
Director Masood Khan's film, occasionally hanging somewhat uneasily between its location on BBC Three and its origin in Current Affairs, followed him back to the country of his birth to seek an answer to the question: What would his life be like if he'd stayed in Pakistan as a kid?
"Exciting but scary" was his first impression of the place, and it took a while for Rizwan to get down to the meat of his subject, rather diverted by his visit to a Karachi market to equip himself with local costume, playing comedian rather than presenter. Just occasionally this seemed like a holiday programme gone awry, diverted to a location no-one advises for holidays anymore, but it's rare, and rather salutary, to get a television glimpse of everyday life in Pakistan which takes us beyond the usually grim news headlines.
If there hadn't been a television camera on hand, it might have ended in violence
It's a country of contradictions, with sophistication and poverty at the heart of Rizwan's discoveries. The well-off exist in a world in which homosexuality has an accepted, if mostly unspoken place – a scene sustained by social media – with clubs taken over by gay men and women for dancing that, Rizwan reminded us more than once, felt like Soho. Few were shy of a television camera, including one guest who, while admitting that if your sexuality became public knowledge, "They can kill us", revealed the alibi that he told his own family each time he went out. I know we keep being told how small BBC Three's audience is, but you must wonder how long that anonymity is going to last.
At the other extreme, in the labourer communities of Lahore, the concept of gayness hardly existed: instead it was MSM – men sleeping with men – not because of sexual preference, but because they couldn't afford women prostitutes. A good thing then that there was an excellent voluntary health awareness organization handing out condoms, and generally explaining what was what. The tragedies come in rural communities, where any hint of difference can be punished with violence: we didn't see what was happening in a video of one such case, but Rizwan's word that it was too grim for broadcast was enough.
The central subject he chose was the transgender world of Kami, and her partner Sid: they were the nightclub party-givers, though their home world looked far from affluent. Their dream was to be married in South Africa by an Imam who apparently endorses homosexual marriage within Islam. Rizwan visited a number of very articulate professionals, from lawyers – Pakistan's anti-gay legislation is a direct hand-over from the legal system of the British Empire – to health-workers. When he went off with Kami and Sid to consult a marriage counsellor about their plan, she seemed to endorse the idea, until they said they were planning to return to Pakistan as a married couple. "Now I'm feeling tense," the counsellor admitted.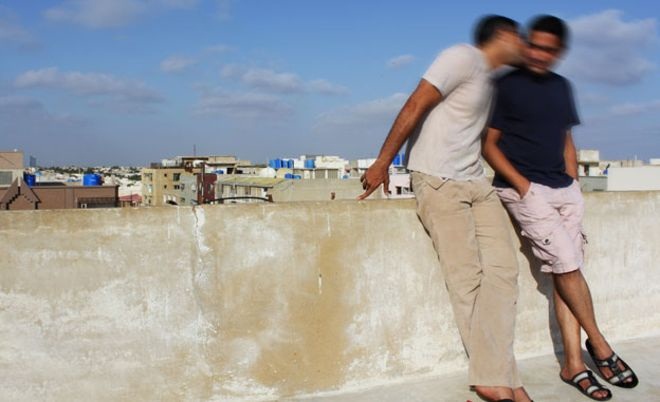 The future of their friend Shahzadi, another transgender woman who was debating whether to proceed with sex-change surgery, looked equally uncertain. Her adolescence and growing awareness that she had the "soul of a woman" had been accompanied by violence and rape – there's a terrible awareness of the degrees of cruelty when someone remembers what it's like to be "properly beaten". That didn't prevent Kami and Shahzadi heading off to the bazaar to shop for a wedding-dress. Kami wanted something traditional, and the shopkeeper must have been surprised to be asked by Rizwan if such shopping requests "happened often". For him, it was haram, but he stopped at words. Less so those who congregated around the couple on the street: if there hadn't been a television camera on hand (and presumably a security escort, too), it might have ended in violence. "For us it's normal, by the way," was the telling comment from the ladies.
Rizwan's visit to a revered Imam for advice was revealing, though less so for the medicine that he was prescribed to "cure" his homosexuality. The religious figure's dogma, that the "hole made by God for the exit of waste material is not for sex", may have been formulaic, but his advice – effectively, "get out of your homeland" – looked practical. What wasn't touched on here – for that, it's worth listening to Mobeen Azhar's 2013 Radio Four Crossing Continents programme Inside Gay Pakistan – was the hypocrisy involved on all fronts. "Blind-eye" toleration suits those in power just fine, which explains why no legislator is going to go out on a limb to question the law as it stands (depressingly, the overturning of comparable legislation in neighboring India was itself recently reversed). That programme told us that the national language, Urdu, doesn't even have a respectful, objective word for "homosexuality". Language in How Gay Is Pakistan? also seemed problematic, albeit for a different reason: almost every sentence here jumped back and forth between English and Urdu, phrases as mixed-up as the wider context that they were trying to explicate. (Blurred faces in image of men in Karachi, from Azhar's programme, pictured above © BBC.)
Where Azhar discovered how gay life often continues within the fabric of marriage, Rizwan spent more time with the Hijra transgender-transsexual community, quasi-family units that adopt and to some extent unite those vilified by society: each group has its own guru, and if Shahzadi was to proceed with castration, it would be against the advice of hers (closing titles revealed that she had chosen that path). We saw something of the Hijras in Stephen Fry: Out There, and it was good to have the subject explored more thoroughly. Rizwan was never just the outside observer here, a factor that gave his film considerable extra engagement. "Not as bad as I expected," wasn't exactly Rizwan's conclusion – and it's probably not a slogan which the Tourist Board is going to adopt – but he came away convinced that Pakistan, as a society, was actually quite gay, as well as very glad that he was coming back to life in London's Zone Two. "Big, brave steps" may be being taken in the gay community there, but what a difficult, long journey lies ahead.