Stephen Fry: Out There, BBC Two |

reviews, news & interviews
Stephen Fry: Out There, BBC Two
Stephen Fry: Out There, BBC Two
A sympathetically presented picture of the difficulties of gay life around the world
Smiling in spite of it all: Stephen Fry in Uganda with Stosh, who was raped at the age of 14 to 'cure' her of her lesbian tendencies
Respect and dignity, intolerance and hatred: the poles were set far apart in Stephen Fry: Out There. It's good to have Fry the thoughtful presenter back – it's been a long time since his The Secret Life of the Manic Depressive – on a subject close to his heart, how gay people are faring in various parts of the world. This first episode took us to Uganda and Los Angeles, while part two on Wednesday drops in on Brazil, Russia and India.
Quite an itinerary for two hours of television – fitted in over two years, during gaps in Fry's other commitments – and it's to Fergus O'Brien's directing credit that it avoided the traps of the celebrity-drop-in format.
We alternated between the human beings, each with their often heartrending stories, confronting the issues of growing up gay in societies where they face varying degrees of intolerance, and the assortment of lawmakers and churchmen seeking to ratchet up that intolerance. Fry's empathy with the former contrasted with his impatience with the latter, as he initially looked for, and then finally gave up trying to find, any shared ground for debate. There was Uganda's Minister of so-called Ethics and Integrity, who's trying to introduce a bill (on top of existing colonial laws outlawing homosexuality) that would make it criminal not to report any acquaintance if you thought he or she was gay, and the Kampala pastor with whom Fry shared a radio show, who was unstoppably graphic about the detrimental anatomical effects of homosexuality.
Fry narrated it through the prism of his own lifetime, which has seen Britain move from homosexuality ceasing to be a crime to civil marriage
As Fry confronted this man of God brandishing a newspaper with the headline, "How bum-shafting shattered my whopper", it approached the most absurd comedy. Except that there wasn't anything remotely funny when Fry met the diminutive, tough-as-anything Stosh (main picture, above). Raped at the age of 14 to "cure" her of her lesbian tendencies, Stosh ended up both pregnant and infected with HIV. We don't learn to whom Stosh turned to regain the remarkable poise she showed here, but it must have been to somewhere like Ice Breakers, an informal (and completely underground) meeting group which offered both psychological and medical advice, but no less important for providing a fragile sense of community for young people desperately in need of it. Blessed are the peacemakers.
If what Stosh went through in Uganda was called "corrective rape", in America it's known as "reparative therapy" – the same attempt to push gay people, often young, out of their sexual orientation. Fry met its slick practitioner Joseph Nicolosi who aims to "resolve" such emotional conflicts, though none of his "patients" were willing to talk about the result. The one we thought was appearing in that capacity, Dan, had gone full cycle to "ex-ex-gay", and abandoned his religious faith in the process. His mother's verdict on Nicolosi: "He should be ashamed of himself."
But the trials of asserting your gay identity in prosperous Los Angeles jarred after the horrors of Uganda, and Out There lost focus – too many artily shot palm trees, too much of its presenter in a natty sports coupé. Interesting in its way no doubt, and all respect to those concerned, but was this really the right context to learn how an ex-boy band member was dealing with the problems of presenting himself for a possible acting career?
Fry narrated it all through the prism of his own lifetime, which has seen Britain move from homosexuality ceasing to be a crime in 1967, through to civil partnership by the time the programme started (and civil marriage by the time it ended). But was the interview with Elton John and partner David Furnish, like much of the American excursion, there to encourage viewers for whom such stories – from lands of which we know little, about people we otherwise only encounter as newspaper statistics – might be a switch-off, even on BBC Two? It seemed a bit like it.
Stick with it, though: Out There becomes much more compelling in part two, and as Fry says, "behind every statistic is a beating human heart." Brazil and Russia seem to be in "third step" territory. In Brazil, it's three steps forward, two back, with the world's biggest Gay Pride (pictured above right), but also the truly tragic story of a 14-year-old boy killed for his sexuality, and the echoing creepy laughter of a Rio senator. Russia looks the opposite – one step forward, three back: Pride or any other such march banned, new legislation outlawing any "propaganda" that may "affect" minors, and similar bigotry from church-influenced lawmakers (plus liberals from the Nineties now in the conservative vanguard).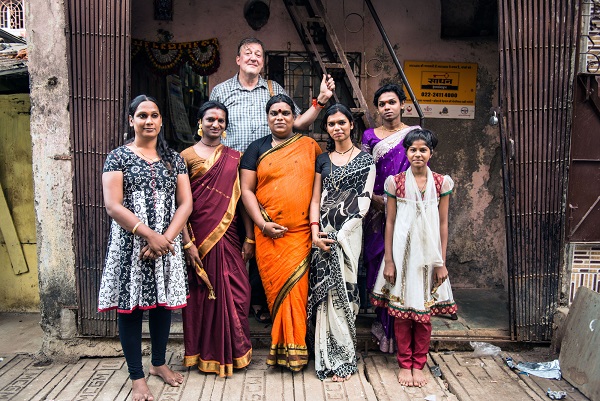 India, or at least Bombay – Fry admits these were only brief snapshots from each country – was more encouraging, newly rid of Victorian-era laws. Its stories were about families, and if your blood one has rejected you, then, like the Hijra caste Fry encountered (pictured above left, with the proud mother-figure Gauri, centre), make your own. There was even the apparently unscripted discovery, on an absolutely nondescript street, of a gay boutique that wouldn't look out of place in Soho. Given this is television, we may not entirely believe in such "chance" encounters. But somehow we did believe in the rest of what Fry showed us, even if it sometimes hurt to watch.
'Out There' becomes much more compelling in part two, and as Fry says, 'behind every statistic is a beating human heart'
rating
Share this article