Jekyll & Hyde, ITV / From Darkness, Series Finale, BBC One |

reviews, news & interviews
Jekyll & Hyde, ITV / From Darkness, Series Finale, BBC One
Jekyll & Hyde, ITV / From Darkness, Series Finale, BBC One
Charlie Higson rewrites Robert Louis Stevenson for the age of superheroes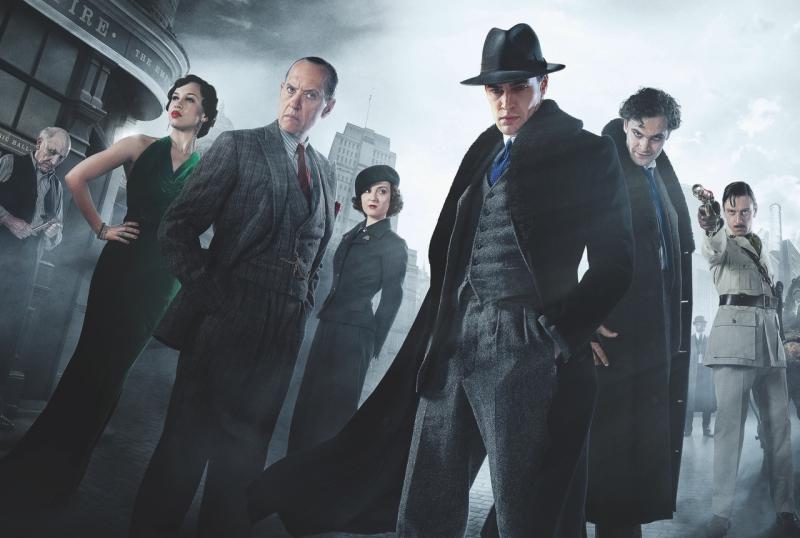 Tom Bateman as both Jekyll and Hyde, with Richard E Grant and supporting cast
It's the age of the prequel, sequel and origin story, and the ingenious Charlie Higson has decided that now is the time to give Robert Louis Stevenson's divided-self myth a superhero-style makeover. Action-packed and a little bit shocking, this supercharged Jekyll & Hyde (****) has the makings of a major hit.
After a crisp precis of the kind of stuff the original Hyde got up (we got a long-distance view of him beating politician Sir Danvers Carew to death in a London street), we were whisked forwards 50 years to Ceylon, where nice doctor Robert Jekyll was inoculating the local children under the benevolent eye of his foster-father, Dr Najaran. However, he was obviously not as normal as he looked, since when an out-of-control truck smashed through the wall of the clinic, Jekyll lifted its 10-ton weight single-handedly to free a trapped child (Jekyll feels Hyde coming on, below).
A letter about a family estate of which he knew nothing from London solicitor Max Utterson (the boomingly larger-than-life Christian McKay) prompted Jekyll's speedy departure to Blighty, and it was rapidly becoming clear that he was dragging a heap of hidden baggage along with him. We learned that he had long been suffering strange urges, only kept in check by Dr Najaran's special pills. In London, his arrival was anticipated by Bulstrode (a more than usually camp Richard E Grant), head of a secret government organisation called MIO ("Military Intelligence Other"). A bit like a 1930s version of Men in Black, this lot keep tabs on the "supernatural threats" and "monsters" with which the metropolis is apparently teeming.
We saw one, a gruesome four-legged thing with a man's head called a "harbinger", which was predicting the arrival of a "powerful one" bringing death. Meanwhile, back in Ceylon, the sinister Tenebrae organisation was on the trail of Jekyll, in the person of the sadistic Captain Dance and his squad of supernatural black-clad ghouls.
It's great fun with a bit of a frisson, like a more mainstream mix (fit for its 6.30pm slot) of Penny Dreadful and Jonathan Rhys Meyers's Dracula, played with carefully-calibrated tongue in cheek by a spirited cast. Tom Bateman, who has the upstanding air of a John Buchan hero, hits all the right notes in both halves of his lead role. He projects diffident middle-class Englishness as Jekyll, then snaps into explosions of ultra-violence and lady-killing seductiveness when the Hyde gene strikes (he's the original Jekyll's grandson, incidentally). Nine more episodes lie in wait.
BBC One's From Darkness (**) could have done with a bit of Jekyll's comic-book panache, but it ended without ever finding a convincing purpose in life. It just grew increasingly miserable and aimless, as the story meandered about trying to decide whodiddit.
This was a thankless task for Anne-Marie Duff in the lead role of Claire Church, supposedly a retired policewoman now somehow re-empowered to charge around questioning people and examining evidence because her ex-boyfriend DCI John Hind (Johnny Harris, pictured above with Duff) had decided it was a good idea. In episode three, she had one opportunity to throw off her straitjacket of misery and guilt, when she and Hind crashed a wedding party to interrogate a suspect. Church suddenly underwent a Jekyll and Hyde-style transformation under the influence of booze and prescription drugs, but it just looked like they'd cut in a scene from a different programme. The one reviewed above, perhaps.
Having brought back the traumatised Church from her exile on a Scottish island, the show led a curious double life as it bounced between the Western Isles and Manchester, never making a meaningful bridge between the two. Sometimes Church was committed to her understandably baffled partner Norrie (Richard Rankin), then suddenly she was off snogging with Hind, an unprepossessing slob who should have been tied in a sack and left out for recycling.
The series was supposed to offer a female-orientated perspective on the too-familiar theme of the serial murders of women, but still served up the de rigueur ration of bound and mutilated corpses, while having as a killer a middle-aged man (Jim Cartwright as Roy Marsh, pictured above) scarred mentally and physically by his mother's attempt to abort him felt gratuitously grotesque. For gender balance, there was a female perp too, who hastened From Darkness to its melodramatic and wholly implausible conclusion. File under misfire.