The Winter's Tale, Harlequinade/All On Her Own, Garrick Theatre |

reviews, news & interviews
The Winter's Tale, Harlequinade/All On Her Own, Garrick Theatre
The Winter's Tale, Harlequinade/All On Her Own, Garrick Theatre
Kenneth Branagh's season begins with flawed Shakespeare, riotous Rattigan and a boozy unburdening
There is nothing like a Dame: Judi Dench brings gravitas to Branagh's 'The Winter's Tale'
What exactly is the level of Kenneth Branagh's self-awareness? He's certainly conscious of inviting comparison with Olivier once again by presenting a year-long season of plays at the refurbished Garrick under the auspices of the Kenneth Branagh Theatre Company – and by taking on Olivier's famous title role in The Entertainer.
But what should we make of his choice of Rattigan's backstage company
Harlequinade
, which blithely skewers an egotistical actor/manager and his rep company's luvvie excesses?
One might read it as Branagh and co-director Rob Ashford's canny attempt to ward off criticism in advance, particularly as their production of The Winter's Tale (★★★) is guilty of many of those excesses. It bears the hallmarks of recent forays into Hollywood blockbuster, from Patrick Doyle's overwrought music cues to Christopher Oram's extravagant design, but has more in common with ITV's new Jekyll & Hyde. As Leontes, the cheery king who suddenly becomes convinced his wife has been unfaithful, Branagh makes sense of Shakespeare's accelerated timescale (Othello in miniature) by portraying the onset of jealousy as a Gothic horror demonic possession. He strains, he paces, he roars, each new suspicion a staggering body blow, and the madness that robs him of sleep leaving him wild-eyed and literally swooning. (Branagh pictured below with Hadley Fraser's Polixenes.)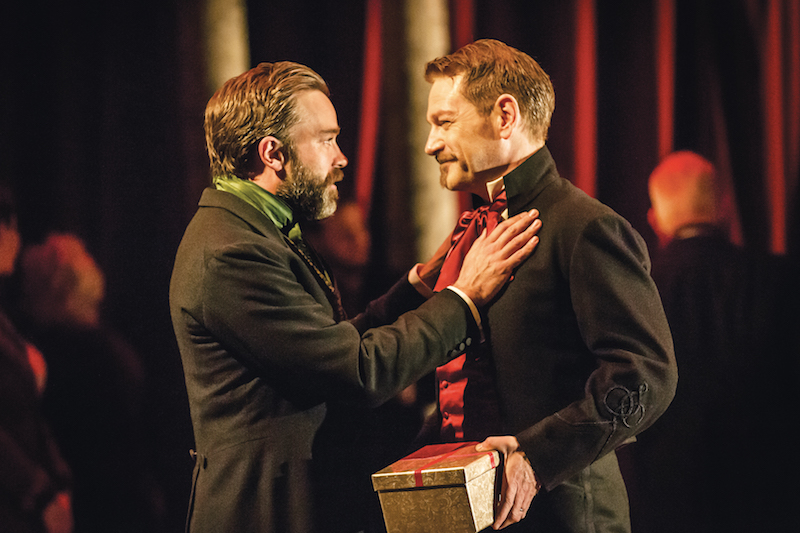 Compelling, certainly, but this melodramatic physicalisation of a psychological affliction soon grows wearisome. It's in stark contrast to the real star turn, Dame Judi Dench as practical, grounded Paulina, who, with her luminously effortless verse speaking, proves passion need not be operatic to stir the soul. She's the wry voice of reason, briskly dismissing Leontes's cowed yes-men and reminding us that passively bearing witness to injustice is itself a sin. Paulina's scolding here doubles as a compassionate lament for human failing, and her self-appointed role as keeper of Leontes's "perpetual" penance stems from tender knowledge of what has been lost.
Dench also gives Time's speech recounting the 16-year jump, which takes us from the Nutcracker-esque Victorian Christmas card of Leontes's court – plush red velvet mirroring the Garrick itself, beaming carollers sprinkling snow, and picture-perfect ice skating – to the equally idyllic rural haven of Bohemia, so ripe with fecundity it might have escaped from the pages of Cold Comfort Farm.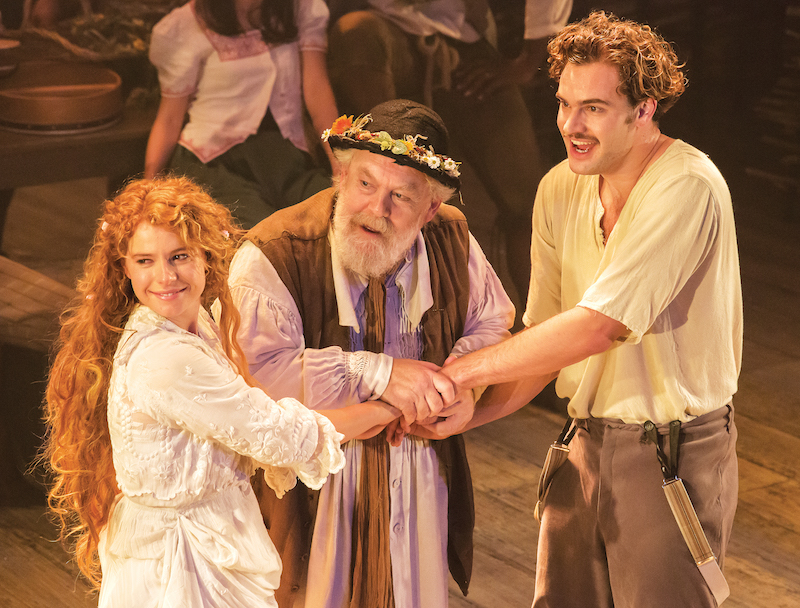 Jessie Buckley's Perdita is earthy and warmly sensual, but displays, too, the royal dignity inherited from Miranda Raison's gracious Hermione. (Buckley pictured right with Jimmy Yuill and Tom Bateman.) In fact, this production renders Winter's Tale a story of sensible women bound to bonkers men, with Hadley Fraser's Polixenes taking a cue from Branagh and Hulking out when he discovers his son's deception, and said son, Bateman's virile Florizel, displaying an equal talent for hot-headed overindulgence.
Jon Driscoll's film projections do suggest an interesting queer reading of Leontes and Polixenes' courtly bromance, though that's never fully developed, and also find a stylish solution to the most notorious stage direction in theatre. Sunny Afternoon's John Dagleish is a fine Autolycus, lending the cheeky-chappie rogue an enticing musicality to go with his dark amorality, and there are classy turns from veterans Jimmy Yuill, Michael Pennington and John Shrapnel. Yet this version of Shakespeare's wistful paean to lost innocence is limited by using the broad brushstrokes of a child's bedtime story. Though the climactic statue reveal is beautifully done, it's more a cosy final chapter than a redemptive moment powerfully won.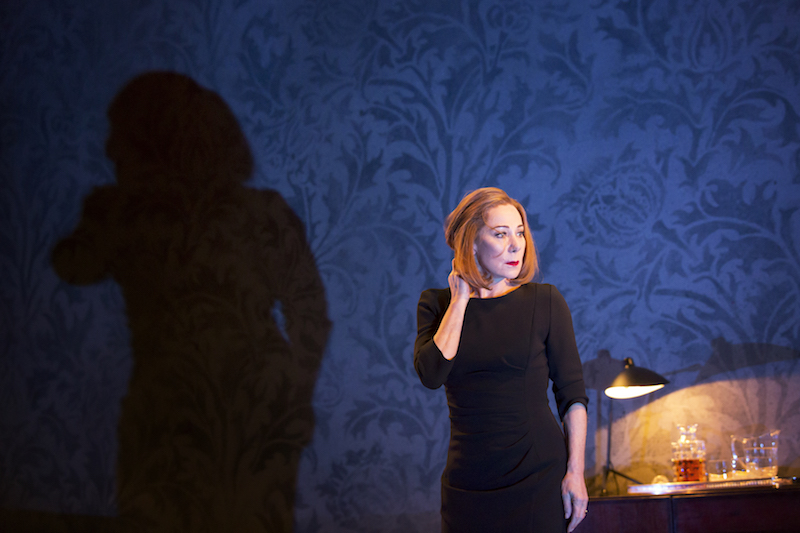 The surprise package is Zoë Wanamaker's 20-minute monologue, the opening of a beguilingly odd-couple Terence Rattigan double bill (★★★★). Written for television in 1968, All On Her Own is a boozy unburdening jagged with grief and guilt, in which Wanamaker's not-so-merry widow (pictured above left) confronts the possibility that she drove her socially inferior husband to suicide. It's a merciless laceration of snobbery, and – in Wanamaker's starkly vulnerable portrait – illustrates more effectively than Branagh's Winter's Tale how persecuting others can also be an act of self-harm. It needs a similarly meditative partner – perhaps The Browning Version (originally paired with Harlequinade), or even Simon Stephens's comparably raw Song From Far Away – but does provide some much-needed understatement.
No such subtlety in the riotous 1948 Harlequinade, which follows the travails of a beleaguered, second-rate rep company bringing Shakespeare to the regions as part of the Government's wartime "social purpose". Rattigan's dismissal of such an enterprise rankles, but there's guilt-free fun to be had with preening Arthur Gosport, still playing Romeo well into middle age, and his troupe gradually collapsing like their paper-thin sets. It's Kiss Me, Kate without the songs (a peculiar closing number excepted), or Noises Off without the second and third acts, but delivered with infectious knockabout joy.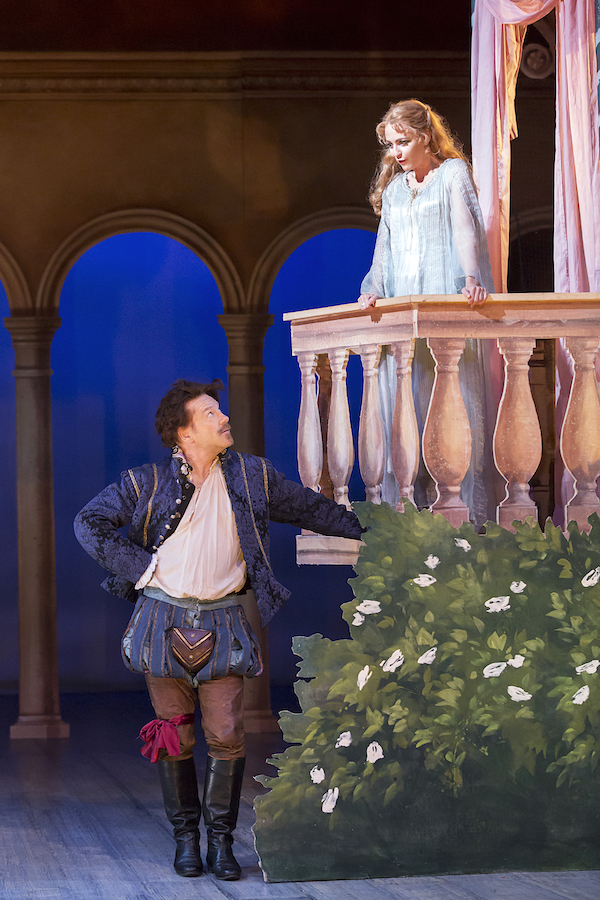 Branagh displays excellent comic chops as pompous, myopic Gosport (pictured right with Miranda Raison), who believes his Romeo can be boyish with the addition of a "little leap" onto a bench, and whose worldview barely extends beyond the wings. He confuses the appearance of a real abandoned daughter with auditions for Perdita ("What text are you using?"), and milks every insincere "darling" and "dear". Raison, returning as his long-suffering wife, is too young to match his absurdity in playing one of the nubile lovers, but has a good line in teeth-gritting endurance, while Wanamaker is a hoot as a soused, interfering old-timer, as is Bateman's put-upon stage manager, Fraser's Brummie spear-carrier and Shrapnel's failed actor in career crisis.
"The Gosports are the theatre at its worst and best" proclaims Rattigan, and the same might be said of this opening salvo from Branagh's season. Stylish and starry (Derek Jacobi, Lily James and Richard Madden are among the big names yet to appear), it's bound to be a dazzling commercial draw, but just as Harlequinade points out the tendency of thesps to look inward, so there's a lingering suspicion that this new residential rep company may be as much – if not more – for the benefit of actors as audiences.
With her luminously effortless verse speaking, Dench proves passion need not be operatic to stir the soul
Share this article