Tangerine |

reviews, news & interviews
Tangerine
Tangerine
Fast-moving, furious journey through transgender LA is unlikely Christmas movie
Wednesday, 11 November 2015
Sisterhood: Alexandra (Mya Taylor, left) reunited with best friend Sin-Dee (Kiki Kitana Rodriguez)
American director Sean Baker is an adept at exploring different Los Angeles worlds that we don't often see portrayed in standard Hollywood fare. His much-acclaimed Starlet, from 2012, took us into the city's porn industry (in an entirely non-judgmental way), ticking most of the boxes usually associated with "independent" cinema.
Tangerine goes further out on a limb, and proves an energy-driven piece that seems to breathe the life of the seedy streets of the less salubrious end of Santa Monica Boulevard around which it's set. Baker developed his story of two transgender prostitutes by working closely with two newcomers – whose real-life existence involves working these same streets – who play the film's lead roles. He's created a finally compassionate picture of lives lived close to the edge, flavoured with considerable humour and frequent poignancy.
They are all marginalised individuals trying to find a small piece of happines
It's a mouthy, in-your-face film: "bitch" seems to be used in almost every other sentence, usually as a term of (relative) endearment among the prostitutes (who are largely, but not exclusively black) who comprise the local community. They have their regular haunts, places both for fixing business and to unwind between jobs: one such is the doughnut shop where we first encounter the ebullient Sin-Dee Rella (with that name, you feel she's bound to be a lucky one, and Kiki Kitana Rodriguez's performance is indeed a barn-stormer), who's newly released from a month in prison after a drugs-bust, and catching up with best friend Alexandra (Mya Taylor: the two share a doughnut, main picture). Both are elegant, strong, long-limbed women: they have breasts, but their transitioning has not yet proceeded to surgery.
Alexandra's heart seems more in her singing than day-to-day realities, since she's due to perform at a bar that night. Preoccupied with publicising her show, she lets slip that Sin-Dee's boyfriend, Chester (James Ransone, appearing only in the last reel), who's also her pimp, has been two-timing her while she's been away, and all hell breaks loose. It's even worse that the girl in question, Dinah, is not only white, but a "real" woman too ("fish" being the specific term for that in this world, apparently).
The day proceeds furiously. Sin-Dee sets out to track down Dinah, determined to stage a confrontation; she powers ahead through the city, her mood conveyed through music that alternates between energetic pop-rock and an unlikely but effective burst of Beethoven. Alexandra eventually manages to cut loose and get on with her own business, which includes the usual intimate transactions: when one such trick goes awry, she shows she's as able to stand up for herself as anyone.
It's also Christmas Eve, though you wouldn't guess it in this almost tropically-shot LA, with Baker and his co-cinematographer Radium Cheung catching a colour-rich, sunny world (the "golden hour" seems to go on all day here). There's practically no sign of seasonal celebrations, which only appear later in a second plot strand centred around Armenian-American cab-driver, Razmik (Karren Karagulian), and his traditional émigré family life at home, complete with assertive mother-in-law-from-hell. Until then Razmik has been cruising the streets for fares, which gives us a rather whimsical slice-of-life view of the neighbourhood. We'll gradually discover that these two worlds are in fact rather closely interlinked, nowhere more memorably than in a carwash encounter between Razmik and Alexandra (pictured below, in pensive mood).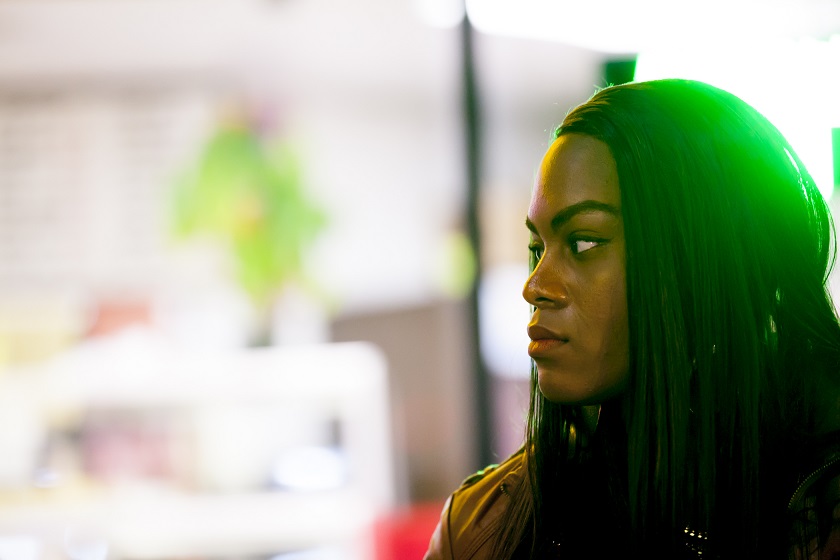 Director Baker sustains a high level of energy throughout the 90-odd minutes of Tangerine's run, building up almost operatically towards a series of prolonged climaxes. It's a richly surreal fabric, never more so than after Sin-Dee has tracked down Dinah and drags her, literally and most of the time on public buses, across town to locate their errant beau. There's a nice, though jolting mood change when they drop in to catch Alexandra perform: she sings, touchingly, to an almost empty bar, by which time Sin-Dee and her victim have established that they share a crack habit as well as a boyfriend.
The final convergence is uproarious, even if in retrospect you can hear the plot wheels cranking a bit. Uproarious, but the humour's of a bleak kind, though Baker never laughs at his protagonists, always with them (and they in turn laugh at themselves quite a lot). They are all marginalised individuals trying to find a small piece of happiness against the odds of the society that surrounds them, in that "beautifully wrapped lie" that one of them calls Los Angeles. A final plot-reveal is even more poignant, and leaves us with a glimpse of reconciliation, somehow sadder but also wiser, not unlike Baker's characters, for whom another day of inevitable drama will soon be dawning.
This is indie fare par excellence, working outstandingly with non-professionals (though both Rodriguez and Taylor more than deserve a stab at a professional future), and rooted in the details of a particular world. Technically it's also innovative, with the entire film shot on what must have been a micro-budget, on iPhones. Screen values are impressive throughout: Baker and Cheung apparently made use of new anamorphic adapters to create Tangerine's crisp, widescreen style (that process may well explain the colour-saturation, too, column picture above). Working so leanly and fluidly obviously paid off in allowing the fast-moving action to proceed at its own speed. More importantly though, the lack of technical distance between director and cast surely helped Baker to reach into the film's emotional world, with a spontaneity and depth that's the really impressive achievement here.
Overleaf: watch the trailer for Tangerine
Baker has created a compassionate picture of lives lived close to the edge, flavoured with considerable humour and frequent poignancy
rating
Share this article
Subscribe to theartsdesk.com
Thank you for continuing to read our work on theartsdesk.com. For unlimited access to every article in its entirety, including our archive of more than 10,000 pieces, we're asking for £3.95 per month or £30 per year. We feel it's a very good deal, and hope you do too.
To take an annual subscription now simply click here.
And if you're looking for that extra gift for a friend or family member, why not treat them to a theartsdesk.com gift subscription?