Dawn French, Vaudeville Theatre |

reviews, news & interviews
Dawn French, Vaudeville Theatre
Dawn French, Vaudeville Theatre
Tears as well as laughter in a well-oiled stage memoir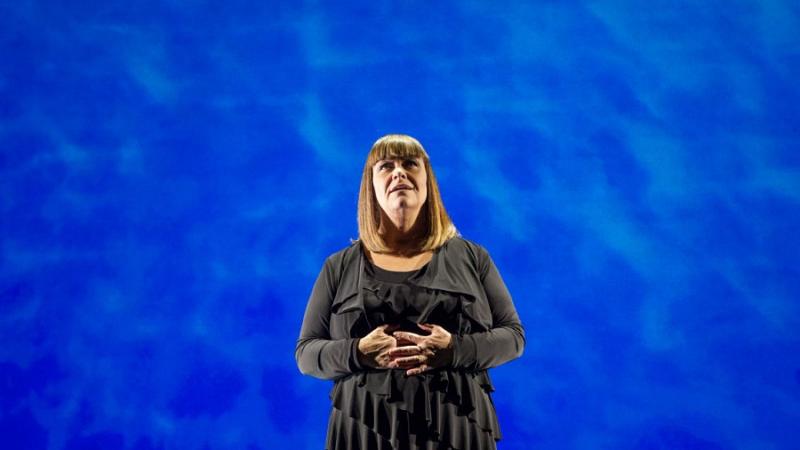 Old-fashioned schoolgirl popularity: Dawn French
When is a comedian not funny? Dawn French has spent so much of her life making audiences laugh that her debut as a one-woman performer requires some recalibration. The next-door smile is as big as ever, and the eagerness to be liked, so the early section – about the thieving march of time – looks and sounds like a stand-up routine that isn't quite landing. Laughs are thin on the ground.
It's only about 20 minutes in, as she tells of her early childhood on an Air Force base in Yorkshire, that her intentions begin swimming into proper focus. Unlike some pup stand-up, she isn't mining her experience to supply a daisy chain of gags. It's a memoir, but not in the shape of a WH Smith pre-Christmas bestseller.
Only a celebrity with a massive deposit of public affection could make this work. In the same theatre earlier this year, Jim Dale told his life story in song and dance; while it was charming, Dale slightly paid for his long exile in New York with material that didn't quite speak to a London audience. In telling her life story French can call on overwhelming familiarity, and old-fashioned schoolgirl popularity. Though her first husband is a background presence in her quest to be a mother, the word "Len" isn't mentioned till deep into the second half. A photo-montage of the friends who supported her in divorce mainly consists of unnamed mega-celebrities.
This is not a show about them. A "Fatty" Saunders is mentioned a couple of times, but takes a back seat to the loving family in which French grew up. With a huge screen behind her on which to project photographs and cine-footage, this is a slideshow that just happens to be directed by Michael Grandage (whose other current West End headliner is Nicole Kidman). Introductions to her family afford moments of high comedy – her sinful grandmother is a treat, as is French miming the removal of a glass splinter from her mother's private parts.
But while she mines indignities and embarrassments for comedy, there is seriousness too, even darkness. French walks the audience through her body parts - the more erogenous ones named Wood and Walters, or the Growler - in a section that confronts her relationship with her weight, and by extension with the press. (One journalist who attempted to find her adopted daughter's birth mother is graphically slut-shamed.) French's theme is time – the title Thirty Million Minutes alludes to her 58 years. More deeply than that it's loss: of her womb, of her marriage, above all her idealised father who committed suicide when she was 19.
There's a lot of familiar Frenchery too. Memories of favourite tunes have her dancing and lip-syncing, and there's much talk of pants. What's slightly missing from her word-perfect delivery is a sense of spontaneity. "Yes, that is something I wanted to say tonight," she says, as if it's just occurred to her. She's 80 dates in and this affecting confessional is well oiled and carefully honed.
Dawn French: Thirty Million Minutes at the Vaudeville Theatre until 6 January 2016
Only a celebrity with a massive deposit of public affection could make this work
rating
Explore topics
Share this article