theartsdesk in Reykjavík: Iceland Airwaves 2015 |

reviews, news & interviews
theartsdesk in Reykjavík: Iceland Airwaves 2015
theartsdesk in Reykjavík: Iceland Airwaves 2015
A full-bore Mercury Rev, an MP and determination at the festival with something for everyone
Mercury Rev's balletic Jonathan Donahue at Iceland Airwaves 2015
The attack is relentless. Its power pummels like a gale. The 2015 model Mercury Rev begin their set at Iceland Airwaves as they meant to finish. Never has this band been so forceful, so kinetic. Yet their trademark balance of filmic drama and delicate melody was not sacrificed during this convincing revitalisation. On stage at Reykjavík's Harpa concert hall on the festival's second day, Mercury Rev set a bar so high it sowed seeds suggesting nothing could top this.
If they are playing, see them.
Mercury Rev were performing in the wake of the release of The Light in You, their first album for seven years. In their studio incarnations, new songs such as "The Queen of Swans" and "Autumn's in the Air" rejoice in light and space as much as melody. Live, the sheer joy with which they were tackled added a dense and anxious momentum. Approached in the same way, older songs, like "Holes" and "Opus 40" were freshly burnished as if they were new. Factor in frontman Jonathan Donahue's balletic moves, guitarist Grasshopper's drive and nervous energy, the psychedelic textures brought by keyboard-player Jesse Chandler, on loan from Midlake, and the result is a full-bore band which has never been better.
This could have been enough. The surprise of Mercury Rev's newly visceral approach alone would have made the case for Airwaves 2015. But of course, and inevitably, over the festival's five days there were other highlights as impactful as Mercury Rev. With AURORA, Beach House, Bo Ningen, Father John Misty, Skepta, Sleaford Mods and Mirel Wagner playing this year, choices – as ever at such an event – had to be made. Then there were the locals: from Hjaltalín to Vök and all points between. And there was the need to see if the groundswell of Icelandic punk-inspired bands was still bubbling away. Difficult choices.
Seemingly, almost all of Airwaves' 7,000 ticket holders had chosen to see Beach House (pictured above right, photo © Erik Luyten) at the 840-capacity room Silferburg at the waterside Harpa concert hall. It became a lock-out, rather than a lock-in. For those making it in, Beach House – who can be listless on album – came alive. Despite singer Victoria Legrand's atmosphere-puncturing comments about girl power they made the case that the stage is their best environment.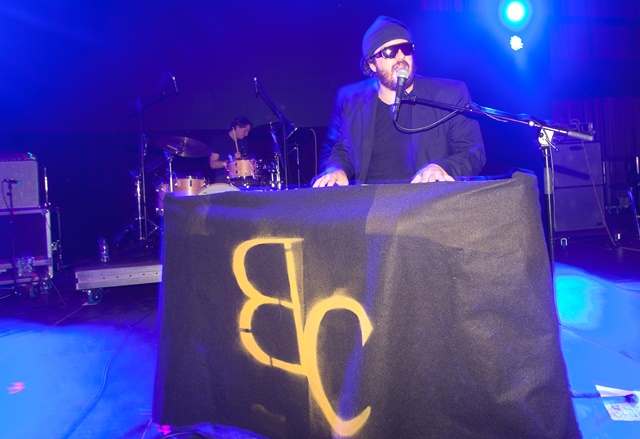 That, though, wasn't much of a surprise. Beach House are always a sell-out and have a track record as a live band. BC Camplight (pictured left, photo © Runar Sigurdur Sigurjonsson), on the other hand, had less to fall back on. When last booked to play the UK, Brian "BC" Christinzio was unable to perform as immigration issues meant the American native had to suddenly leave Britain and his adopted home of Manchester. Reunited with his Mancunian band in Iceland – "a Yank and the Mancs", as he put it – and with no rehearsal, Christinzio drew a delightful line between the Todd Rundgren and Elton John of the early Seventies. Hopefully, the problems will be sorted out and he'll back in the UK soon to take his place alongside John Grant as one of the great scrutinisers of self-loathing.
Amongst the other visitors to Iceland, Winchester's Rozi Plain (Rosalind Leyden to her mum and dad) was a fascinating highlight. Although her songs are a type of folk rock, her band implies something else: the bassist, drummer and keyboard-player look as if they could be in The Farm or another outfit with a yen for the casual look and sports-branded sweaters. Together, what's brewed up nods towards, but does not actually sound like, John Martyn with its shared fascination with texture as integral to the song. On this evidence, Rozi Plain is ploughing her own furrow.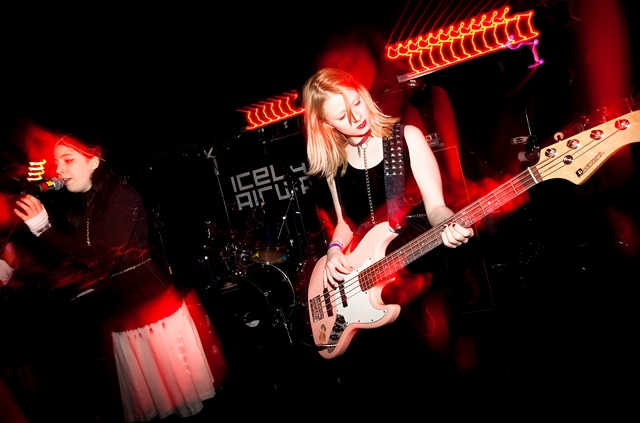 Of course, tendencies towards the unique make much of Iceland's own music exciting. There was no shortage of one-offs at Airwaves. Tófa feature members of the Explosions in the Sky-like post-rock band For a Minor Reflection, but instead sound like a wild melding of Bikini Kill and early Sonic Youth having a full-on barney with Japan's Guitar Wolf. Bonkers and great. They show the local surge in the punk attitude is still simmering: nowhere more so than with feminist band Börn, who marry the angularity of second-album Siouxsie and the Banshees to a sinuous melodic sensibility which can only be local and maybe – consciously or unconsciously – draws on the kveða vocal style. Like Börn and with just as forthright views on gender, Kælan Mikla (pictured right, photo © Sigurður Ástgeirsson) have come on massively since last year's Airwaves and are now a dark force all their own: piercing, anguished vocals, bass rumble and mysterious keyboards combine to intimate the soundtrack to being abandoned on a country road at night. A sense of threat permeates Kælan Mikla.
As far as the outside word is concerned, much of Iceland's music does sound like nothing else, and has done so since The Sugarcubes defined the country as one following its own path. It was, and still is, as if no one had told Icelanders that things should be done a particular way. Or that many Icelanders wouldn't pay attention if they were told.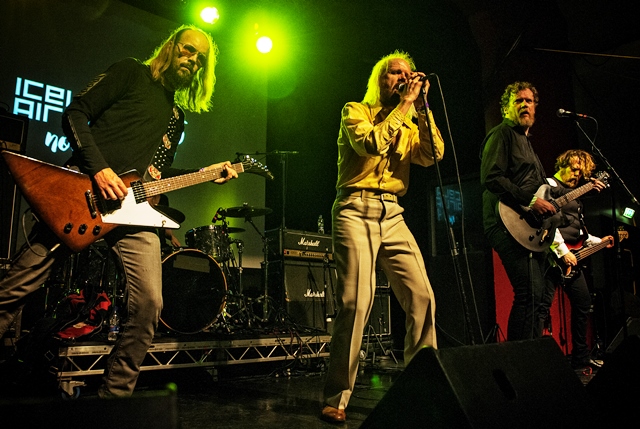 This determination has a lineage which Airwaves stressed. HAM (pictured left, photo © Florian Trykowski), who first surfaced in the late 1980s as a deeply challenging metal-Swans hybrid with a dash of Laibach, reunited to play a set questioning the idea of what rock can be. In their current incarnation, HAM transmute metal into a one-riff bulldozer which – despite the volume and guitars – parallels the wash of ambient music. Their singer Ottarr Proppé is an MP in the Icelandic parliament, the Alþingi.
Proppé wasn't the only multi-faceted musical veteran at Airwaves. Einar Örn (pictured below right, photo © Einar Örn), who performed with the off-centre electronic duo ghostigital at the festival was – alongside Björk – the co-front person of The Sugarcubes. During Airwaves, he was also exhibiting his visual art at a downtown space. Örn has also been on Reykjavík's City Council.
The sense of there being no barriers for Icelandic musicians was further reinforced by the performance of Dr Gunni – Gunnar Hjálmarsson – and his full-on band. He was in Sugarcubes contemporaries and support band SH Draumur, has written the definitive history of Iceland's popular music and, next year, will be a judge on Ísland Got Talent, the local answer to Britain's Got Talent. And, in the audience watching him at Airwaves: members of Kælan Mikla. No barriers between generations, too.
Iceland Airwaves is not like other festivals. It says as much about Iceland as it does the music of today. Similarly inclined festivals do not combine its scale and scope with the ease of interaction brought by the urban setting. It's possible to dip and dip out on on any terms – and possible to take time out to recharge batteries at a bar or restaurant. A bookshop, even. Or, if it's really necessary, shop for stuffed puffin toys in one of Reykjavík's omnipresent tourist shops.
But what really sets the festival apart is its nuanced programming. A major international name will be preceded on a bill by a lesser-known but like-minded band which could be local or from anywhere on the planet. The order could be the other way around. Icelandic acts are slotted into bills with equal sympathy to bring them exposure. Themed bills draw audiences with a yen for electronica, hip-hop or metal. At any given moment, an Icelandic household name who has not, or maybe never will, make the leap to international recognition will take the stage. If the particular needs catering for, it's here.
Something for everyone is usually a platitude when said about a festival, but this actually is what is on offer here. It is possible to take anything from Iceland Airwaves. Long may it thrive.
Many Icelanders wouldn't pay attention if they were told to do things a particular way
Share this article