The Hateful Eight |

reviews, news & interviews
The Hateful Eight
The Hateful Eight
Quentin Tarantino's racially themed mystery Western is clever but heartless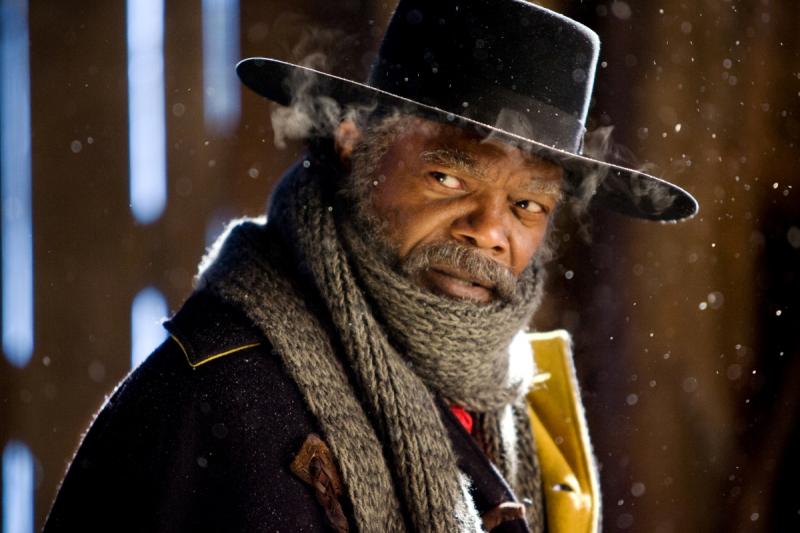 A diabolical Django: Samuel L. Jackson as Major Marquis Warren
Like the seven previous movies written and directed by Quentin Tarantino, The Hateful Eight is violent, verbose, and self-regardingly funny. It's also ingeniously structured (in Godardian chapters), as much so as Pulp Fiction. The eagle-eyed will spot a visual clue in the first half of the narrative that anticipates the hairpin bend it takes in the second.
The knowledge that Tarantino never staunches blood for long meanwhile augurs the inevitable carnage that likens this slow-burning post-Civil War frontier mystery to
Reservoir Dogs
especially.
Typically for a filmmaker engrossed by genre cinema more than life, Tarantino has reimagined not the historical West, but the modernist West of André De Toth's wintry Day of the Outlaw (which may have prompted The Hateful Eight's bifurcation and cabin fever mood) and Sergio Corbucci's allegorical spaghetti classic The Great Silence (Q.T.'s "favourite snow Western"). Since a coming blizzard forces a cartoonish cross-section of nomadic, lying vermin to hunker down at Minnie's Haberdashery, a staging post near Red Rock, Wyoming, it's likely that further inspiration came from Delmer Daves's 3.10 to Yuma and Sergio Leone's Once Upon a Time in the West, among other Westerns that milk the tension in waiting. The template was provided, though, by John Ford's venerable Stagecoach: Tarantino borrowed and extended its Dry Fork noon station stopover and subverted it every which way.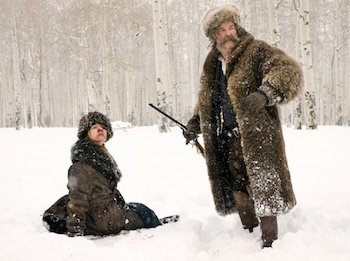 His great coup was hiring Ennio Morricone, the maestro who scored Great Silence and Once Upon a Time, to compose The Hateful Eight's music – at turns serpentine, playful, and plangent. But Morricone's ominous overture, a death knell tolled from a bell choked with icicles, lends the 187-minute film incongruous gravitas. The opening sequence depicting a stagecoach hurtling across a terrain of blinding whiteness makes the most eloquent use of Robert Richardson's 70mm Panavision cinematography and promises a wilderness epic, akin to this season's The Revenant, that never materialises. The first barbs exchanged by the bounty hunters Marquis Warren (Samuel L. Jackson) and John Ruth (Kurt Russell, pictured above with Jennifer Jason Leigh) intentionally puncture the grandeur, as if Tarantino were averse to Fordian lyricism. The transition is not as meta as Blazing Saddles' Count Basie moment, but it instantly thwarts the suspension of disbelief.
Ruth, a blowhard and bully (who reprises the John Wayne drawl Russell brought to Tarantino's "Death Proof" in Grindhouse), is escorting the murderous termagent Daisy Domergue (Leigh, provocatively used as a comic punchbag by Tarantino) to her hanging in Red Rock. He reluctantly gives ex-Union Army major Warren, a slyer, more diabolical Django, a ride in his privately hired stagecoach. Joined by Chris Mannix (Walton Goggins), a squawking onetime Southern bushwhacker who claims to be Red Rock's incoming sheriff, they arrive at Minnie's, which is occupied not by the Mexican-hating proprietress, but, suspiciously, by a bandito-type called Bob (Demián Bichir); Red Rock's English hangman Oswaldo Mobray (Tim Roth, initially as suave as Christophe Waltz); soft-spoken cowboy Joe Gage (Michael Madsen), who's apparently travelling home to mom; and former Confederate general Sandy Smithers (Bruce Dern, pictured below), who oversaw the mass execution of black Union recruits at the 1862 Battle of Baton Rouge.
The switch from outdoors to indoors turns The Hateful Eight into a chamber piece – virtually a filmed two-act play with an intermission – that emphasizes Tarantino's dialogue. The brewing tensions, notably between Warren and the unrepentant Rebs, succeed in capturing the rank seepage of the grim Reconstruction era out West. The first lethal gunfight is followed by the quaffing of poisoned coffee, which reconfigures the movie into a whodunit indebted to Agatha Christie that Channing Tatum's delayed entrance helps solve. As the body count mounts so does the sense of pointlessness.
The notion that Tarantino is a scabrously Pinteresque debunker of liberal cant would hold more water if he didn't indulge so gleefully his love of gruesome slaughter, exemplified here by the obliteration of one man's face. The Hateful Eight's undoubted cleverness masks the emotional emptiness and moral vacuity it shares with Inglorious Basterds and Django Unchained. The continuation, through Warren, of the retribution against white brutality exacted by Django is offered as cathartic, and Tarantino's sincere commitment to fighting racism is welcome given the current tensions provoked by police killings of black citizens in the United States. Yet his sardonically inverted racial humor – which harks back to "the Sicilians were spawned by niggers" sequence in True Romance and embraces the Nazifying of Basterds' scalp-taking Jewish commandos – is stalled at the Blaxploitation level.
Not every film addressing the persecution of enslaved Africans and their descendants need be as chastening as 12 Years a Slave, but Tarantino's satires are so geared to delivering their elaborately contrived comic pay-offs they dilute their social messages. A long anecdote told by Warren, which mockingly recalls forcing Smithers' doomed, naked son to fellate him on a freezing Wyoming prairie (shown in an accompanying flashback), goads the slower Smithers to draw on him, but it feels as if Tarantino has exploited Confederate atrocities to serve his brand of reclamation by irony. This won't, of course, worry the bean-counters or Tarantino's fan base, which will be hugely entertained.
As the body count mounts, so does the sense of pointlessness
rating
Explore topics
Share this article