Cesari, BBCSSO, Pintscher, City Halls, Glasgow |

reviews, news & interviews
Cesari, BBCSSO, Pintscher, City Halls, Glasgow
Cesari, BBCSSO, Pintscher, City Halls, Glasgow
Wall-to-wall new music kicks off the orchestra's 2016 concerts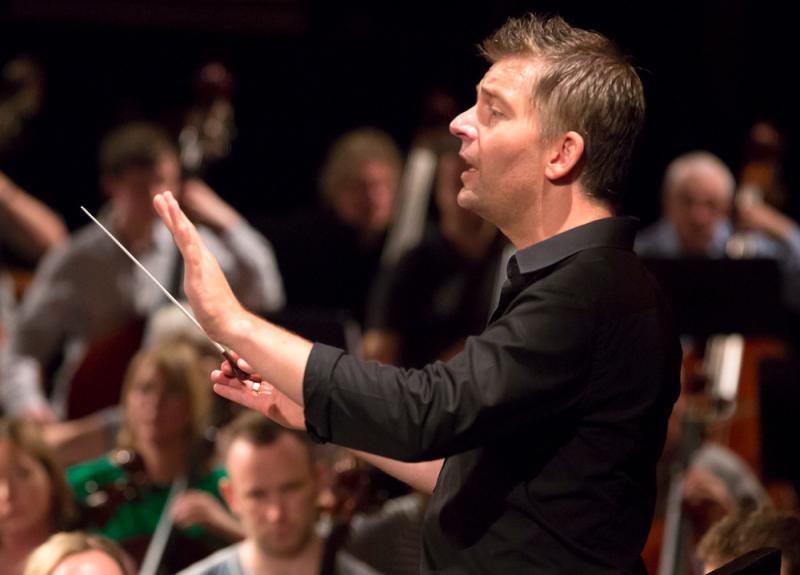 Bracing and provocative: Matthias Pintscher and the BBC Scottish Symphony Orchestra
Forget your celebratory Messiahs and your crowd-pleasing Strauss galas. Instead of easing listeners gently into 2016 with conventional New Year fare, the BBC Scottish Symphony Orchestra went for the shock approach in its 2016 opening concert: non-stop, back-to-back, uncompromising contemporary music. And it felt like a marvellously bracing, ear-cleansing, provocative way to kick off the year's concerts.
German composer and conductor Matthias Pintscher is the BBCSSO's artist-in-association, and he'd been given free rein to curate and conduct the evening. What he came up with felt like quite a startling clutch of recent US and European works, and there was a definite focus on orchestral sonority (sometimes refined, sometimes rugged) as well as bristling gesture – both elements found abundantly in Pintscher's own music, in fact.
And in truth, it wasn't quite all new. The opener – Wagner's Parsifal Prelude, given a somewhat cool but beautifully detailed and balanced account by Pintscher, with the BBCSSO brass on particularly vibrant form – flowed fascinatingly straight into …secreta desolación… by young Catalonian composer Joan Magrané Figuera, which reused Wagner's music, recasting the elder composer's spiritual mysticism as an unmistakably 21st-century sensuality. At times the connections between the two works were all but unrecognisible, but often Figuera's remarkably effective orchestration seemed to distort the Parsifal Prelude as if through a scratchy, wobbly gramophone. In the end, though, it felt rather more reliant on its sensuous sonorities than on substance, despite Pintscher's careful, incisive performance.
The work that provoked most reaction was also the concert's most traditional
Salvatore Sciarrino's 2009 flute concerto Libro notturno delle voci, up next, was a study in obsession – with endless cello glissandos in the first movement, relentlessly growling brass in the second, and the remarkable Italian soloist Matteo Cesari equally dogged in the sheer intensity of his performance throughout. It was a surprisingly robust work for Sciarrino, although it approached his trademark rustlings-near-silence style in its evanescent final movement, and Cesari was a remarkably charismatic, athletic soloist, from the piercing melodic fragments of the first movement to barely heard breath tones in the last.
The work that provoked most reaction – from mid-performance walk-outs to post-performance cheers – was also the concert's most traditional. Delta – Music for Orchestra IV by San Diego-born Jay Schwartz had a lot in common with the inexorable process music of Reich or Pärt, but using a radically different language, one of beating microtones, almost imperceptible accelerations or decelerations, all across a hugely expansive, almost tectonic time scale that either tried the patience (clearly) or proved hugely engrossing, even hypnotic. It was as if the inner workings of the music were laid bare, but underpinned by a gripping sense of drama – somehow horrific in its relentlessness, yet fascinating at the same time. Pintscher drove the orchestra onwards with a sure sense of pacing in a work with few clear signposts in its restless textures, and had a keen ear for its microtonal subtleties, building to a shattering, ecstatic climax. Unforgettable.
Which made the concert closer, Helmut Lachenmann's energetic 1989 Tableau, seem like something of a throwaway, despite Pintscher's hugely athletic account. The evening wasn't without its question marks, certainly, but it was just the kind of bold, ambitious programming that makes the BBCSSO such a vital element of live music north of the border.
It was as if the inner workings of the music were laid bare, but underpinned by a gripping sense of drama - horrific yet fascinating
rating
Explore topics
Share this article