theartsdesk in Oslo: Trumpets sound for Munch |

reviews, news & interviews
theartsdesk in Oslo: Trumpets sound for Munch
theartsdesk in Oslo: Trumpets sound for Munch
Trumpeter Tine Thing Helseth impresses with her first festival
Tine Thing Helseth: A young musician already looking beyond life just as a soloist
Back in the 19th century it was violinist Ole Bull who put Norway on the musical map, likened by Schumann to Paganini and celebrated across Europe for his supreme virtuosity. More recently pianist Leif Ove Andsnes has emerged as the nation's classical champion, a rare performer whose taste is equal to his technique.
But with not one but two young Norwegian soloists making their BBC Proms debut this summer, the newest generation of classical musicians has the potential to take Norway still further into the heart of the classical establishment. One performer making determined inroads is Tine Thing Helseth – trumpeter, leader of brass ensemble tenThing, and now, at just 25, the curator of her own festival.
Launched this year to coincide with the 150th anniversary celebrations of Oslo's most celebrated son Edvard Munch, Tine@Munch is entirely the brainchild of Helseth herself. "As a soloist you travel alone a lot," she explains. "When you perform at festivals though you often meet up with other soloists and it can be very intense – you stay up late and talk and play and there's a great atmosphere. I wanted to capture something of that excitement and energy in a festival in my home-town of Oslo."
Helseth is mistress of tone colour, conjuring the full modernist palette of shades from her instrument
This initial idea took focus when Helseth remembered the Munch Museum's history of concerts, and in choosing this as the venue for her festival forged a crucial connection between her programming and Munch himself. Friends with Delius and Strauss (who, according to the composer's own letters, was so distracted by the beauty of Munch's paintings in the University Concert Hall in Oslo during a concert that he almost forgot to play), Munch was also fascinated by music more generally, and his extensive writings offer much evidence of a life lived through and with music.
It's a fruitful starting point for a festival whose performances take place surrounded by Munch's monumental canvasses in the lecture hall of Oslo's Munch Museum, and one that has generated a distinctly quirky programme that sets Tine@Munch to the left of the many other European chamber music festivals. Helseth's careful curation this year yielded concerts of repertoire familiar to Munch, of composers personally known to the artist, but also events based on recurring themes in Munch's own works. Ideas about time, love, death and parting are all referenced, but also stylistic approaches that echo Munch's own bold and revolutionary artistic philosophy. But as Helseth explains, there's also a certain fluidity to the programming: "It's nice to have the thematic connection to Munch, but at the same time the festival emerges from my gut feelings. I think about what I would love to listen to and programme accordingly."
A visit to Oslo's National Gallery, given over entirely during 2013 to an exhibition of Munch's works, helps anchor the music of the festival. Walking past the artist's narrative epic The Frieze of Life gives some sense of the scope and bloody-minded innovation of this art that goes so far beyond the modernist anguish of The Scream. It also gives audiences the chance to see in person the three works that have inspired thus year's festival commission – Gisle Kverndokk's Three Pictures.
A centrepiece of the opening concert, this attractive work is a miniature trio of tone poems for trumpet, piano and violin (performed by Helseth with Kathryn Stott and young British violinist Charlie Siem). In choosing these works Kverndokk highlights the variety and range of Munch's style. We move from the almost pointillist textures of Rue Lafayette (pictured right) with its Parisian streets, busy with movement, to the delicately shaded darkness of Natt I St. Cloud which finds musical expression in fretting sighs from the violin and a sustained trumpet lament, punctuated by whispering. Helseth is mistress of tone colour, and it's a work that saw her at her best, conjuring the full modernist palette of shades from her instrument, and crucially sustaining the narrative impulse that connects Kverndokk's movements.
Performers are of course the core of any festival. So how did Helseth choose her colleagues for this first year? "I had a mental wish-list of musicians – people who I really wanted to play with or who I thought might work well together – and miraculously they all said yes and had time in their schedules. It felt like it was meant to be." The resulting dream-time comprised Norwegian stars Leif Ove Andsnes and Truls Mørk (described by Helseth as the two "pillars" of Norwegian classical music), Isa Katharina Gericke and Gunnar Flagstad (pictured above left with Siem), British pianist Kathryn Stott and two violinists – Siem and Nicola Benedetti. It was an appealingly quirky mixture of international heavyweights and young up-and-comings, and by combining and recombining her forces in a sequence of different chamber ensembles, Helseth allowed us to see each performer in different roles and musical identities.
At best this gave us a poised and disquieting performance of Paul Hindemith's Sonata for Trumpet and Piano by Helseth and Andsnes. The latter's restraint, his delicacy, created rather exciting friction with the more extrovert tendencies of a piece that encodes so much of the rage and fear of 1939 – the year in which it was composed. We were denied the full outpouring of anguish in the final Trauermusik until the very last moment, at which point Helseth swelled bugle-clear out on top of the texture, colouring her tone with just the faintest emotive husk.
Another highlight was Franck's Sonata for Cello and Piano in which cellist Truls Mørk (pictured right), seen in more of a supporting role in the previous day's Beethoven Trio, was able to come to the fore. Mørk's is a tone made for the French repertoire, deep and plangent and singing Franck's phrases with emphasis but no hint of weight. The Allegretto cast off seriousness, releasing into lyric froth that belied the seriousness of the opening.
Less substantial musically but no less technically impressive was Siem's performance of Ravel's Tzigane. Translating gypsy swagger into the polite virtuosity of the salon, Ravel's work is a shameless showpiece and one that is surely a staple of Siem's repertoire. Master of its intricacies he relished every punchy, double-stopped chorus and disembodied shadow-play of harmonics. Another virtuoso highlight was Kathryn Stott's only appearance as soloist, performing Graham Fitkin's unforgiving Relent. A relentless perpetuum mobile, the work pulses through 12 minutes of syncopated and time-shifting energy, offering a humorous comment on our relationship with time, its subjectivity and essence.
It was perhaps surprising that of all the performers coming together with new repertoire and in new ensemble groups, Benedetti (pictured left) fared least well. Her performance in Beethoven's Trio in C minor Op. 1 No. 3 was competent enough but unexciting, but her attempt at the mighty Bach Chaconne from the Partita in D minor for Solo Violin was decidedly unhappy. Gripped and heavy (though never fully playing into the string), she lost the golden thread of dance that runs through even the densest movements of Bach's suite. Intonation wavered and upper and lower contrapuntal voices were lost in a mush of sound with no clear articulation or identity.
The balance between musical friendships, relaxed music-making, and the formal business of a festival in a major European city is one that will doubtless change as Tine@Munch evolves and grows over the next few years. I suspect the future challenge will be maintaining the easy atmosphere that was so defining a feature of this first effort, with musical days extended late into the night with jazz and tango events and audience numbers kept atmospherically small.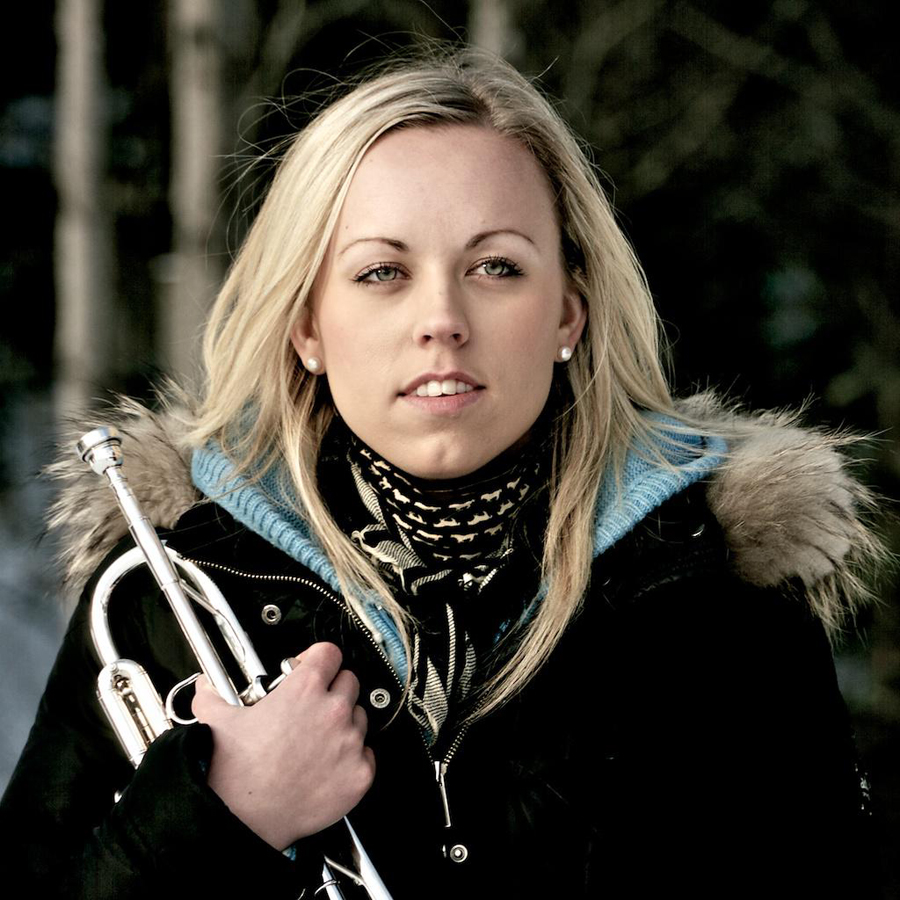 So much of the personality of the festival is of course is down to Helseth (pictured right) herself, who at just 25 years old is already outgrowing the role of soloist. As well as curating her own festival, the trumpeter also leads all-female brass ensemble tenThing who will make their Proms debut this summer. "It's a bit of a gimmick, I suppose, just having women, but it wasn't intended that way. It started as an accident as all four trumpeters studied together, but now we would never have a man. Fortunately there are so many talented female brass players that it's never been a problem."
Helseth will also appear as soloist with the BBC Scottish Symphony Orchestra, giving the London premiere of Matthias Pintscher's Chute d'étoiles – a work that "really communicates a narrative" according to the trumpeter. "It definitely has challenging elements," she acknowledges, "but it's really dramatic and has a good story. When a composer has something to say it really does draw you in."
It doesn't hurt when a performer has something to say either, and Helseth is certainly a musician with a voice, whether it's in her own playing or the quirky programming for her festival.
Tine Thing Helsesth performs at the BBC Proms at Cadogan Hall on 5 August and at the Royal Albert Hall on 18 August, 2013
Mørk is made for the French repertoire, his tone deep and plangent, singing Franck's phrases with emphasis but no hint of weight
Explore topics
Share this article